Finals Care Packages

Surprise and support your student during finals with a care package from Parent & Family Services!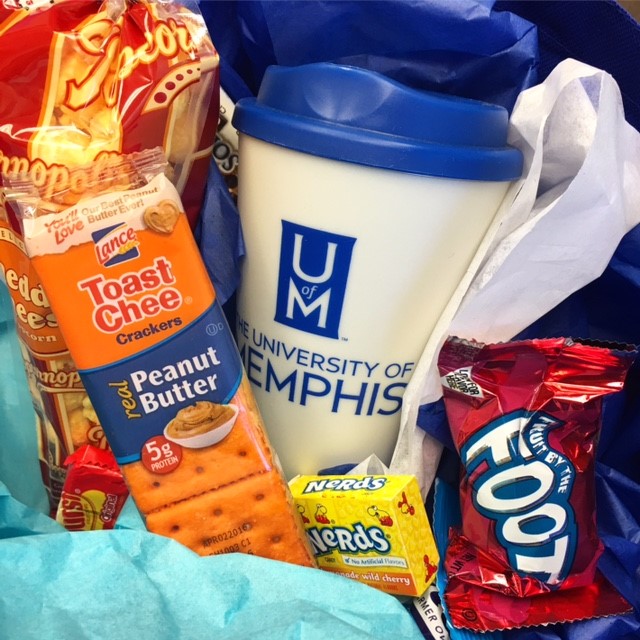 Packages ar $35 and include a University of Memphis memorabilia item(s), snacks, spirit items and more to help them through finals. On the order form, you can also add a special note to your student to show your support.
Your support helps our students! Proceeds go to the Tiger Pantry and the Student Emergency Fund which assists students in need or crisis.
Last Day to order is November 22 for Fall 2019. Students will be notified the last week of classes of their package. Packages are available for students at the Main and Lambuth Campus.
If you order a combo Hugs from Home and Finals Care Package, students will be notified of their Finals Care Package on December 2. They will receive their Hugs from Home the week of Valentine's Day 2020. If you would like for your student to recieve both at the same time, please email us at parents@memphis.edu so we can accomodate your request!
EXAMPLE OF BAG ITEMS...
Fun Items
Snacks

Frisbee
Popsocket
Insulated Mug
Leaping Tiger Sticker
Inflatable Beach Ball or Hand
Squirt Gun
Magic Springs
Activity Books with Crayons

Nutella & Go Snacks
Milano Cookies
Starbucks Hot Chocolate
Capri Sun
Raman Noodles
Pringles
Rice Krispie Treats
Peanut Butter Crackers
Chocolate Snacks
Funhouse Treats
Sun Chips
Frito-Lay Chips
Popcornopous
Trident Gum
Microwave Popcorn
Snacking Nuts
Belvita Biscuits
Fruit Snacks
Granola Bars
Out of the Blue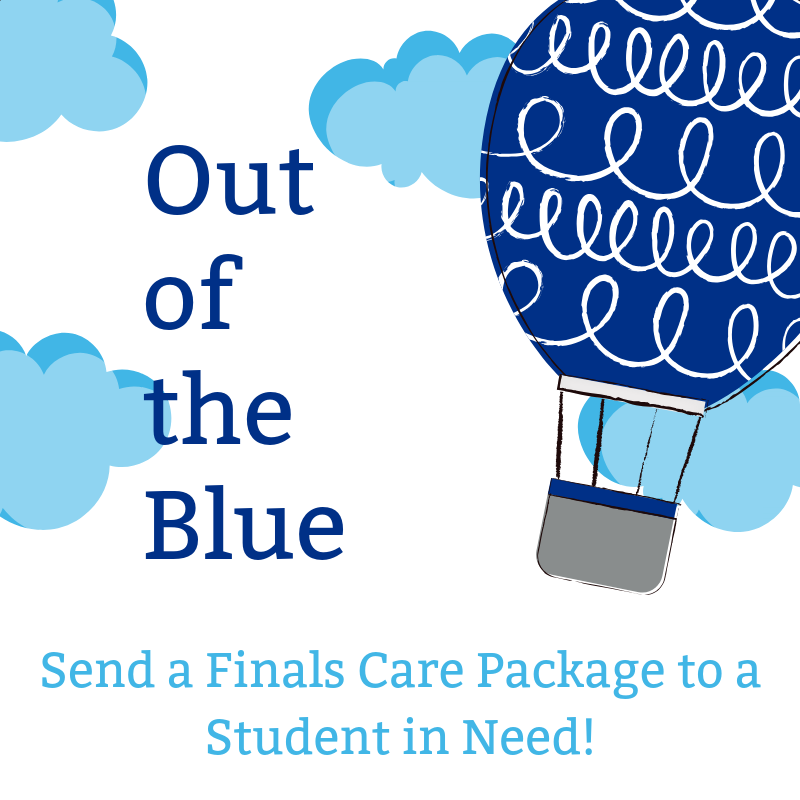 The Parent & Family Services office is excited to launch Out of the Blue , which delivers a Finals Care Package to a student in need. When you make a tax-deductible gift of $35 or more to the Parent Fund , we will provide a package to a student who would not otherwise receive one. In addition to providing them a surprise package, contributors can also write an inspirational message for these students. Ease their stress and uplift a student by supporting them today!
Give a Finals Care Package today>
Along with the Tiger Pantry and Dr. Rosie Phillips Bingham Student Emergency Fund , we will identify the students who will benefit most from receiving an inspirational package and message. Our goal is to raise $1,500, enough to provide 30 students in need with a Finals Care Package. The campaign will culminate on Giving Tuesday, December 3, 2019. We hope you join us in supporting these students, one care package at a time!

"Be the person you needed when you were younger."