Creating Leaders in Research, Education and Service
The Department of Biological Sciences faculty have research interests that integrate molecular, cellular, and developmental biology with ecology, evolution, and behavior. The department features facilities well-equipped for contemporary research in laboratory and field biology, as well as an interdisciplinary field of study in bioinformatics.
Take a short video tour of the department
Research Updates
Sabel Lab graduate student Kate Parsley publishes influential paper redefining the field of Plant Blindness as Plant Awareness Disparity. New on the Biology Blog she describes her new paper on plant awareness disparity and argues for the importance of plants in all of our lives! Check out the blog post here, and the Twitter feed (#PADisBAD).
Congratulations to Drs. Shin and McKenna and their collaborators on their new publication, "Phylogenomic analysis sheds light on the evolutionary pathways towards acoustic communication in Orthoptera" in Nature Communications. View the paper here.
Congratulations to graduate student Elyan Shore, Dr. Shawn Brown, and Dr. Dave Freeman on their new paper, "A novel role for the pineal gland: Regulating seasonal shifts in the gut microbiota of Siberian hamsters" Read the paper here.
The Center for Biodiversity Research (CBio) celebrates its second year. CBio is a community of faculty, postdocs, staff, and students at the University of Memphis whose research, teaching, and mentoring are in the subject areas of Biodiversity Science and/or Education. CBio was founded in January, 2019. Early milestones included establishing a volunteer advisory board (March, 2019) and formal announcement of the center in April, 2019. Following a flurry of early administrative activity, CBio made its first investments in graduate student and faculty research in May, 2019 and again in July and November (quarterly), with the awarding of its first faculty and graduate student seed grants, graduate student publication awards, and grant incentives. If you are interested in taking courses, engaging in biodiversity-related research or education partnerships, or sponsoring CBio research growth or student development, please contact us.
Check out the website here.
Biology@memphis Blog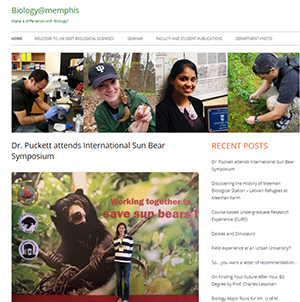 Did you know the department has a blog? Check it out!
Dr. Puckett attends International Sun Bear Symposium
History of Meeman Biological Station – Latvian Refugees at Meeman Farm
Course-based Undergraduate Research Experience (CURE)
Daisies and Dinosaurs
Field experience at an Urban University?!
Streamed Live Seminars and Events
Grants, Fellowships and Awards
Publications, and more