Creating Leaders in Research, Education and Service
The Department of Biological Sciences faculty have research interests that integrate molecular, cellular, and developmental biology with ecology, evolution, and behavior. The department features facilities well-equipped for contemporary research in laboratory and field biology, as well as an interdisciplinary field of study in bioinformatics.
Take a short video tour of the department
Research Updates
Prestigious journal publishes paper
A paper co-authored by Dr. Jennifer Mandel, was published online on May 22nd in the prestigious journal Nature. "The Sunflower Genome Provides Insights Into Oil Metabolism, Flowering and Asterid Evolution" delves into the evolutionary history of the subgroup of flowering plants known as asterids. The authors also identified new candidate genes and reconstructed genetic networks for flowering time and oil metabolism, two major breeding traits, and found that the flowering time networks have been shaped by the latest whole-genome duplication. "We are really excited to report this work in Nature," said Mandel. "The publishing of a high-quality reference genome for sunflower will aid in agricultural, ecological and evolutionary studies across the globe. Read more about Dr. Mandel's paper.
Insights into the role of a mitochondrial protein in neurodegeneration
Dr. Ramin Homayouni received a two-year award from the National Institute on Aging in the amount of $390,000 to investigate "Regulation of mitochondrial dehydrogenases and neuronal NADH levels via interaction of Nipsnap1 and APP intracellular domain." Nipsnap1 is a novel mitochondrial protein that interacts with the Alzheimer's Disease amyloid precursor protein. These studies will provide new insights into the mechanisms responsible for metabolic dysfunction and neurodegeneration associated with Alzheimer's Disease.
NIH grant examines the contributions of environmental pollutants to skin disease
Drs. Thomas and Carrie Hayes Sutter received a NIH-funded grant from the National Institute of Environmental Health Science. This award is a competitive renewal of their previous grant entitled, "Cellular Determinants of Aryl Hydrocarbon Receptor Signaling." This five year, $1.6 million award examines the contributions of early-life exposures to environmental pollutants to the risk of eczema, a serious skin disease that is common in children and predisposes them to allergy and asthma. Learn More
Identifying Biomarkers of Posttraumatic Stress Disorder
Dr. Bernie Daigle, Jr is identifying and evaluating diagnostic biomarkers for Posttraumatic Stress Disorder (PTSD) from multiple high-throughput "omics" datasets and demographic/clinical covariates collected from Iraq and Afghanistan veteran volunteers. Dr. Daigle will be developing and applying novel statistical and machine learning algorithms to these data to more accurately diagnose PTSD in future subjects. Read More
International Collaboration
Genome Sequencing Project: An international team of scientists from more than 30 research institutions and led by Dr. Duane McKenna from the Department of Biological Sciences at the UofM, report on the sequencing, annotation, and comparative exploration of this beetle's genome in the journal Genome Biology. Read More
biology@memphis.edu newsletter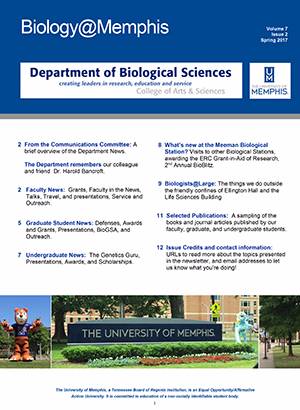 The latest edition of the Biology@Memphis Newsletter is published! Topics include:
Remembering Harold Bancroft, colleague and friend
Faculty News: Retirements, New Faculty, Grants, Presentations
What's new at the Meeman Biological Station?
Graduate Student News
Graduate Women in Science
Undergraduate News
Biologists@Large
Grants, Fellowships and Awards
Publications, and more