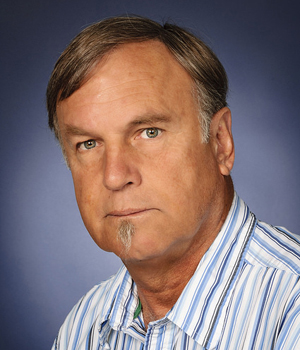 Stephan J. Schoech, Ph.D.
Professor
Office Hours
By Appointment
I joined the Department of Biology in 2000 after earning a BS and MS from Arizona State University and a PhD from the University of Washington. I also was a Post-Doctoral Fellow, Asst. Prof. (part time), and Asst. Scientist at Indiana University for the five years preceding my joining the department at the UofM.
My research focus is at the nexus of behavior, ecology, and physiology: I can be characterized as a behavioral ecologist, physiological ecologist, behavioral endocrinologist, or even an ornithologist. I, and students and post-docs in my lab, have conducted research on cooperatively breeding Florida scrub-jays (Aphelocoma coerulescens) for ~ 25 years.
Research Interests:
Behavioral endocrinology - the hormones and the hormonal mechanisms that mediate reproductive behaviors, especially parental and alloparental (i. e., helping to care for non-descendant young) behaviors.


Physiological ecology - the effects of an animal's environment upon its physiology and the subsequent effects upon initiation of reproductive behaviors and subsequent measures of fitness.


Stress biology - how the interactions between stress (e. g., corticosterone) and reproductive (e. g., testosterone and estradiol) hormones mediate an animal's reproductive effort. Also, whether developmental exposure to corticosterone results in long term phenotypic effects (i.e., alters behavioral and physiologic responses).


Nutritional endocrinology - variable resource availability (inter-year or across-habitat effects) can play a role in the overall condition of an organism and this can subsequently have long-term effects upon an animal's health-state and fitness.
Education:
B.S., Zoology, Arizona State University; M.S., Zoology, Arizona State University; Ph.D., Zoology, University of Washington; Post-Doctoral Fellow, Biology, Indiana University
Recent Publications:
Small, TW, SJ Schoech. 2015. Sex differences in the life-long repeatability of the acute stress response and repeatability of baseline corticosterone in the long-lived, free-living Florida scrub-jay (Aphelocoma coerulescens). Journal of Comparative Physiology B 185:119-133.
Aldredge, R, RK Boughton, MA Rensel, SJ Schoech, R Bowman. 2014. Hatching asynchrony occurs as a byproduct of maintaining egg viability in a subtropical bird. Oecologia 174:77-85.
Wilcoxen, TE, ES Bridge, RK Boughton, TP Hahn, SJ Schoech. 2013. Physiology of reproductive senescence in Florida scrub-jays: results from a long-term study and GnRH challenge. General and Comparative Endocrinology 194:168-174.
Wilcoxen, TE, RK Boughton, GM Morgan, SJ Schoech. 2013. Heritability of immunological characteristics in Florida scrub-jays (Aphelocoma coerulescens). Canadian Journal of Zoology 91:789-794.
Schoech, SJ, LM Romero, IT Moore, F Bonier. 2013. Constraints, concerns, and considerations about the necessity of estimating free glucocorticoid concentrations for field endocrine studies. Functional Ecology 27:1100-1106.
Schoech, SJ, R Bowman, TP Hahn, W Goymann, I, Schwabl, ES Bridge. 2013. The effects of low levels of light at night upon the endocrine physiology of western scrub-jays (Aphelocoma californica). Journal of Experimental Zoology Part A: Ecological Genetics and Physiology 319A:527-538.
Cohen, AA, R Bowman, RK Boughton, ES Bridge, RS Heiss, SJ Schoech, K McGraw. 2013. Circulating carotenoid levels are negatively associated with previous reproductive success in Florida Scrub-Jays (Aphelocoma coerulescens). Canadian Journal of Zoology 91:64-70.
Schoech, SJ, MA Rensel, TE Wilcoxen. 2012. Here today not gone tomorrow: long-term effects of corticosterone. Journal of Ornithology 153:S217-S226.
Morgan, GM, TE Wilcoxen, MA Rensel, SJ Schoech. 2012. Are roads and traffic sources of physiological stress for the Florida Scrub-Jay? Wildlife Research 39:301-310.
Heiss, RS, SJ Schoech. 2012. Oxidative cost of reproduction is sex specific and correlated with reproductive effort in a cooperatively breeding bird, the Florida scrub-jay. Physiological and Biochemical Zoology 85:499-503.