News and Events
UofM Wins Major Instrumentation Investment Across Multiple Disciplines
Three Grants Worth Over $2M to Supply Supercomputers, a Fluorescence-activated Cell Sorter, 3D Scanning Imagery Technology
September 21, 2023 —The University of Memphis, a Carnegie R1 institution, recently won three grants from the National Science Foundation's nationally competitive Major Research Instrumentation Program, an investment valued at over $2 million.
The program, which provides research institutions with the resources necessary to acquire cutting-edge instrumentation, limits institutions to three application submissions per year. For the first time in UofM history, the University saw all three of its applications receive awards in the same year, a rarity for any research institution. These projects led by faculty members in Biology, Civil Engineering and Computer Science include new supercomputers, a fluorescence-activated cell sorter and technology to create 3D scanning imagery for multiple disciplines.
Shaping the future landscape of AI research, education and the regional tech industry
Instrumentation: High-Performance Computing (HPC) cluster
Principal Investigator: Xiaolei Huang (Computer Science)
Team Members: Lan Wang and Vasile Rus (Computer Science), Duane McKenna (Biology)
Research communities in West Tennessee are rapidly expanding, driving a surge in computational needs, especially for AI models like GPT. Addressing this demand, this project aims to establish a high-performance computing cluster at the University of Memphis. This GPU cluster will cater to five emerging research fields: intelligent health, cybersecurity, educational technology, smart transportation, and computational biology. Some specific areas of study include pediatric cancer assessment, security systems, AI-based tutoring, autonomous driving, and insect-plant evolutionary simulations.
The research projects running on the cluster will benefit over 37 faculty members advising approximately 193 students. Notably, the equipment will benefit large, underrepresented students in STEM. With a network spanning West Tennessee and neighboring states including Mississippi and Arkansas, this HPC cluster promises to elevate research quality, foster new research domains, develop HPC talent, and reinforce the academic mission of research development. The instrument will put West Tennessee at the nationwide forefront of integrating AI and data science into addressing the timely research of scientific and societal issues and providing training opportunities for the next generation of AI scientists and HPC administrators.
The cluster will feature over 100 advanced GPUs, addressing the diverse research needs of regional entities. It will be an academic hub for both interdisciplinary research and education.
---
PAST EVENTS
Memphis DATA - A Data Science Conference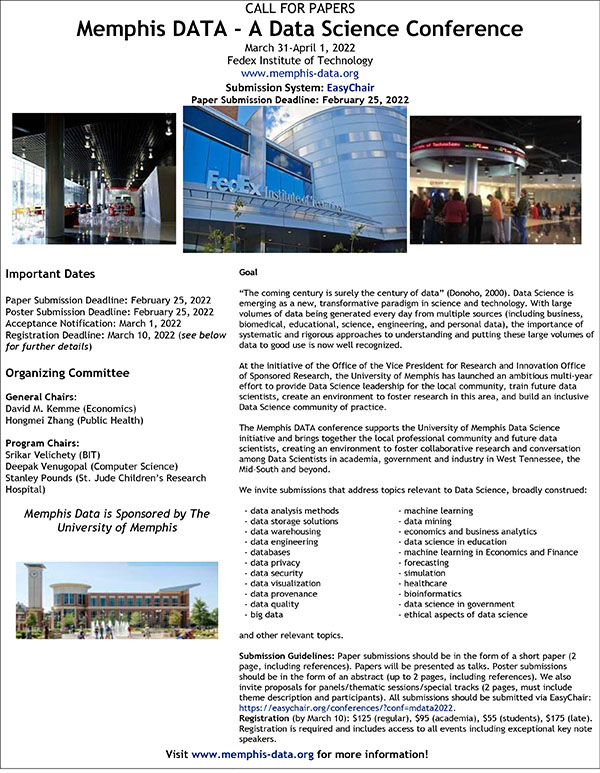 March 31-April 1, 2022
Download Flyer
Fedex Institute of Technology
www.memphis-data.org
---