IEAA Events - Fall 2020
Fourth Annual IEAA Alumnae/Alumni Lecture, Dr. Kevin Johnson - Friday, October 23, 2020
To view the video, select the link: https://youtu.be/wklEvy7eiDk
Fifteenth Annual William J. Murnane Memorial Lecture, Dr. W. Raymond Johnson - Friday, November 6, 2020
To view the video, select the link: https://youtu.be/JuHCL88qpFw
All IEAA events will take place online.

The Egyptian Gallery is
CLOSED.
The Egyptian gallery will reopen later this spring. Please check back for updates!
Read Important Guidelines Before Your Visit HERE

The Institute of Egyptian Art & Archaeology, as part of its mandate as a Tennessee Center of Excellence, presents programs and educational events for the public. The IEAA brings world-renowned Egyptologists to the Mid-South for lectures and symposia. In addition, educational events are offered to schoolchildren and their families. Occasionally, the Institute also sponsors educational tours to Egypt.
The Institute of Egyptian Art & Archaeology provides trained graduate student docents for groups wishing a guided tour of the ancient Egyptian and African ethnographic exhibitions in the Art Museum of the University of Memphis. In addition, the Art Museum and the IEAA are sometimes able to provide guided tours of the Contemporary exhibitions at the Art Museum.

To schedule a tour, contact the Art Museum at 901.678.2224.

Note: All groups are required to contact the Art Museum in advance and are strongly encouraged to schedule a docent-guided tour.

Events for Fall 2020
All of our events will take place online. Each program is free, but online registration may be required.
---
Fourth Annual IEAA Alumnae/Alumni Lecture
"Gathering the Pieces: An Iconographic Analysis and Virtual Reconstruction of a New Kingdom Non-Royal Sarcophagus."
A Public Lecture by Dr. Kevin Johnson
October 23, 2020
Time: 7:00 PM
Location: Online - https://youtu.be/wklEvy7eiDk
Kevin Johnson, PhD, is Chair of the History, Global & Political Studies Department and Associate Professor of History at Taylor University in Upland, Indiana. Dr. Johnson received his PhD from the Department of History at the University of Memphis in 2012 and his MA in Art History, Egyptian Art and Archaeology concentration.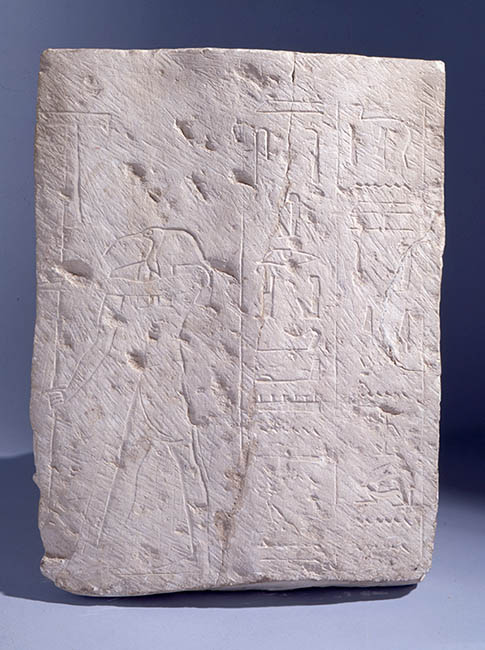 Dr. Johnson will update us on his research on the limestone sarcophagus of Menna, a mayor of the ancient city of Herakleopolis Magna during the New Kingdom. Stone sarcophagi, while the norm for royalty, are rare for officials, especially those who held office in provincial Egypt. The sarcophagus was found in the 1920s by Sir Flinders Petrie and Guy Brunton, but tomb robbers cut it up shortly after its discovery and sold the pieces on the antiquities market. Over the years, these pieces have found their way into public and private collections in North America (including Memphis!) and Europe. During the last few decades, a majority of the decorated and inscribed panel pieces have been located, and although their disparate locations do not allow for a physical reassembly, a virtual reassembly of the coffin can be undertaken. With this reconstruction, a proper iconographical and textual study can be presented, and a few important details can be revealed, not only specifically about the coffin's owner, but also about non-royal stone sarcophagi of this period in general.
Dr. Johnson's research centers on the late 19th and early 20th dynasties, a pivotal point in Egyptian history. Within the context of this period, he has addressed the global issues of legitimacy, the political machinations of figures behind the throne, and problems of succession and transition of power. Dr. Johnson teaches a study abroad class in Egypt each January and has participated in an archaeological season for the University of Arizona at the mortuary temple of one of Egypt's few female rulers, Tausret.
This online event is free and open to the public.
Registration is not required.
---

Fifteenth Annual William J. Murnane Memorial Lecture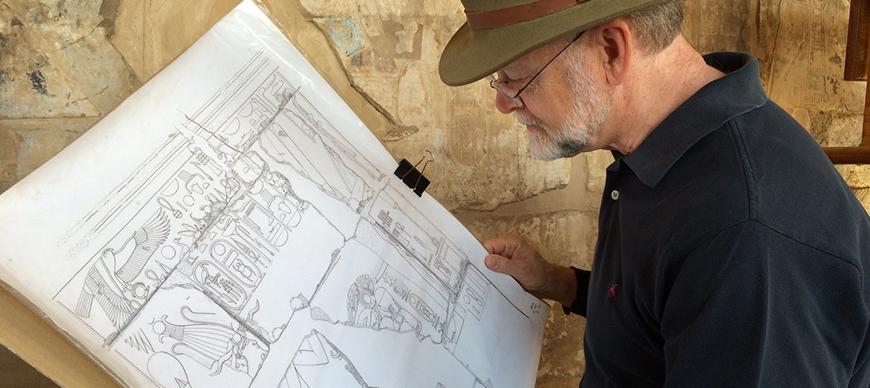 "Tutankhamun's Life, Death, and Afterlife: New Evidence from Thebes."
A Public Lecture by Dr. W. Raymond Johnson
November 6, 2020
Time: 7:00 PM
Location: Online - https://youtu.be/JuHCL88qpFw
Photo by Sue Osgood. https://oi.uchicago.edu/research/projects/epigraphic-survey
Dr. Johnson is a Research Associate Professor in the Department of Near Eastern Languages and Civilizations and Director of the Epigraphic Survey of the Oriental Institute of the University of Chicago.
For reasons that are still unclear even today, all evidence of Tutankhamun's short, ten-year reign was suppressed after his sudden death. His monuments were dismantled and reused, his statues were taken down and reinscribed, and every reference to his reign was removed from ancient Egypt's historical records. All formal memory of Tutankhamun was lost until 1922 when the world rediscovered the boy king's tomb. In recent years, new archaeological material has emerged that sheds light on the significance of Tutankhamun's reign and enriches our knowledge of his life, the luxurious court in which he lived, his extraordinary building activities, and the circumstances of his death. This lecture examines some of the discoveries at Thebes that have stories to tell us about that golden moment in history.
Dr. W. Raymond Johnson is Director of the University of Chicago's Epigraphic Survey in Luxor, Egypt, and Research Associate Professor of the University of Chicago's Department of Near Eastern Languages and Civilizations (NELC) and the Oriental Institute. He received his B.A. from Tulane University in New Orleans and received his doctorate in Egyptian Archaeology from the University of Chicago in 1992 with his dissertation entitled An Asiatic Battle Scene of Tutankhamun from Thebes: A Late Amarna Antecedent of the Ramesside Battle Narrative Tradition. He has participated in excavations at the site of Fort William Henry in Colonial Pemaquid, Maine; at Chogha Mish, Iran; at Quseir Al-Qadim on the Red Sea coast of Egypt; and at Carthage, Tunisia. Dr. Johnson joined the Epigraphic Survey at Chicago House in Luxor, Egypt, full time in 1979 as epigraphic draftsman. It was here, documenting the Opet reliefs of Tutankhamun in the great Colonnade Hall of Luxor Temple, that he began a lifetime of dedication to recording and analyzing the art of the Amarna period. He served as Senior Artist from 1982, became Assistant Director in 1995, and was appointed Epigraphic Survey Director in 1997, making him the longest serving Epigraphic Survey staff member in its history. Dr. Johnson is noted for his perceptive eye which has led him to join disparate blocks in his Luxor Temple Fragment Project as well as fragments of Egyptian statuary, sometimes separated by continents. Dr. Johnson serves on the Steering Committee of the Akhenaten Museum and currently directs the Amarna Talatat Project in Minya, Egypt, where he is reconstructing wall scenes from the stone monuments of Akhenaten and Nefertiti's cult city to the Aten, Akhetaten, for display in the local Minya Museum. Dr. Johnson is known world-wide for his establishment of Chicago House as an inclusive center for international scholars who work in Egypt. In acknowledgment of his significant contributions to the field of Egyptian archaeology, Dr. Johnson was awarded honorary Corresponding Membership in the German Archaeological Institute.
This online event is free and open to the public.