IEAA Events - Spring 2021
Seventeenth Annual Legacy of Egypt Lecture, Tom Hardwick - Thursday, April 15, 2021 at 7:00 PM CDT
IEAA Ancient Egypt Family Day on the Internet - Date to be determined

All IEAA events will take place online.

The Egyptian Gallery is
OPEN.
Read Important Guidelines Before Your Visit HERE

The Institute of Egyptian Art & Archaeology, as part of its mandate as a Tennessee Center of Excellence, presents programs and educational events for the public. The IEAA brings world-renowned Egyptologists to the Mid-South for lectures and symposia. In addition, educational events are offered to schoolchildren and their families. Occasionally, the Institute also sponsors educational tours to Egypt.
The Institute of Egyptian Art & Archaeology provides trained graduate student docents for groups wishing a guided tour of the ancient Egyptian and African ethnographic exhibitions in the Art Museum of the University of Memphis. In addition, the Art Museum and the IEAA are sometimes able to provide guided tours of the Contemporary exhibitions at the Art Museum.

Note: Due to social distancing protocols, no tours are being scheduled at this time.

Events for Spring 2021
All of our events will take place online. Each program is free, but online registration may be required.
---

Seventeenth Annual Legacy of Egypt Lecture
"Something Old, Something New: Uses and Abuses of Egyptian Statues."
A Public Lecture by Tom Hardwick
Date: Thursday, April 15, 2021
Time: 7:00 PM CDT
Location: Online - TBD
Tom Hardwick is the Consulting Curator of Egyptology at the Houston Museum of Natural Science in Houston, Texas. He studied Egyptology at the University of Oxford and has served as Keeper of Egyptology at the Bolton Museum in the UK, as a researcher in the Wilbour Library of Egyptology in the Brooklyn Museum, and as an Egyptologist in the Grand Egyptian Museum, Cairo. He is a specialist in Egyptian art, the history of collecting, and in the forgery of works of art.
The clichéd terms 'eternal' and 'timeless' crop up time and again in discussions of pharaonic monuments, implying that the size and solidity of temples and statues made them immune to change. In fact, nothing could be further from the truth. Within a few generations of their manufacture, statues made out of hard granite, weighing dozens of tons, and standing several stories high were frequently relocated with new names and new faces – the world's earliest and heaviest members of the Witness Protection Program. Thousands of years later, Egyptian statues faced other challenges as Western clients succumbed to the lure of the 'eternal': objects were repaired for sale and display using techniques that covered a broad spectrum of skill and honesty.
This lecture will show various ways in which Pharaonic statues were made and then changed from the New Kingdom to the 21st Century. Mr. Hardwick will also discuss the methods and motives behind these changes.
This online event is free and open to the public.
Registration is not required.
---

Ancient Egypt Family Day on the Internet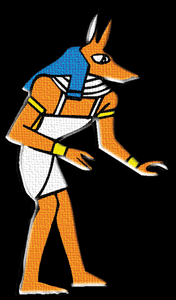 Coming to a computer near you!
Treat the family to fun-filled activities inspired by Ancient Egypt.
Date: TBD
Time: TBD
Location: Online - TBD
This online event is free and open to the public.