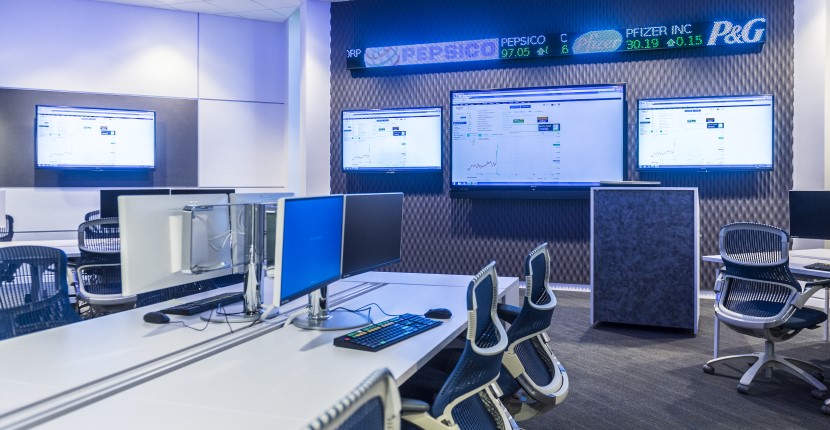 Financial Infrastructure Stability and Cyber-security (FISC) Center
The Goal of the Financial Infrastructure Stability and Cyber-security (FISC) Center is to identify systemic threats to financial infrastructure stability and market resiliency by applying big data analytics and advanced statistical techniques to financial data.
The center has the capacity to process large datasets, bring additional datasets, read distributed ledgers generated by blockchain technology (FINTECH) and extend the analysis to cyber-security applications by engaging full time faculty and PhD/graduate students in Finance, Statistics, and Computer Sciences. FISC's research projects include financial impact of regulations, market design, technology and its risks, social media, big data and analytics, Bayesian and non-Bayesian statistical modeling, illiquidity and loss-spirals, and institutional ownership and trades. FISC faculty are also interested in Cybersecurity research on topics currently being funded by government agencies and relevant to industry include Anonymous Networks & Currencies (Cryptocurrencies), Cyber Risk Economics (CyRiE), Cyber Security Forensics, Cybersecurity Competitions, Enterprise Level Security Metrics and Usability, and Insider Threats.
The Cook Analytics & Trading Lab hosts the security microstructure data sets, servers, and 12 Bloomberg terminals with real-time and historic information on a variety of markets including equities, fixed income, government securities, commodities and foreign currency markets. The size of the microstructure datasets, NYSE's Trade and Quote (TAQ) and Nasdaq's order message data (ITCH) together represent more than 1 TB of data per day. Datastream International provides international coverage. Additionally WRDS access is available for CRSP and Compustat. The Lab has the data for several years going back from the time before the 2008 Financial Crisis all the way to the current year.
FISC Faculty Expertise
Financial Market Design: Dr. PK Jain, George Johnson Professor of Finance

Market Microstructure and Trading: Dr. Tom McInish, Wunderlich Chair of Excellence in Finance

Statistical Modeling: E. Olúṣẹ́gun George, Professor and Graduate Coordinator, Statistics

Computer Science, Cybersecurity, and Bio-inspired computing: Dr. Dipankar Dasgupta, Dr. Pat E. Burlison Professor of Computer Science

Cyber-security science and managerial issues: Dr. Robin Poston, Professor and Chair, Department of Business Information and Technology

Computational analysis of political texts and the political implications of security intrusions: Dr. Leah Windsor, Research Assistant Professor, Institute for Intelligent Systems

Fintech and Cybersecurity: Dr. Konstantin Sokolov, Assistant Professor of Finance

Neuromarketing and Consumer Behavior: Dr. George Deitz, Associate Professor, Department of Marketing & Supply Chain Management
Volunteer Industry Experts
Fixed Income, Capital Markets, Fintech and AI: Stephen K. Valadié, CFA. SVP, Fintech Strategy / AI. First Horizon Bank
Events
Upcoming Events
Recorded paper presentations
Past Events
Project Leaders
David Taylor: Organizational structure of stock exchanges around the world
Jianning: Multimarket liquidity before and after introduction of IEX
John Kubi: Bayesian techniques for systemic risk extension, joint statistical estimation
Jonathan Miller: Determining the price efficiency and market structure of Bitcoin and other major cryptocurrencies
Kelley Anderson: Foreign institutional ownership and price efficiency
Long Ma: Market liquidity and volume effects of SEC comment letter disclosures
Md Jobaer Hossain: Intra-day interconnectedness of leveraged ETF markets
Prajakta Kotle: SIP (Securities Information Processor) outage and trading activities
Rasheek Irtisam: Management tone and informed trading
Rob Vaughn: Non-normal and non-linear models, Spirals, and Statistical Training
Shawn McFarland: Short term dynamic price limits: The limit up limit down and special quote rules
Vivek Sharma: Institutional trading
Wei Sun: Time clustering, leading indicators of stress, and collecting and standardizing financial data and summary metrics of TAQ and ITCH and other big data for public consumption.
Will Zhang: Market fairness, market efficiency, and algorithmic trading
Center Publications
Commonality in Liquidity and Multilateral Trading Facilities, Pankaj K. Jain, M. Mekhaimer, Sandra Mortal, Financial Review 55(3), 1–22, 2020. https://doi.org/10.1111/fire.12225
Insights from Bitcoin Trading. Pankaj K. Jain, Thomas H. McInish, and Jonathan Miller. Fintech Special Issue, Financial Management, forthcoming, 2019.
Does High Frequency Trading Increase Systemic Risk? Pankaj Jain, Pawan Jain, and Thomas H. McInish, 2016, Journal of Financial Markets 31, 1-24. Lead Article.
Permanent Price Impact Asymmetry of Trades with Institutional Constraints. Chiyachantana Chiraphol, Pankaj Jain, Christine Jiang, and Vivek Sharma, Journal Financial Markets, 2017, Lead Article.
Intraday price behavior of cryptocurrencies. Bill Hu, Thomas McInish, Jonathan Miller, Li Zeng, 2018, Financial Research Letters.
Conference Presentations
Impact of Foreign Ownership on Price Efficiency. Kelley Anderson, Pankaj Jain, and Seung Won Woo. Southern Finance Conference. Key West, FL.
Using Stochastic Ordering to Test for Treatment Related Trend with Clustered Data. Keynote Address at the Annual Fall Meeting of The Western Chapter of the American Statistical Association: by E. Olusegun George
Olúṣẹ́gun George. American Statistical Association Symposium on Statistical Inference, Statistical Inference in the 21st Century: A World Beyond P <0.05. October 11–13, 2017, Bethesda, Maryland.
Materials from past FISC cross-disciplinary workshops
How Can You Support FISC?
Join major university supporters who help build FISC capacity by providing grants and scholarships for research faculty, students, capital acquisitions, data and softwares.
Contact Us
Rasheek Irtisam
FISC Manager
901.678.5930 | Email Rasheek