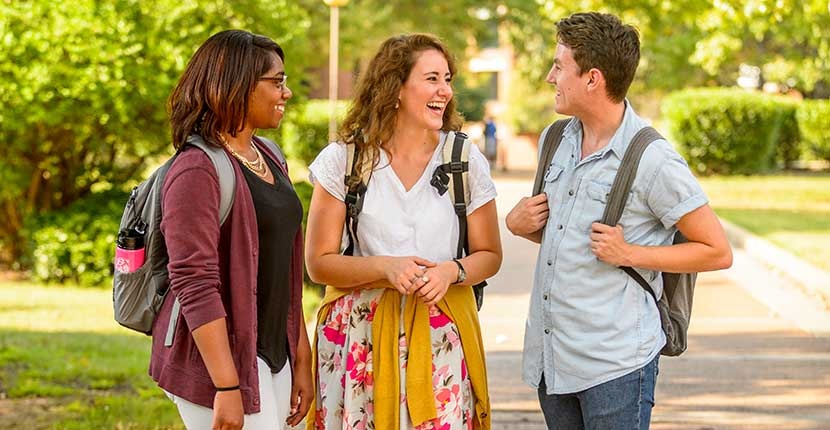 Students are our products. The business community is our customer.
The Fogelman College of Business & Economics is an AACSB accredited institution comprising six departments – School of Accountancy; Business Information and Technology; Economics; Finance, Insurance, and Real Estate; Management; and Marketing and Supply Chain Management. We also offer academic programs at all levels – undergraduate, masters, and Ph.D.
Under our model of operation, we consider members of the business community as our customers; the students our products; and the faculty and staff our employees that manufacture the product. Whether you are a prospective student, a parent, a potential employer, or someone seeking employment with the College, under this philosophy all stakeholders win.
A Relevant Education
Memphis is home to many of America's greatest companies, and the Fogelman College takes maximum advantage of the metropolitan environment in which it is located. Students are provided opportunities to interact with the business community through real-world, relevant, and important projects and internships.
We also offer state-of-the-art facilities including a facsimile of a Wall Street trading firm, the Cook Analytics and Trading Lab. The Cook Lab is a cutting-edge technology and data center that provides the opportunity for students to experience pragmatic, hands-on learning in an academic environment.
When you combine the wealth of real-world experience available at the FCBE with a philosophy geared towards making students more marketable to employers, the result is exceptional graduates who can compete with the best and the brightest.
At the Fogelman College we differentiate ourselves by providing a unique Complete Professional Program that holistically prepares students to achieve both personal and professional excellence. Through the Avron B. Fogelman Professional Development Center, FCBE provides training on ethics, healthy living habits, business etiquette, resume building, interview skills, professionalism, philanthropic activities, and more.
A MBA that Means Business
In addition to the professional development differentiator, we are also proud to distinguish ourselves based on the customized development of our MBA students. The Fogelman College offers a comprehensive portfolio of graduate programs including five different tracks to earn a MBA. These programs include the Customer-Driven MBA, International MBA, Executive MBA, Online MBA, and Professional MBA.