Amr Mohamed, PhD
Assistant Professor of Teaching
Office Hours
By appointment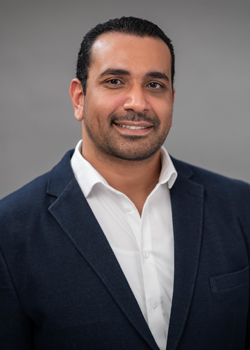 About Amr Mohamed
Dr. Amr Mohamed completed his doctorate degree in statistics under Dr. Kevin H. Lee at Western Michigan University, he also earned a certificate in biostatistics from the same university. He earned his master's degree under Dr. Alexei Vernitski from the University of Essex (Colchester, UK) and his bachelor's degree in statistics from Benha University in Egypt. He is currently an assistant professor of teaching in the College of Health Sciences at the University of Memphis.
Dr. Mohamed has over a decade of experience in his field. Prior joining the college of Health Sciences, he taught at several universities including Western Michigan University, Miami Regional University, The National University of Singapore and The American University in Cairo.
Dr. Mohamed's research interests are broadly focused on applied statistics and data analysis. His research interests include, but not limited to: high-dimensional statistical analysis, statistical machine learning and data mining, variable selection, classification and clustering. His research applications are largely in the area of biostatistics and health sciences.
Education
Ph.D. Statistics – Western Michigan University – 2023
Graduate Certificate in Biostatistics – Western Michigan University – 2023
MSc Statistics and Data Analysis – University of Essex, UK – 2015