Jebose Okwumabua, PhD
Professor
Office Hours
By appointment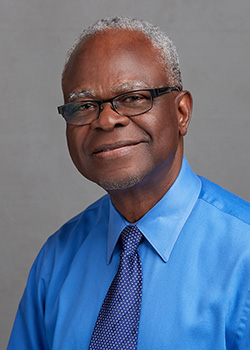 About Jebose Okwumabua
Jebose Okwumabua, PhD is a professor of health promotion in the College of Health Sciences. He has served as principal investigator on a number of community-based initiatives with priority populations including African American in rural and urban Tennessee, rural Alabama, as well as with Native American and Hispanic populations in New Mexico. His research interests have been in the areas of needs assessment, health intervention program development, implementation and evaluation designed to improve the health status of underserved populations.
Dr. Okwumabua established the Urban Youth Wellness Initiative in partnership with Memphis City Schools and several community-based organizations aimed to improve the wellness and quality of life of youth and their families residing in Memphis and Shelby County, Tenn. Dr. Okwumabua has also served as principal investigator on a number of research grants to enhance the health and wellbeing of adult populations in Tennessee. As part of the Stroke Belt Initiative, sponsored by the National Heart, Lung, and Blood Institute, he developed and implemented a comprehensive project with five African American churches in Memphis and Shelby County, targeting smoking cessation, nutrition education and weight management. In response to HIV/AIDS crisis in Memphis and Shelby County, Dr. Okwumabua directed a field study in partnership with Memphis and Shelby County Health Department, sponsored by the U.S. Department of Health and Human Services/Office of HIV/AIDS Policy, aimed to understand the dynamics and determinants of the high prevalence of HIV/AIDS in Memphis and Shelby County, as well as to identify action plans toward mitigating the HIV/AIDS crisis in this region.
Funded by the Tennessee Office of Minority Health and the U.S. Office of Health Disparities, Dr. Okwumabua also co-directed a study with the faith leaders of color in six key urban areas and the Jackson/Madison metropolitan region in Tennessee, to determine the role of the faith communities of color in reducing the disproportionately high incidence of cerebrovascular disease among ethnic populations in Tennessee.
Dr. Okwumabua is currently engaged in health promotion interventions with adult individuals suffering with severe and persistent mental illness in community residential facilities in Memphis and Shelby County.
Education
PhD Community Health Education - University of New Mexico - 1985
MS Community Health - Memphis State University - 1980
BS Microbiology - Memphis State University - 1976