Todd Layne, Ph.D.
Unit Coordinator | Associate Professor
Office Hours
By appointment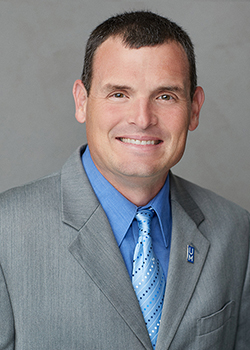 About Todd Layne
Dr. Todd E. Layne is an assistant professor of physical education teacher education in the College of Health Sciences at the University of Memphis. He received his B.S. and M.A. in health and physical education from Tennessee Technological University and his Ph.D. in physical education from Auburn University.
His research program examines the use of the sport education curriculum model. Primary interests involve examining the use of sport education with children in the primary grades and university setting with a focus on teacher effectiveness, student competence and skill development. Other interests include examining high autonomy climates and the impact on student learning and student physical activity levels. His work has been published in peer-reviewed journals, such as the Journal of Teaching in Physical Education, Physical Education and Sport Pedagogy, and European Physical Education Review. He has also made several presentations at academic conferences, such as the American Association of Health, Physical Education, Recreation and Dance (AAHPERD).
Education
Ph.D. Physical Education - Auburn University - 2012
M.A. Health and Physical Education - Tennessee Technological University - 2001
B.S. Health and Physical Education - Tennessee Technological University - 1999