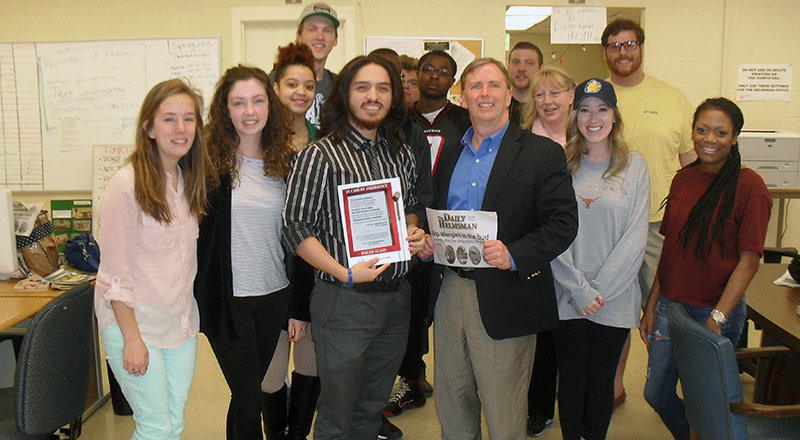 Student Media
Journalism and Strategic Media students have the opportunity to work in several student media outlets during their studies. Student media allow for work on real-world stories and projects and with real clients. The student media experience helps to launch internships and careers when students enter the job market.
Work at some student media outlets can be used for Student Media Practicum course credit; others are incorporated into journalism courses. The listings below explain each outlet and how to get involved.
The Daily Helmsman
The Daily Helmsman, an independent, award-winning student-run newspaper begun as a protest newspaper in 1931 called The Tiger Rag, has been published continuously since. The name was changed to The Helmsman in 1972, and again in 1981 to The Daily Helmsman, when it began publishing four days a week. It's available online at dailyhelmsman.com. Students make all the editorial decisions. The newspaper is financially independent except for a contribution from the Student Activity Fee, which makes it free to students, faculty and staff. The Daily Helmsman employs a paid staff of about 30 students and three full-time professionals—Candy Justice, general manager; Chris Sheffield, advertising manager, and Sharon Whitaker, bookkeeper. Email The Daily Helmsman at dailyhelmsman@gmail.com or follow The Helmsman Facebook and Twitter.
---
Tiger News is the weekly television newscast produced by students at the University of Memphis. Our four-part mission includes:
to inform, enlighten and entertain the students, faculty and staff of the University
to provide training for student journalists
to give a voice to different perspectives
to uphold high journalistic standards
Students produce the show entirely: from finding stories to shooting and editing them, from organizing the newscast to filming it and uploading it online. As such, many positions are open: producer, assistant director, anchor, crew member (audio technician, tape operator, prompter operator, camera operator), social media content writer, video uploader and website content editor. Students can wear several hats every week and change positions to broaden their range and improve their skills. All positions are open yearlong, except anchors. Anchor auditions will be held in the beginning of each semester.
Our main purpose is to give students a place to practice and deepen broadcast journalism skills while learning to work as a team. Students can participate in Tiger News as early as their first semester and toward the end of their college career, they can earn credit with Tiger News through JOUR 4639, TV News Producing, or JOUR 4940, Student Media Practicum.
Upper-level students should help train the less experienced ones as all students work cooperatively in a collegial atmosphere, the way they will be expected to do in their broadcast journalism career.
---
Memphis Mirror
The Memphis Mirror is a project of Multimedia News Lab, the capstone class for the Journalism major. The goal of the ongoing project is to hold a mirror to the city and reflect the various cultures, religions, identities, abilities and truths Memphis offers. At the Mirror, students rely on various media platforms—audio, video, maps, photography and infographics—to tell the stories of Memphis. Follow us on Twitter @MemphisMirror, Facebook or Instagram @MemphisMirror.
---
Meeman 901 Strategies
Meeman 901 Strategies is the department's student-run strategic communication firm. The firm takes on both pro bono and paying clients every semester and offers a range of services, including website design and upkeep; public relations strategy; social media content creation and monitoring; advertising and branding strategy and design; copywriting and editing; visual and graphic design elements including logos and any other strategic communication needs of an organization.
Past clients have included the Memphis chapter of the American Heart Association, the University of Memphis chapter of the Public Relations Student Society of America, the University of Memphis ROTC and Memphis Light, Gas, and Water.
Working with Meeman 901 Strategies can be done either for course/practicum credit or on a volunteer basis at both the undergraduate and graduate levels. Students who wish to get course/practicum credit must apply for a position within the firm the semester before they wish to receive credit.
---
WUMR U92 FM
Broadcasting in stereo with 25,000 watts of power, WUMR U92 FM is the only exclusive jazz outlet in the Memphis metro area. The station offers a mix of contemporary and traditional jazz, as well as a sampling of fusion, Blues, Latin, and new age Jazz. The station also serves the Mid-South community with unique educational, sports, and community service programming.
WUMR has been the University of Memphis broadcasting outlet since 1979, when Southwestern at Memphis (now Rhodes College) sold one of its two radio licenses to then Memphis State University. WSMS-FM 91.7, carrying the Memphis State call letters, was created as an all-jazz station. Although the call letters changed to WUMR, when Memphis State became the University of Memphis on July 1, 1994, the station, which is now known as WUMR "The Jazz Lover" U 92-FM, has stayed true to the all-jazz format during its 30-year history. WUMR is part of the College of Communication and Fine Arts' (CCFA) Department of Communication. An element of the station's mission is to train communication and journalism students in broadcasting.