Eradicating Systemic Racism and Promoting Social Justice Initiative
*The reports linked below are working files and may be updated as recommendations are finalized or implemented.
Explore the Workgroups
The focus of this initiative is to identify areas in need of reform and change, and implement that change to take another step in the direction of realizing the hope of a community defined by equality and justice. Fourteen workgroups have been created to evaluate opportunities for enhancement and progress in areas that impact our entire campus community and the broader Mid-South:
1. Closing Gaps in Retention and Completion of Students from Historically Underrepresented, First-generation and Low-income Populations
Co-Leads:
Dr. Stephanie Ivey
Associate Dean for Research,
Herff College of Engineering;
Professor of Civil Engineering
Nationally, retention, persistence and graduation rates are the primary metrics of student success and quality for institutions of higher learning. In Tennessee, these metrics determine budget allocations from the state. The University of Memphis has made remarkable progress in closing completion gaps and increasing graduation rates for all. The UofM is particularly proud of the African American Male Academy which garnered national attention in Newsweek magazine for its vanguard model to increase recruitment, retention, persistence and graduation from middle school to high school, high school to college and through doctoral and law school programs via a culture of inclusive excellence. President Rudd and Dr. Loretta Rudd in partnership with Superintendent Joris Ray of Shelby County Schools, created the George Floyd Memorial Scholarship to support the tuition of these young African American boys when they enroll at the UofM. The success of these and other programs in closing gaps are remarkable; however, the fragility of consistent and upward trends demands a structured and uniform approach. The primary goal of this workgroup is to identify gaps in outcomes for historically represented, first-generation, and low-income populations, create a strategic plan that builds on our strengths and recommends metrics to inform predictive analytics to further increase academic success rates.
---
2. Recruiting, Hiring and Retaining Tenured and Tenure-Track African American Faculty and Other Faculty of Color
Co-leads: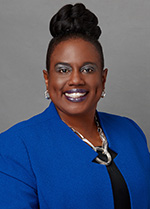 Dr. Kandi Hill-Clarke
Dean, College of Education;
McRae Endowed Professor of School-based Clinical Practice
The University of Memphis celebrates academic excellence via diversity and proudly boasts the annual recognition of the "Top Producers of African American Graduates." Yet the University strives to achieve a higher level of diversity amongst the faculty. The UofM, therefore, is committed to recruiting, retaining and promoting an increased number of African American and other faculty of color. The primary goal of this workgroup is to identify best practices to diversify the professoriate and to create a strategic plan of action to reach this goal.
---
3. Community Engagement, Policy and Advocacy
Co-leads:
Daphene McFerren, Esq.
Executive Director, Hooks Institute
Dr. Charlie Santos
Dept. Chair, Dept. of City and Regional Planning; Associate Professor
Dr. Elena Delavega
Associate Professor, School of Social Work
As an urban public university, the University of Memphis is committed to the betterment of our community. Community engagement and engaged scholarship are essential elements of the University's identity and culture. The Community Engagement, Policy and Advocacy Workgroup is tasked with identifying strategies that would utilize university resources to address racial disparities in the broader Memphis community. The workgroup will consider related community-based learning initiatives, community-university partnerships, policy advocacy and the internal support structures required to underpin these external efforts.
---
4. Training for Faculty, Staff and Students-Cultural Competence
Co-Leads:
Dr. Aram Goudsouzian
Professor, Department of History
Kristil Davis
Director, HR Strategic Initiatives & Talent Management
Recent events illumine the need for faculty, staff and students to become more culturally competent and knowledgeable about all races and cultures in a world made increasingly smaller by globalization. Regrettably, many have not had in-depth training, experience or exposure to navigate experiences involving cross-racial, cross-cultural issues of diverse groups, but desire training to do so. The primary goal of this workgroup is to identify existing trainings (online tutorials, videos, expert panels/speakers) designed to improve relational skills.
---
5. Infrastructure, Support and Assessment of Initiative
Co-leads:
Bridgette Decent
Director, Office of Institutional Research
Dan Strahl, MS
Associate Director of Research for the Center for Research in Educational Policy
Daphene McFerren, Esq.
Executive Director, Benjamin L. Hooks Institute for Social Change
Joanna Curtis
Vice President for Advancement
Summer Owens
President, UofM Alumni Association
Brandon Henderson
President, University of Memphis Black Alumni Chapter

Rorie Trammel
Associate Director, Benjamin L. Hooks Institute for Social Change
The goals of this workgroup are to designate/develop resources to conduct formative and summative assessments of plans with accompanying metrics and benchmarks to determine success; to stabilize units with primary directives of fostering racial equity with additional staffing; to increase philanthropic support for the University of Memphis; and to promote greater racial diversity among the advisory boards that serve the UofM's colleges, schools, departments and institutes.
---
6. Equity in Pay and Career Progression
Co-Leads:
Latosha Dexter, Esq.
Deputy University Counsel, Office of
Legal Counsel
Judy Edge
Corporate Vice President for HR, FedEx Corporation
Compensation inequities exist in all organizations. Although the University of Memphis has taken proactive steps to increase the pay of its lowest paid staff and has worked to address other compression and equity concerns, there is more work to do. The primary goal of this workgroup is to critically examine compensation inequities and to recommend a strategic approach, based on best practices, to create more equitable compensation strategies.
Additionally, compensation inequities cannot be fully addressed without understanding that lack of opportunities for career progression increase the gap. Women and faculty and staff of color often report lack of awareness and/or opportunity to be considered for open or higher-level positions. A secondary goal is to close the "opportunity" gap by creating access to advancement for underrepresented populations.
---
7. Curriculum: Infusing Diversity, Equity, Inclusion and Social Justice into Existing Courses/Curriculum
Co-leads:
Dr. Remy Debes
Chair and Associate Professor of Philosophy, Department of Philosophy
Dr. Beverly Cross
Lillian and Morrie Moss Chair of Excellence in Urban Education at the UofM
Dr. Ladrica Menson-Furr
Director of African and African American Studies; Associate Professor, English
The Chronicle of Higher Education (7/20/2020) reported that a clarion call from students is to "Diversify the Curriculum." At the same time, scholarship regarding diversifying the curriculum has moved away from suggestions of "tag on" content or "add-on" courses, to reviewing and transforming existing curriculum, essentially broadening the knowledge base for all. The primary goals of this workgroup are to identify/develop actionable frameworks for diversity, equity, inclusion and social justice; identify/develop critical curriculum review questions and protocols; integrate culture and climate as supports to curriculum content, methods and teaching and learning; and accumulate and disseminate models for curriculum self-assessment, program planning and continuous improvement.
---
8. New Program Development, Race and Social Justice
Co-leads:
Dr. Randy Floyd
Chair and Professor, Department of Psychology
Dr. Andre E. Johnson
Associate Professor of Rhetoric and Media Studies, Department of Communication and Film
Dr. Ladrica Menson-Furr
Associate Professor, English; Director of African and African American Studies (Liaison)
Several faculty members and students have expressed interest in creating new academic programs, concentrations, minors, majors and graduate certificates related to eradicating systemic racism and promoting social justice. The primary goals of this workgroup are to develop a strategic plan of action to review requests for programming within the context of existing academic programs focused on race and social justice to determine need and avoid duplication; and to recommend proposals for consideration and approval to the respective undergraduate, graduate and law school curriculum committees and councils.
---
9. Fostering a Sense of Belonging and Support for All
Co-leads:
Dr. Richard Lou
Professor and Chair, Department of Art
Amanda Lee Savage
Instructor & Undergraduate Advisor, Department of History
Latica Jones
Business Officer III, College of Arts and Sciences
The University of Memphis often receives the highest scores in the state on exit surveys of undergraduate students and on surveys administered by other national, professional organizations measuring students' appreciation of diversity on this campus and their sense of belonging. However, post-baccalaureate students, staff and faculty who are few (if not the sole person of their race) often report feelings of alienation or marginalization. The primary goals of this work group are to develop ideas and methods to acknowledge, celebrate, and critically engage all diverse groups on campus; and integrate this inclusiveness into the University culture.
---
10. Contracting with Minority Businesses
Co-leads:
J. W. Gibson
Chairman and CEO Gibson Companies
Carolyn Hardy
President, Chism Hardy Investments

Beverly Robertson
CEO, Greater Memphis Chamber

Dr. Albert Okunade
Professor, Department of Economics; George Johnson Fellow in Research, Fogelman College of Business and Economics
Nick Pappas
Executive Director, Procurement and Contract Services
The University of Memphis is a financial engine in the local economy providing millions of dollars to businesses through the procurement process. The focus of this work group is to increase the number of minority businesses that have the capacity or are positioned to secure substantial contracts with the UofM. Additionally, this group will also evaluate how the UofM might facilitate the expansion of minority business opportunities throughout the greater Memphis area.
---
11. Institute for Public Service Reporting/Radio Partnership with Crosstown Concourse
Co-leads:
Otis Sanford
Professor, Hardin Chair of Excellence in Economic and Managerial Journalism, Department of Journalism and Strategic Media
David Waters
Investigative Journalist; Assistant Director of the Institute for Public Service Reporting
Investigative and public service journalism to uncover complex stories that reveal systemic racism, or institutional practices that foster racial, health, economic and other disparities, is vital to pushing for change. Such journalism can reveal long-standing problems or practices that require legislative, judicial or other action to promote social justice. This work group will examine how the Institute for Public Service Reporting, the University of Memphis' Radio Partnership with Crosstown and other media collaborations – including The Daily Memphian online news site – can produce robust, innovative and transformative reporting working with UofM students and others. Recognizing that a healthy public discourse around systemic racism is essential, this group will also explore how radio programming, town hall-style gatherings, social media platforms and other electronic media can be utilized to further the overall goal of eradicating racism and promoting social justice.
---
12. Recruiting and Graduating African American Doctoral/Law Students and Other Graduate Students of Color
Co-leads:
Dr. Richard Irwin
Executive Dean of the College of Professional and Liberal Studies and UofM Global
Dr. Ebenezer Olúṣẹ́gun George
Professor of Mathematics, Department of Mathematical Sciences
Demetria Frank, Esq.
Associate Professor, Director of Diversity, Cecil C. Humphreys School of Law
Dr. Esra Ozdenerol
Professor, Department of Earth Sciences; Director of GIS Certificate program, Director of SAGE (Spatial Analysis and Geographic Education) Laboratory
The University of Memphis has received national recognition for graduating relatively large numbers of African American students with advanced degrees. The latest data from Diverse Magazine highlight some of our success stories:
Top 20 in the nation for undergraduate degrees awarded to African American students (#17)
Top 25 for law degrees awarded to African Americans, top 40 for doctoral degrees, and top 100 for master's degrees
Top 10 for programs including master's in liberal arts and humanities (#1), history (#3) and doctorate in philosophy (#9).
Yet, like most major research institutions of higher learning across this nation, we have a dearth of doctoral students in the STEM disciplines and in business. The primary goal of this workgroup is to develop a strategic plan to recruit, support and graduate African American and students of color in doctoral and law programs.
---
13. Branding
Co-Leads:
Tammy Hedges
Executive Vice President for University Relations
Kathy Johnson
Director of Space Planning, Utilization and Administration
The goals of this workgroup are to identify ways to better visibly acknowledge and recognize diversity on campus; receive, review and vet recommendations for signage, references and/or names on campus buildings for possible renaming opportunities; advance all recommendations with strong support to the appropriate campus entity/entities and the state, if policy requires such; and review and address any changes in policies, procedures and/or marketing materials to implement all approved recommendations.
---
14. Health Disparities and Academic Achievement
Co-Leads: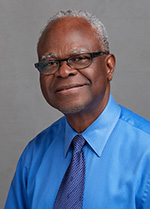 Dr. Jebose Okwumabua
Professor, College of Health Studies
A gulf of health disparities among people of color has been well documented. The COVID-19 Pandemic has disclosed health inequalities that disproportionately and adversely impact low-income and ethnic minority communities. Systemic racism has been identified as a root cause of inequalities in health, resulting in higher rates of morbidity and mortality among people of color. Anecdotal data reveals that educational, physiological and mental health outcomes of college students are adversely impacted by health disparities emanating from systemic racism. Over 50% of the University of Memphis students come from low income families, and many are first generation college students. The UofM has created food pantries, clothes closets and emergency loans to help students pay for utility bills and other basic needs. The university has witnessed an increase in the number of students requiring these supports including mental health services.
The primary goal of this workgroup is threefold: to develop a strategic plan of action to assess relationships among health disparities, systemic racism and academic achievement of the University of Memphis students; to develop recommendations for implementing positive change; and to recommend research initiatives focused on these areas.