UofM Doctoral Student in Psychology Receives NIH Dissertation Grant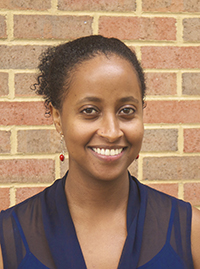 July 23, 2015 - The National Institutes of Health (NIH) has awarded Lidia Meshesha, a doctoral student in psychology at the University of Memphis, a two-year dissertation grant titled Behavioral Economic Supplement for Alcohol Use Disorder Treatment.
The grant will provide support for Meshesha to complete an ambitious dissertation study in a community alcohol treatment center and to further her training as an addiction researcher.
Alcohol use disorders are associated with substantial individual and societal costs, according to Dr. James Murphy, professor of psychology. "Existing alcohol treatments are helpful for some individuals, but rates of relapse are high and there is a need for novel treatment elements that incorporate technology and help individuals in recovery develop constructive alternatives to drinking," he said. Murphy received funding from NIH to develop a behavioral economic alcohol intervention for college students who drink heavily that increases engagement in both constructive alternatives to drinking and in thinking about the future.
Meshesha's dissertation grant will extend this intervention approach to adults who are participating in intensive outpatient treatment for alcohol use disorders. Her approach will include novel technological elements, including the use of text message-based intervention elements to encourage engagement in constructive alternatives and drug-free activities focused on the future.
Murphy is the faculty supervisor for the grant, and will collaborate with Dr. Edward Wise, director of the Mental Health Resources treatment facility, as well as leading addiction researchers from Brown University, the University of Florida and University of New Mexico.
Contact: Gabrielle Maxey
901.678.2843
gmaxey@memphis.edu