UofM Lambuth Campus Designated a Level 2 Arboretum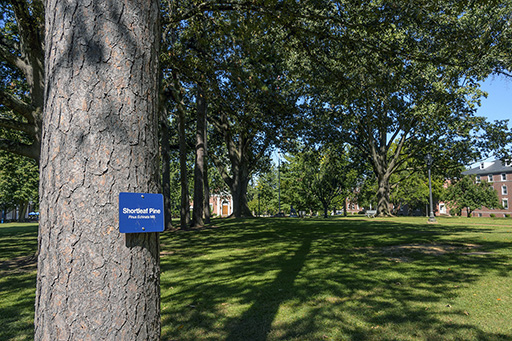 September 4, 2015 - The University of Memphis Lambuth Campus has been designated a Level 2 Arboretum by the Tennessee Urban Forestry Council. Achieving the designation requires that at least 60 different varieties of trees be labeled. A pamphlet or map showing the locations of the trees must be available for self-guided tours.
At the Lambuth Campus, 64 trees have been identified and labeled. They include everything from Southern Red Oak and Northern White Cedar to Willow Oak, Littleleaf Linden and Loblolly Pine.
"I am extremely pleased to see UofM Lambuth designated as an arboretum by the state of Tennessee," said Dr. Niles Reddick, vice provost of the Lambuth Campus. "Not only do we have a beautiful campus year-round, but it's also a testament to the thousands of students, faculty and staff who have been here and how they loved and cared for this place. We are pleased and proud to be a part of that legacy."
The Tennessee Urban Forestry Council has certified more than 70 arboreta throughout the state. They range from a small neighborhood school with 30 different species of labeled trees to a large research park with more than 120 species and full-time employees and volunteers.
An arboretum is defined as an area with a significant amount of woody vegetation that is cultivated for educational, scientific or aesthetic purposes. To be certified, an arboretum must be open to the public, trees must be properly labeled, and they must be properly protected and maintained.
Contact: Gabrielle Maxey
901.678.2843
gmaxey@memphis.edu