UofM's $30 million Student Wellness Center and Plaza to break ground; concurrent recreation facility enhancements
August 29, 2019 - The University of Memphis will break ground on the new $30 million R. Brad Martin Student Wellness Center and Plaza adjacent to the new $18 million Hunter Harrison pedestrian cable bridge/Alumni Mall Amphitheater and $18.5 million, five-story, 1,140-space parking garage on Southern Avenue.
With a tentative spring 2021 opening, the Center is certain to be embraced by students and the University community at large as it will integrate academic and recreational components, contributing to a well-rounded opportunity.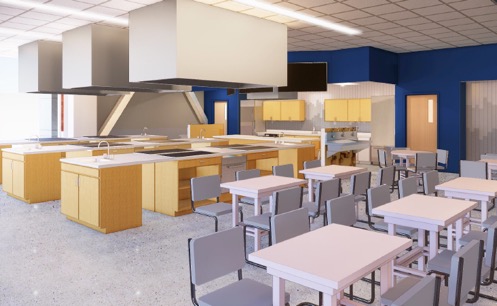 "The new Center for Wellness and Fitness was designed with the whole student in mind, integrating academic classrooms/learning, a demonstration/teaching kitchen, a healthy food café, fitness and fellowship under one roof," said Dr. Richard J. Bloomer, dean of the UofM School of Health Studies and the Student Wellness Center. "It will be just one more example of expansion on our campus to enhance student engagement and the overall user experience."
The two-story, 74,000-square foot facility will provide new and expanded features not previously available on our campus, as well as a more spacious environment. It will house a nutrition teaching kitchen, café, two academic classrooms, two basketball courts, strength training and cardiovascular fitness areas, four group fitness studios, functional training areas, an indoor track and an outdoor exercise patio.
Outdoor activity areas will be expanded to include a leisure pool, an additional field for intramurals and club sports, three tennis courts and a basketball court.
The existing Student Recreation & Fitness Center will continue to operate along with the new facility, with several noted improvements. The most significant will be the creation of the $10 million Mike Rose Natatorium, involving a complete renovation of the existing pool. This will result result in a deeper and longer pool more conducive to lap swimming, and a new warm-water leisure pool.
Spectator seating in the pool area will also be expanded. The roof for the entire facility will be replaced as well, and other key mechanical systems revamped and upgraded. In addition to housing the new Natatorium, several academic classrooms, four multi-purpose courts for basketball, volleyball and badminton, four racquetball/handball courts and several other amenities will be available in the renovated space.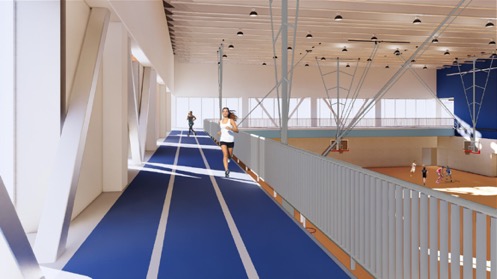 Together with the new Center for Wellness & Fitness, students and other members will have full access to state-of-the-art fitness, nutrition and wellness facilities.
Through a partnership between the University of Memphis, Memphis Tiger Swimming, Splash Mid-South, YMCA of Memphis and the Mid-South and the Rose Foundation, the Mike Rose Natatorium will draw upon a robust aquatics program in the heart of Memphis to promote water safety and enrich community health among diverse populations.
To donate to the Mike Rose Natatorium to ensure that everyone in the Mid-South has access to affordable swimming instruction, please contact Joanna Curtis in the UofM development office at 901.671.5274 or jecurtis@memphis.edu.