Fall 2017 Lecture Series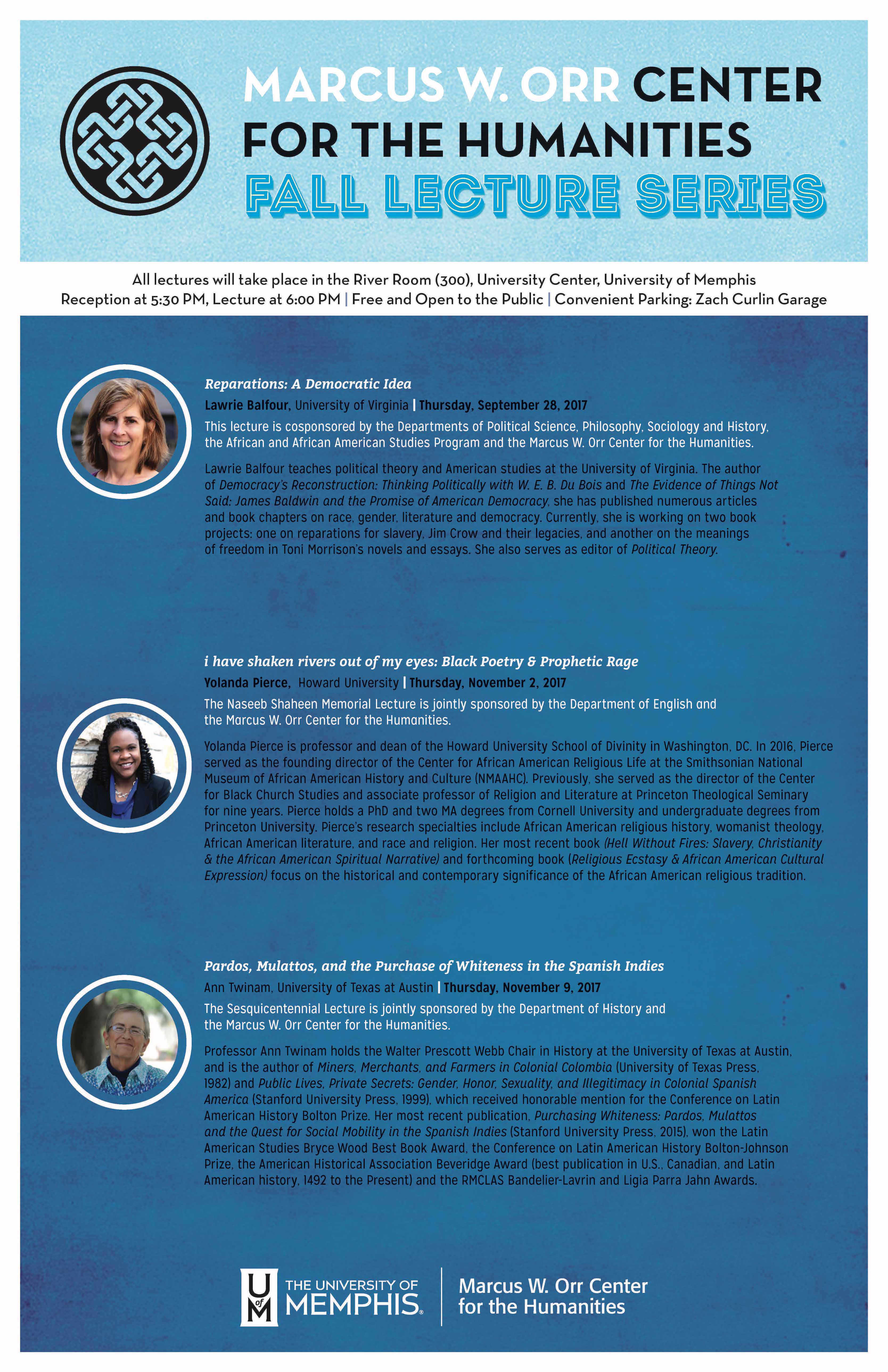 All lectures will take place in the River Room, 300 University Center, University of Memphis Campus
Free and open to the public
Convenient and affordable parking available in the Zach Curlin Garage
Lawrie Balfour // University of Virginia
Thursday, September 28, 2017
Reception at 5:30 PM, Lecture at 6:00 PM
This lecture is jointly sponsored by the Departments of Political Science, Philosophy, Sociology, and History, the African and African American Studies Program, and the Marcus W. Orr Center for the Humanities.
Demands for reparations for slavery and Jim Crow have been dismissed as costly, divisive, and unfair. Yet African American activists and intellectuals from the 19th century to the 21st have often expressed their political aspirations in the language of reparations. Taking these claims seriously, I argue, is not only long overdue but essential for the realization of equal citizenship in the United States. I will lay out my case for reparations as a democratic idea in three parts. First, I will offer a brief history of reparations movements within the U.S. and globally. Second, I will explore how reparations enable us to grapple with the legacies of the past in concrete and symbolic ways and to activate the collective responsibilities of all citizens. Third, I will consider how the language of reparations can be used to counter practices of racialized policing and punishment, on the one hand, and the spread of white supremacist rhetoric and politics, on the other.
Lawrie Balfour teaches political theory and American studies at the University of Virginia. The author of Democracy's Reconstruction: Thinking Politically with W. E. B. Du Bois and The Evidence of Things Not Said: James Baldwin and the Promise of American Democracy, she has published numerous articles and book chapters on race, gender, literature, and democracy. Currently, she is working on two book projects: one on reparations for slavery, Jim Crow, and their legacies; and another on the meanings of freedom in Toni Morrison's novels and essays. She also serves as editor of Political Theory.
---
Yolanda Pierce // Howard University // Shaheen Lecture
Thursday, November 2, 2017
Reception at 5:30 PM, Lecture at 6:00 PM
The Naseeb Shaheen Lecture is jointly sponsored by the Department of English and the Marcus W. Orr Center for the Humanities.
Yolanda Pierce is Professor and Dean of the Howard University School of Divinity in Washington, DC. She is the first woman to be appointed as Dean in the Divinity School's 150-year history. In 2016, Pierce served as the Founding Director of the Center for African American Religious Life at the Smithsonian National Museum of African American History and Culture (NMAAHC). Previously, she served as the Director of the Center for Black Church Studies and Associate Professor of Religion and Literature at Princeton Theological Seminary for 9 years. Pierce holds a Ph.D. and two M.A. degrees from Cornell University and undergraduate degrees from Princeton University. Pierce's research specialties include African American Religious History, Womanist Theology, African American Literature, and Race and Religion. Her most recent book (Hell Without Fires: Slavery, Christianity & the African American Spiritual Narrative) and forthcoming book (Religious Ecstasy & African American Cultural Expression) focus on the historical and contemporary significance of the African American religious tradition. ‬‬She has written over 40 critical essays and articles in academic and trade journals which consider the relationship between religious faith, race, and gender in the American context. In addition to her teaching and academic scholarship, Yolanda Pierce is a dedicated mentor, community activist, board member of a foster care agency, and cable news commentator.
---
Ann Twinam // University of Texas at Austin // Sesquicentennial Lecture
Thursday, November 9, 2017
Reception at 5:30 PM, Lecture at 6:00 PM
The Sesquicentennial Lecture is jointly sponsored by the Department of History and the Marcus W. Orr Center for the Humanities.
The colonization of Spanish America resulted in the mixing of Natives, Europeans, and Africans and the creation of a casta system that discriminated against them. Yet members of mixed races could free themselves from such burdensome restrictions through the purchase of a gracias al sacar—a royal exemption that provided the privileges of Whiteness. For more than a century, the concept of the whitening gracias al sacar has fascinated historians, even though the documents remained elusive. Purchasing Whiteness explores 40 cases of whitening petitions, tracking thousands of pages of ensuing conversations as petitioners, royal officials, and local elites disputed not only whether the state should grant full whiteness to deserving individuals, but whether selective prejudices against the castas should cease. This presentation asks a key question: what historic variables made it possible for pardos and mulattos—unlike their counterparts in Anglo-America—to move from slavery to freedom, to mix with Natives and Whites and to be transformed into vassals worthy of such royal favor?
Ann Twinam holds the Walter Prescott Webb Chair in History at the University of Texas at Austin and is the author of Miners, Merchants, and Farmers in Colonial Colombia (University of Texas Press, 1982) and Public Lives, Private Secrets: Gender, Honor, Sexuality, and Illegitimacy in Colonial Spanish America (Stanford University Press, 1999), which received honorable mention for the Conference on Latin American History Bolton Prize. Her most recent publication, Purchasing Whiteness: Pardos, Mulattos and the Quest for Social Mobility in the Spanish Indies (Stanford University Press, 2015) won the Latin American Studies Bryce Wood Best Book Award, The Conference on Latin American History Bolton-Johnson Prize, the American Historical Association Beveridge Award (best publication in U.S., Canadian, and Latin American history, 1492 to the Present) and the RMCLAS Bandelier-Lavrin and Ligia Parra Jahn Awards.