Fall 2019 Lecture Series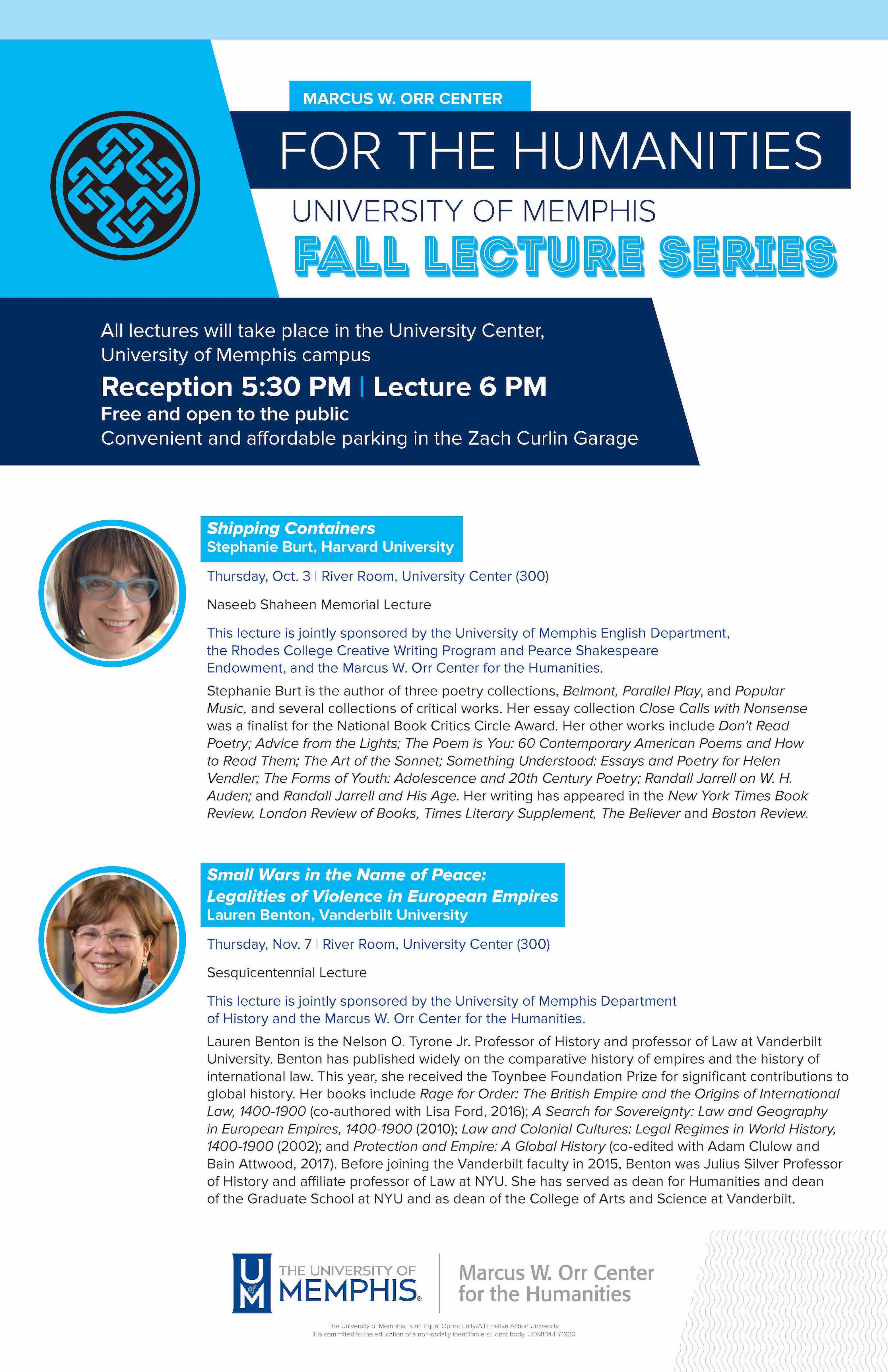 All lectures will take place on the University of Memphis Campus
Free and open to the public


---
Stephanie Burt // Harvard University // Shaheen Lecture
Thursday, October 3, 2019
River Room, 300 University Center
Reception and Book Signing at 5:30 PM, Lecture at 6:00 PM
Convenient and affordable parking in the Zach Curlin Garage
This lecture is jointly sponsored by the University of Memphis English Department, the Rhodes College Creative Writing Program and Pearce Shakespeare Endowment, and the Marcus W. Orr Center for the Humanities.
Stephanie Burt's books, including Don't Read Poetry (2019), will be available for purchase at the book signing.
How can modern shipping containers -- those icons of manufacturing, convenience, standardization and capital, efficient ways to move cargo over the seas -- help us understand the ancient, small-scale art of lyric poetry? Supposedly interchangeable, and international, shipping containers change their meaning once they reach their destinations and what they hold becomes clear; in sites and in cultures from Singapore and Auckland to Baltimore and San Francisco, reused containers become ways for people to live in new ways, inherited forms where the personal meets the imposed. Containers are like modern poems, in this way and in others. Twenty-first century poets even address this influential, too-little-noticed form directly and by name -- and even when they do not, the shipping container and its history offers fruitful analogies for the international work of lyric poetry, for what it can do and for what it contains.
Stephanie Burt is the author of three poetry collections, Belmont, Parallel Play, and Popular Music, and several collections of critical works. Her essay collection Close Calls with Nonsense was a finalist for the National Book Critics Circle Award. Her other works include Don't Read Poetry; Advice from the Lights; The Poem is You: 60 Contemporary American Poems and How to Read Them; The Art of the Sonnet; Something Understood: Essays and Poetry for Helen Vendler; The Forms of Youth: Adolescence and 20th Century Poetry; Randall Jarrell on W. H. Auden; and Randall Jarrell and His Age. Her writing has appeared in the New York Times Book Review, London Review of Books, Times Literary Supplement, The Believer, and Boston Review.
---
Lauren Benton // Vanderbilt University // Sesquicentennial Lecture
Thursday, November 7, 2019
River Room, 300 University Center
Reception at 5:30 PM, Lecture at 6:00 PM
Convenient and affordable parking in the Zach Curlin Garage
This lecture is jointly sponsored by the Department of History and the Marcus W. Orr Center for the Humanities.
Small and undeclared wars occurred in every period and place in world history. These ubiquitous conflicts were especially important in the formation of global empires. This lecture explores the legalities of small wars and traces patterns in the peacetime use of force in a diverse set of cases from European, Latin American, and South Asian history. The examples show that truces and other peace pacts structured the violence of conquest. Imperial agents justified extreme acts of violence, including massacres, as necessary modes of punishment for rebels or as the result of the savagery of allies in proxy wars. Widely repeating patterns point to the continuing legal legacy of small wars, for example in the global war on terror.
Lauren Benton is Nelson O. Tyrone, Jr. Professor of History and Professor of Law at Vanderbilt University. Benton has published widely on the comparative history of empires and the history of international law. In 2019 she received the Toynbee Foundation Prize for significant contributions to global history. Her books include Rage for Order: The British Empire and the Origins of International Law, 1400-1900 (coauthored with Lisa Ford, 2016); A Search for Sovereignty: Law and Geography in European Empires, 1400-1900 (2010); Law and Colonial Cultures: Legal Regimes in World History, 1400-1900 (2002); and Protection and Empire: A Global History (coedited with Adam Clulow and Bain Attwood, 2017). Before joining the Vanderbilt faculty in 2015, Benton was Julius Silver Professor of History and Affiliate Professor of Law at NYU. She has served as Dean for Humanities and Dean of the Graduate School at NYU and as Dean of the College of Arts and Science at Vanderbilt.
---