Spring 2019 Lecture Series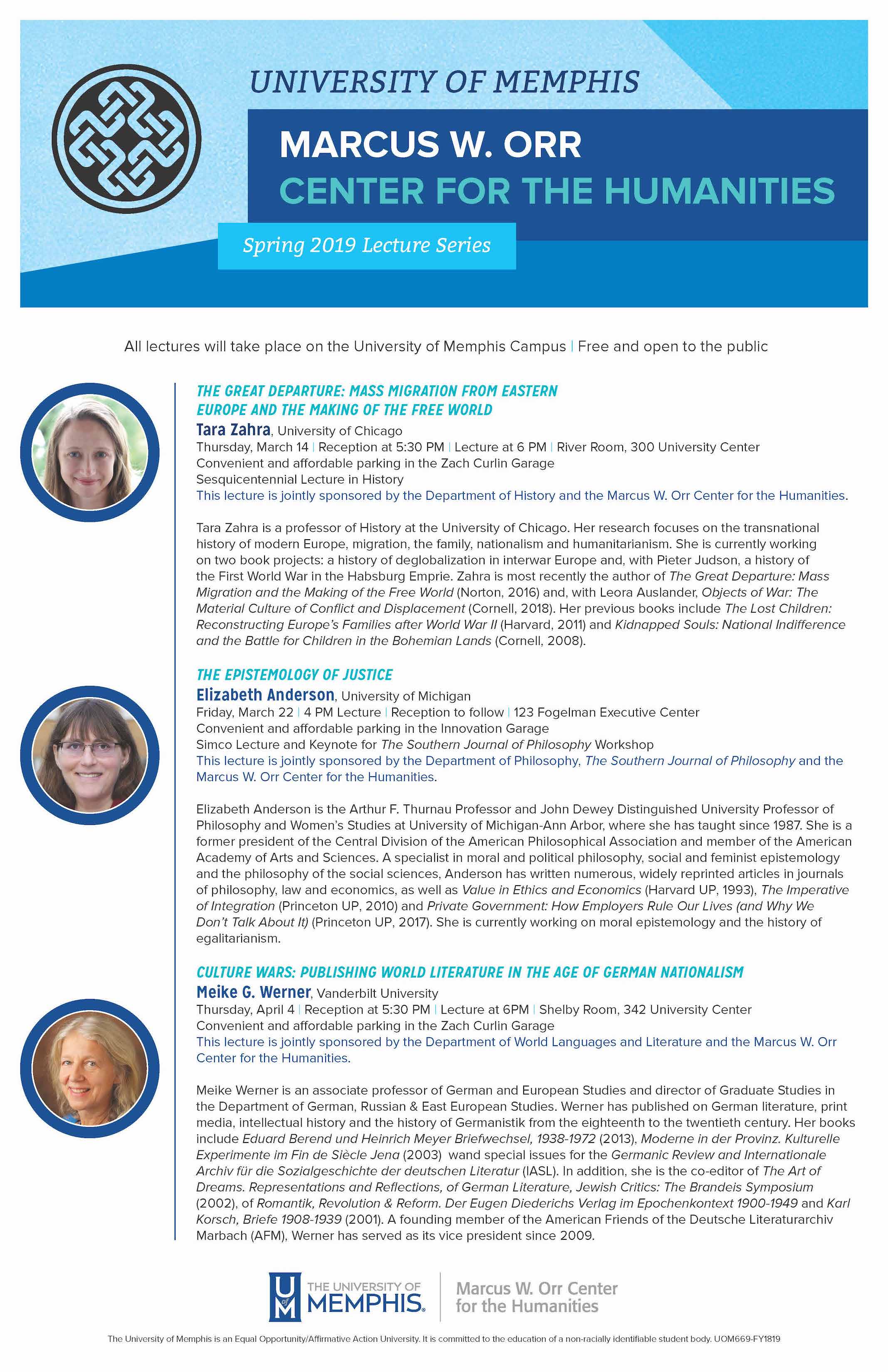 All lectures will take place on the University of Memphis Campus
Free and open to the public


---
Tara Zahra // University of Chicago // Sesquicentennial Lecture
Thursday, March 14, 2019
River Room, 300 University Center
Reception at 5:30 PM, Lecture at 6:00 PM
Convenient and affordable parking in the Zach Curlin Garage
This lecture is jointly sponsored by the History Department and the Marcus W. Orr Center for the Humanities.
Between 1846 and 1940, more than 50 million Europeans moved to the Americas, irrevocably changing both their new lands and the ones they left behind. As villages emptied, some blamed traffickers in human labor, targeting Jewish emigration agents. Others saw an opportunity: to expand their empires, gain economic advantage from an inflow of foreign currency, or reshape their populations by encouraging the emigration of minorities. These debates about and experiences of emigration shaped competing ideals of freedom in Eastern Europe and "the West" over more than one hundred years. After the Second World War, the "captivity" of East Europeans behind the Iron Curtain came to be seen as a quintessential symbol of Communist oppression. The Iron Curtain was not, however, built overnight in 1948 or 1961. Its foundation was arguably laid before the First World War, when Austrian Imperial officials began a century-long campaign to curtail emigration in the name of demographic power and humanitarian values.
Tara Zahra is a professor of history at the University of Chicago. Her research focuses on the transnational history of modern Europe, migration, the family, nationalism, and humanitarianism. She is currently working on two book projects: a history of deglobalization in interwar Europe and, with Pieter Judson, a history of the First World War in the Habsburg Empire. Zahra is most recently the author of The Great Departure: Mass Migration and the Making of the Free World (Norton, 2016) and, with Leora Auslander, Objects of War: The Material Culture of Conflict and Displacement (Cornell, 2018). Her previous books include The Lost Children: Reconstructing Europe's Families after World War II (Harvard, 2011) and Kidnapped Souls: National Indifference and the Battle for Children in the Bohemian Lands (Cornell, 2008).
---
Elizabeth Anderson // University of Michigan // Simco Lecture and Keynote for The Southern Journal of Philosophy Workshop
Friday, March 22, 2019
123 Fogelman Executive Center
Lecture at 4:00 PM, Reception to follow
Convenient and affordable parking in the Innovation Garage
This lecture is jointly sponsored by the Department of Philosophy, The Southern Journal of Philosophy, and the Marcus W. Orr Center for the Humanities.
It is commonly supposed that reaching an agreement on the facts is easy, while disagreement about values is intractable. Yet we often observe that different sides ostensibly accept common moral principles, but reach different conclusions about the justice of existing practices and institutions because they disagree about the facts. I explore the reasons for this phenomenon, working from a naturalistic conception of justice as a kind of social contract, along with recent work on ideology. One implication of this investigation is that epistemic injustice is critical to maintaining other forms of injustice. This suggests some strategies for discovering what justice actually demands in particular contexts.
Elizabeth Anderson is Arthur F. Thurnau Professor and John Dewey Distinguished University Professor of Philosophy and Women's Studies at the University of Michigan, Ann Arbor, where she has taught since 1987. She is a former President of the Central Division of the American Philosophical Association and a member of the American Academy of Arts and Sciences. A specialist in moral and political philosophy, social and feminist epistemology, and the philosophy of the social sciences, Professor Anderson has written numerous, widely reprinted articles in journals of philosophy, law, and economics, as well as Value in Ethics and Economics (Harvard UP, 1993), The Imperative of Integration (Princeton UP, 2010), and Private Government: How Employers Rule Our Lives (and Why We Don't Talk About It) (Princeton UP, 2017). She is currently working on moral epistemology and the history of egalitarianism.
---
Meike G. Werner // Vanderbilt University
Thursday, April 4, 2019
Shelby Room, 342 University Center
Reception at 5:30 PM, Lecture at 6:00 PM
Convenient and affordable parking in the Zach Curlin Garage
This lecture is jointly sponsored by the Department of World Languages and Literatures and the Marcus W. Orr Center for the Humanities.
This lecture explores the role of modernist publishers, such as Samuel Fischer in Berlin, and Eugen Diederichs in Jena, in shaping the cultural space of national identity, politics, and intellectual life in modern Germany. By focusing on the place of world literature, the lecture shows their very different, if not competing visions of modern German culture.
Meike Werner is an Associate Professor of German and European Studies and Director of Graduate Studies in the Department of German, Russian & East European Studies at Vanderbilt University. Werner has published on German literature, print media, intellectual history, and the history of Germanistik from the eighteenth to the twentieth century. Her books include Eduard Berend und Heinrich Meyer Briefwechsel, 1938-1972 (2013), Moderne in der Provinz. Kulturelle Experimente im Fin de Siècle Jena (2003), and special issues for the Germanic Review and Internationale Archiv für die Sozialgeschichte der deutschen Literatur (IASL). In addition, she is the co-editor of The Art of Dreams. Representations and Reflections, of German Literature, Jewish Critics: The Brandeis Symposium (2002), of Romantik, Revolution & Reform. Der Eugen Diederichs Verlag im Epochenkontext 1900-1949 (1999), and Karl Korsch, Briefe 1908-1939 (2001). A Founding Member of the American Friends of the Deutsche Literaturarchiv Marbach (AFM), Meike Werner has served as its vice-president since 2009.
---
Check out our Additional MOCH Events this semester and WKNO's Spotlight on Lifelong Learning for a full listing of humanities events in Memphis.
---