Spotlight: The heart and face of LCON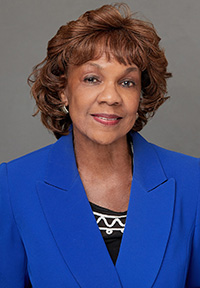 Our frontline hero, Geraldine Burton is the first person many hear or see when they come into contact with the Loewenberg College of Nursing (LCON). Always ready with a smile, Burton is known as Ms. Jeri to all associated with LCON. She is the quiet, strong force and behind the scenes leader in the dean's office.
What they said...
"The voice of LCON! She has the greatest smile, most wondersful spirit, and every interaction just lifts the soul," said Dr. Brad Harrell, assistant dean of Lambuth Nursing.
"She leaves no door unopened, no soul left unfed and a true supporter of life and its everyday changes," said RayShauna Davis, business officer II.
"The first thing that comes to mind for me is that Ms. Jeri is unstoppable. She also always asks about my kiddo because she genuninely cares. Whether it's calming frantic parents and students, or creating the perfect celebration, Ms. Jeri is always busy making things better for LCON, and I am so grateful she is here," said Leila Scroeder, academic services coordinator II.
"How very fortunate the Loewenberg College of Nursing is to have Jeri as the first person you meet in the Dean's Suite. Her warm smile and sunny personality make students and visitors feel welcome and respected. Her kindness and dedication to the college are unsurpassed. She is the cream of the crop!" said Joe Brandenburg, director of Development for LCON.
"Ms. Jeri is the face of LCON who exemplifies our core values in all her interactions with students, staff and faculty. With a bright and warm smile, Ms. Jeri is always quick to help others, no matter the task," said Dr. Marie Gill, associate professor and PhD program director.
"The Lambuth campus staff employees adore Ms. Jeri! Upon arrival to the Community Health Building, her beautiful smile is the absolute best way to be greeted. She is always accommodating to our needs whatever they may be. A Ms. Jeri hug is a must when we get there and before we leave," said Cynthia Lindsey, CAP, administrative assistant I for LCON Lambuth.
"Ms. Jeri is the best first impression of LCON. She is the smiling face that people see when they walk into the Nursing Dean's Suite, and she is the calming voioce that people hear when they call on the phone. She has the biggest heart to serve others. Everyone who has met her, even just once, knows that she is a friend for life!" said Melissa Eakens, assistant to the Associate Dean for Academic Programs and Assistant Dean for Nursing Students.
"Ms. Jeri is a thoughtful and genuine individual. I have watched how she interacts with all the people she encounters at LCON daily-students, faculty, staff and visitors, as well as answering the phone. Her kindness radiates through with each person to whom she speaks. I believe LCON is better because she is here," said Dr. Angela Oigbokie, clinical associate professor at LCON.