Ashish Joshi, Ph.D., MBBS, MPH
Dean and Distinguished University Professor
Office
236 A Robison Hall
Office Hours
By appointment only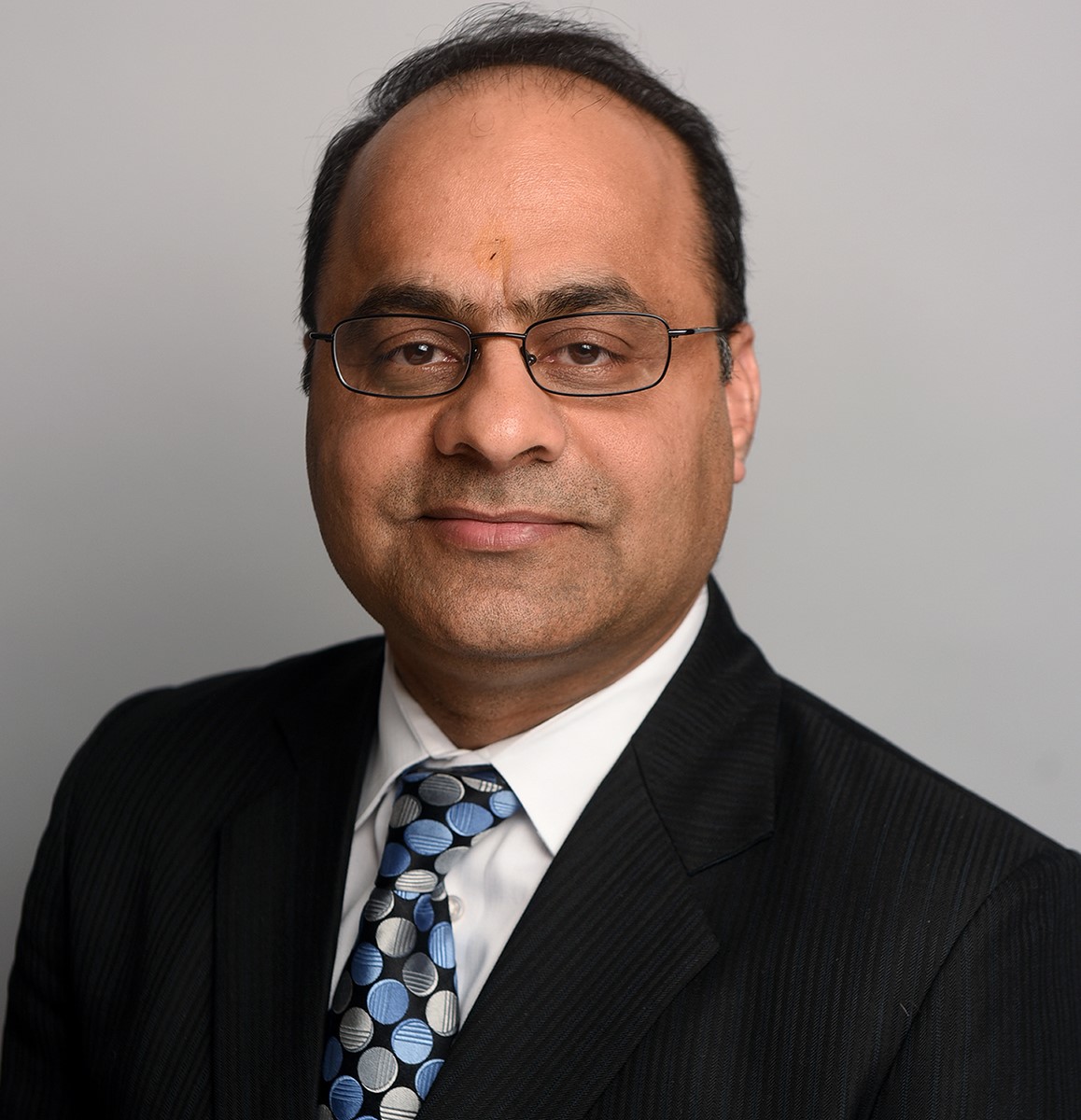 About Ashish Joshi
Dr. Joshi is Dean and a Distinguished University Professor of the School of Public Health of the University of Memphis. Dr. Joshi is an innovator, entrepreneur, educator, researcher, administrator, and mentor. He is an established population health informatics researcher who combines his academic training in clinical medicine, public health, and informatics to design and develop human-centered, technology-enabled interventions to enhance population health outcomes across diverse community settings. He has extensive experience in utilizing community and hospital-based data to implement and evaluate informatics-enabled solutions to address social, economic, and health inequities of the 21st century. He combines data-driven innovative entrepreneurial creative approaches to advance excellence in public health education, and research, that can address public health challenges in the community by preparing the next generation of public health leaders.
Despite his administrative role, continues scholarly and research contributions toward improving the good health and well-being of individuals, families, and the communities they live in. Dr. Joshi conceptualized the SMAART (Sustainable, Multisector, Accessible, Affordable, Reimbursable, and Tailored) model using combined principles of the human-centered approach, humanistic, behavioral, learning, and information processing theory to advance the achievement of Sustainable Development Goals. He has designed and developed, standalone and internet-enabled, multi-lingual, digital health interventions such as population health dashboards, consumer health informatics, m-health interventions, and population-based surveillance tools across multiple settings to improve population health outcomes. Dr. Joshi successfully completed more than two dozen research projects in the areas of population health informatics across multiple countries including the US, India, Nigeria, Bangladesh, Haiti, Egypt, and Brazil. These projects were funded by several Federal, State, and International government agencies and other private foundations. Dr. Joshi also launched the first of its kind fully online Certificate and MS Population Health Informatics Programs. He was awarded by the Open Society Institute to establish the Regional Population Health Informatics Education Hub to prepare the public health workforce with skills in population health informatics and how community data can be utilized to design human-centered interventions for the improvement of population health outcomes. The hub is established at BRAC James P Grant School of Public Health with an aim to create a regional network of experts in the population health informatics field ready to respond as a team to the next public health challenge.
Dr. Joshi was a founding member of the CUNY SPH and has made a significant contribution to advancing the CUNY SPH by providing leadership for the planning and implementation of all components of the academic programs including curriculum implementation, new academic programs, and 4+1 pipeline initiatives, online instruction, accreditation, career and experiential learning, and student and faculty affairs, and Human Research Protection Office. Dr. Joshi implemented technology-enabled data-driven informed decision-making to bring more transparency and equity across various academic and administrative units. Dr. Joshi was presented with the inaugural CUNY SPH Legacy Award for his crucial role in the establishment of CUNY SPH as an independent graduate school within the CUNY system. Dr. Joshi has been leading CUNY SPH efforts to implement the NYC Resource Navigator Test and Trace Program in response to the COVID-19 pandemic and secured an award of a $10 million contract with the Housing Recovery Operations of the Mayor's Office to implement the aftercare resource navigator program to address COVID-19 recovery efforts. Dr. Joshi was presented with the Distinguished Service Award by the NYC Test and Trace Corps program for his extraordinary dedication and contributions to reversing the COVID-19 outbreak and protecting and promoting the safety and well-being of New York residents.
He has developed SMAART public health intervention incubator in India and expanded it across several states in India with an aim to bring public health research into action through multisector partnerships, data-driven interventions, Innovations, skill-based training, and innovative and sustainable community programs, that address health inequities. He was invited to present the SMAART model at the WHO, United Nations, and several other agencies nationally and globally.
Currently, he is the Chair of the Global Health Informatics Working Group of the American Medical Informatics Association. He is also an author of the first textbook published on Population Health Informatics: Driving Evidence-based solutions into practice published by Jones Bartlett.
Research Interests
Population Health Informatics
Mobile Health
Public Health Dashboards
Public Health Innovation and Entrepreneurship
Public Health Workforce
Global Health
Human-Centered Design
Selected Publications
Joshi A, Gertner R, Roberts L and Mohandes El Ayman. An Evidence-based approach of Academic Management in a School of Public Health using SMAART Model. Sustainability 2021, 13(21), 12256
Tan YR, Agrawal A, Matsoso MP, Katz R, Davis SLM, Winkler AS, Huber A, Joshi A, El-Mohandes A, Mellado B, Mubaira CA, Canlas FC, Asiki G, Khosa H, Lazarus JV, Choisy M, Recamonde-Mendoza M, Keiser O, Okwen P, English R, Stinckwich S, Kiwuwa-Muyingo S, Kutadza T, Sethi T, Mathaha T, Nguyen VK, Gill A, Yap P. A call for citizen science in pandemic preparedness and response: beyond data collection. BMJ Glob Health. 2022 Jun;7(6): e009389. PMID: 35760438; PMCID: PMC9237878.
Joshi A, Kaur M, Kaur R, Grover A, Nash D, El-Mohandes A. Predictors of COVID-19 Vaccine Acceptance, Intention, and Hesitancy: A Scoping Review. Front Public Health. 2021 Aug 13; 9:698111.
Joshi, A .Bruce, Amadi, C, Amatya, J. (2021) & I. Developing Evidence-based population health informatics curriculum: Integrating competency based model and job analysis. Online Journal of Public Health Informatics, 13 (1)
Joshi A*, Gaba A, Thakur S, Grover A. Need and Importance of Nutrition Informatics in India: A Perspective. Nutrients. 2021;
Joshi, A*. Kaur, H., Krishna, L. N., Sharma, S., Sharda, G., Lohra, G., Bhatt, A., & Grover, A. (2021). Tracking COVID-19 burden in India using SMAART RAPID tracker. Online Journal of Public Health Informatics, 13(1).
Joshi, A., Kajal, F., Bhuyan, S. S., Sharma, P., Bhatt, A., Kumar, K., Kaur, M., & Arora, A. (2020). Quality of Novel Coronavirus Related Health Information over the Internet: An Evaluation Study. The Scientific World Journal, 2020, 1562028. PMCID: PMC7411495
Goyal, A., Grover, A., Gauba, K., Gupta, A., Mehta, N., Dutta, S., Pandey, R. M., Joshi A*, Malhotra B, Amadi-Mgbenka C, et al. Gender and the Digital Divide Across Urban Slums of New Delhi, India: A Cross-Sectional Study. J Med Internet Res. 2020 Jun; 22(6): e14714. PMCID: PMC7338923
Babu BV, John KR, Manickam P, Kishore J, Singh R, Mangal DK, Joshi A, Bairwa M, Sharma Y. Development and Implementation of Integrated Road Traffic Injuries Surveillance - India (IRIS-India): A Protocol. Adv J Emerg Med. 2019 Dec 15; 4(2):e35.
Joshi A, Chioma Amadi, Amina Alam, Margaret A Krudysz, Gabriela Hernandez Using data to inform decision making in recruitment of prospective Public Health students. Research in Higher Education, Vol 32 (1-18) 2017
Joshi A, Amadi C, Meza J, Aguire T, Wilhelm S. Evaluation of a computer-based bilingual breastfeeding educational program on breastfeeding knowledge, self-efficacy and intent to breastfeed among rural Hispanic women. Int J Med Inform. 2016 Jul;91:10-9
Joshi A and Chioma Amadi. Assessment of CEPH-Accredited Institutions Offering Public Health Programs in the United States: A Short Report Front Public Health. 2016 Jan 27; 3:290. PMID: 26858945
Joshi A, Chioma Amadi, Attiqa Mirza and Kim McFarlane. Assessment of Public Health Jobs over the Internet: Perspect Public Health. 2016 Feb 9. DOI: 10.1177/1757913915626946