Housing and Community Development Fellowships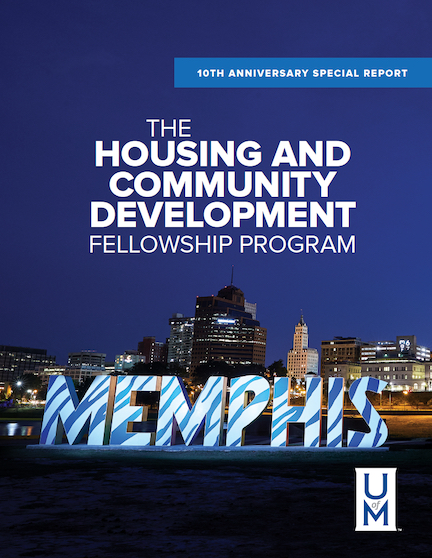 Download a copy of the 2021-2022 Annual Report here.
---
Housing and Community Development Fellowship
The HCD Fellowship program is funded by the City of Memphis' Division of Housing and Community Development and facilitated by the School of Urban Affairs and Public Policy (SUAPP) at the University of Memphis. The competitive program places highly qualified master's students with government and nonprofit agencies and organizations that are leading community development efforts in Memphis. The program seeks to support the work of selected placement agencies while enhancing the education of selected student fellows. Selected students are paired with a placement agency, where they work for 20 hours per week (at no cost to the placement agency).
Agency Eligibility
Placement agencies will be selected based on the following criteria:
Appropriateness of agency mission
Demonstrated and potential ability to improve quality of life for Memphis neighborhoods and residents.
Connection to priority areas/neighborhoods of the Memphis Division of Housing and Community Development.
Clarity of the proposed fellowship scope of work and focus
Student Eligibility
Full-time master's students in Anthropology, City and Regional Planning, Criminology and Criminal Justice, Public Administration, and Social Work are eligible to apply. Students will be selected based on their academic and professional promise and their potential to contribute to selected placement agencies. Recipients are expected to take a full course load (at least 9 credit hours) unless they are in their final semester of study.
Student Compensation
Students receive a monthly paid stipend and tuition remission.
How to Apply
The application window for the 2024-2025 cycle will open in March, 2024.
Student and agency representatives may be required to participate in an in-person or phone interview.
Program is contingent on availability of funding.
For more information on the Fellowship program, call (901) 678-2161 or email suapp@memphis.edu.