Promoting excellence in teaching and enthusiasm for learning
Campus School is a laboratory school which promotes excellence in teaching and enthusiasm for learning. Through integration of research into an innovative curriculum, the school can offer its best to aspiring teachers and to the urban community it serves. A diverse school population allows for valuable relationships and collaborations -- educational, cultural, social, and personal -- among the stakeholders who are involved. Teachers, students, and parents working together can maximize outcomes to the benefit of all involved.
---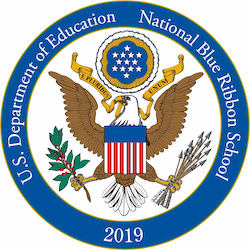 Campus School has been been awarded as a National Blue Ribbon School for academic achievement by the U.S. Department of Education!
Read more about the designation >


---
Welcome to Campus School Day with Memphis Tigers Basketball!

Join the home-town Tigers as they take on ECU at the FedEx Forum on Wednesday, February 19th, 2020 (6PM Tipoff). This exciting match-up will also be featured as the Tigers "Coaching for Literacy" game AND Educator Appreciation Day! Campus School students will also be welcoming the Tigers onto the court and singing the National Anthem!
All Campus School students, teachers, friends and family receive special pricing and block seating to enjoy the game together. Everyone that purchases tickets from your this link https://fevo.me/campusschool will sit with you at the game. All fans receive their tickets via e-mail 24 hours before the event.
For questions, contact Caleb Weith at cmweith@memphis.edu or by phone at 901-678-1748
2020 Summer Camp at Campus School!
May 26th - July 31
Get ready for a summer of enrichment and fun! This summer camp is an exciting place for children to experience new adventures and explore a variety of weekly themes. Spaces are limited so sign up early! Priority will be given to current Campus School students in grades one through five, however all community members are encouraged to apply. The cost is $95.00 per week. This includes snacks, fieldtrips and supplies. Program hours are 7am to 6pm Monday through Friday. Spaces are available on a first-come, first-served basis. Program will be facilitated in partnership with the YMCA of the Midsouth. Camp registration can be for the entire summer or for specific weeks.
Please use the links below to register students entering grades 1-3 and students entering grades 4-6.
Camp registration for grades 1-3
Camp registration for grades 4-6
For more information, email Terrence Williams (ttwllms3@memphis.edu)
---
Coming Up at Campus School
January 20th | MLK Day: No School
February 17th | Presidents' Day: No School
March 9 - 13 | Spring Break