Summer Conference Housing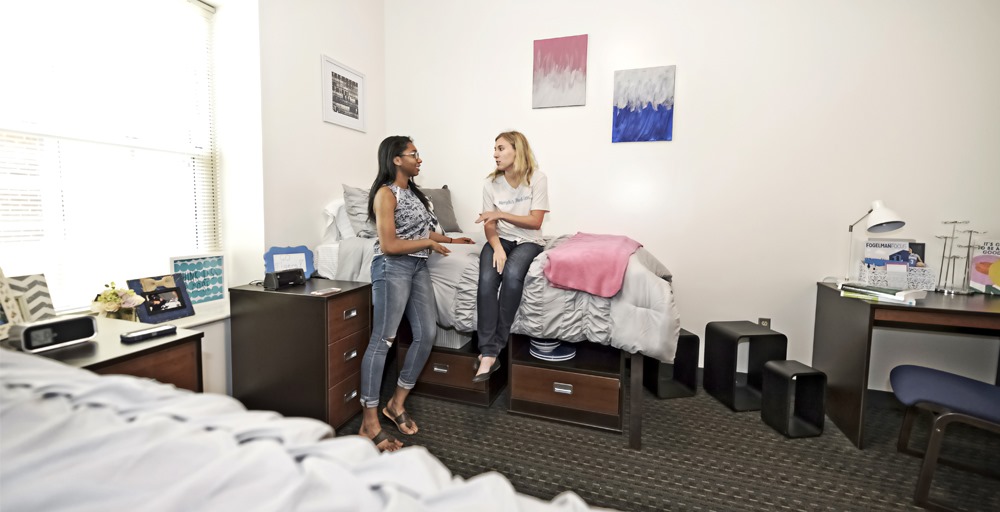 Conference housing accommodations are available from late May through early August for both on- and off-campus groups seeking affordable housing, excellent dining services, and a variety of meeting areas located both indoors and outdoors on campus.
Shirley C. Raines Centennial Place, our newest residence hall, is the primary location for conference housing on the University of Memphis Campus. We can house over 2,000 total guests on the main campus accompanied by 82 hotel suites at the University of Memphis Holiday Inn. Residence hall front desks are staffed around the clock throughout the summer. Additionally, two Conference Housing staff members are on duty each night to handle any situation that may arise.
Accommodations include:
Extra long twin-sized beds, individual desks with chairs, and spacious closets
Air-conditioned facilities with in-room thermostats in some halls
Free laundry machines on each floor
Common areas and lounges with comfortable couches and lounge chairs
Front desk is staffed 24 hours a day, seven days a week, to assist you during your stay.
Free campus wifi in each sleeping room and meeting facility
Groups separated by floors and/or wings. Each wing and room secured with card key access
Click here to fill out an inquiry form for conference housing availability for your group or camp.
Minors on Campus
To maintain a safe environment and fulfill our obligations as mandated by law, all activities involving minors on University-owned or controlled property (whether staying overnight on campus or not) must comply with the following requirements for hosting minors on campus:
Insurance certificate listing the UofM as an additional insured. The certificate must show proof of:

Liability insurance in the amount of $1 million.
Additional coverage for sexual abuse/molestation with limits not less than $1 million for one occurrence, and $3 million aggregate.

Certification of the completion of background checks and sex offender registry checks for all employees and volunteers involved, including student volunteers.
Certification of knowledge of the state law mandatory reporting requirement.
Please contact Conference & Event Services to learn more about conference housing and the conference housing application.
Please click Summer Conference Housing if you are an intern or individual who is ready to book your summer housing reservation.