Student Spotlight: Ryan Wickman
Posted on 2019-06-06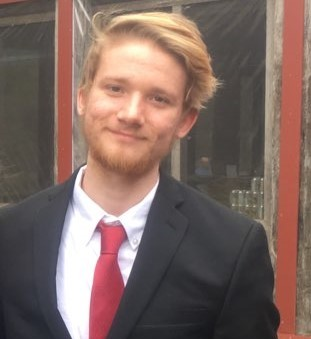 Ryan Wickman is a senior in the undergraduate computer science program, where he has maintained excellent grades in addition to being involved in various internship and extracurricular activities.
He has served as the leader of the True Bit Union Association (TBUA), a student group focused on game development. During his tenure there, the group developed a horror game that procedurally generates a new maze each time the game is played. Currently, Ryan is the vice president of the department's ACM student chapter, whose first website he built as a freshman.
Ryan was an intern at AutoZone from May-December 2017, where he worked in front-end development creating landing pages for AutoZone pro clients and fixing various bugs on their website. He also worked as an undergraduate research assistant in the UofM's Networking Research Lab from April 2018-April 2019 on the Named Data Networking (NDN) project, which aims to develop a new Internet architecture. He performed a variety of tasks, including implementing a layer of security to an existing networking application, creating scripts to parse different forms of output/logs, and even assisting with a classified project for DARPA.
Ryan was hired by Google as a Summer 2019 intern at their Bellevue campus, where he will be working on People and Sharing Engineering Productivity tools and implementing a new structure for logging anomalies in their People and Sharing stack. He plans to start the UofM's accelerated BS/MS program in Fall 2019 by taking the graduate-level operating/distributed systems and algorithms courses. Once he completes his degree, Ryan would like to work in the field of machine learning, become a software engineer, or potentially continue to obtain a PhD to work as a research scientist.