The I-40 Bridge Failure Threatens National Freight Transportation
edited: 5/18/2021
On May 11, Arkansas DOT bridge inspectors discovered a crack in the structure of the six-lane bridge Hernando De Soto Bridge on I-40 over the Mississippi River. The Tennessee Department of Transportation (TDOT) closed the bridge between Memphis, TN, and West Memphis, AR, to all traffic. The alternative route is provided by detouring the traffic to the I-55 bridge three miles away. Vehicles were detoured to the I-55 bridge three miles away, a detour that is creating traffic delays in the surrounding highway network.
Rerouting traffic from the I-40 crossing to the nearby I-55 bridge is creating significant travel time increases. Statistics show that in rush-hour travel time between the junction of I-40 and I-55 in Arkansas and the junction of I-55 and I-69 in Tennessee is increased up to 75 minutes, while in a normal day, commuters could bypass it in 15 minutes. The figure below produced by American Transport Research Institute (ATRI) shows traffic after bridge closure compared to normal operations before closure.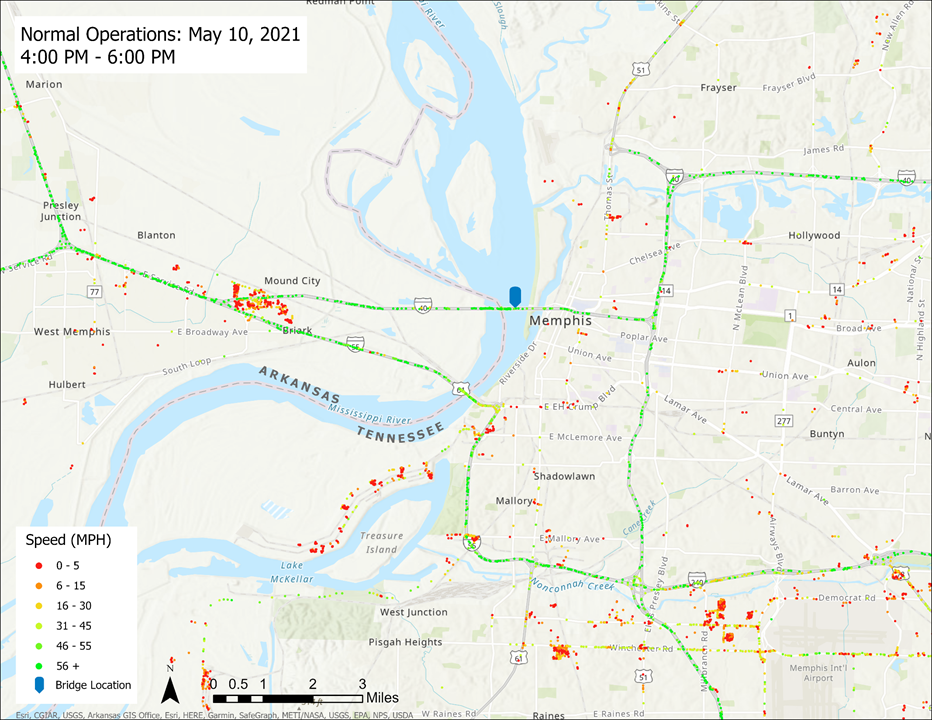 (Used with permission of ATRI and the Bureau of Transportation Statistics)
The I-40 bridge is the major access to both the City of West Memphis on the south and the Marion Intermodal Transportation facility on the north and is one of the busiest corridors in the South. This bridge acts as part of an "eastern gateway" into the state of Arkansas from Tennessee. The I-40 bridge opened in 1973; it carries more than 35,000 vehicles each day and is the third heaviest freight corridor in the country. The importance of the I-40 and I-55 bridges becomes more obvious when that the next nearest Mississippi River crossings are about 60 miles to the south near Lula, Mississippi, and 100 miles to the north near Dyersburg, Tennessee. Since repairing the bridge could take few months, the domain of changes could be extended to supply chain and freight carriers' plans.