Welcome to Civil Engineering
Civil Engineers Shape our World
Civil Engineers contribute to society and economy in numerous areas: Infrastructure, Bridges, Buildings, Transportation System, Environment, Autonoums Vehicles, Earthquake Design, Data Science, and many others. That's why civil engineers spend their days analyzing the stuff most of us take for granted—like how to reduce pollution, strengthen bridges or improve roadways. They literally shape the world we live in.
Why Choose Civil Engineering (CE)
at the University of Memphis?

The Department of Civil Engineering at the University of Memphis is well known for its top-notch academic program, cutting-edge and community-based research, and welcoming environment. In the UofM CE program, students have it all – a comprehensive learning experience in a large urban university and a small, close-knit community in the Herff College of Civil Engineering and the CE major. Our highly respected faculty engage students not just in their courses, but also in their research – even at the undergraduate level! Through the CE program, students develop valuable skills that improve life in our communities by:
Environmental Engineering;

Earthquake Engineering - designing bridges and building to withstand earthquakes;

Protecting our drinking water supply;

Transportation Engineering:

Facilitating the safe and efficient transport of goods throughout the country;

Reducing pollution in our streams and rivers;

Geotechnical Engineering

Transportation Engineering: Designing sustainable roads and bridges and buildings for the future;

Construction Engineering: Lead, supervise, and manage the construction of a wide variety of projects in the built environment, including both renovations and new construction. This includes the building of all types of residential, commercial, and industrial structures, roads, bridges, schools, and hospitals. >> Read more
Learn more about our program from our students and graduates and why you should consider joining our Tiger family!
For a visit of the Department, please contact Dr. Shahram Pezeshk, Chair (spezeshk@memphis.edu).
2022 Recipient of Dr. T.S. Wu Award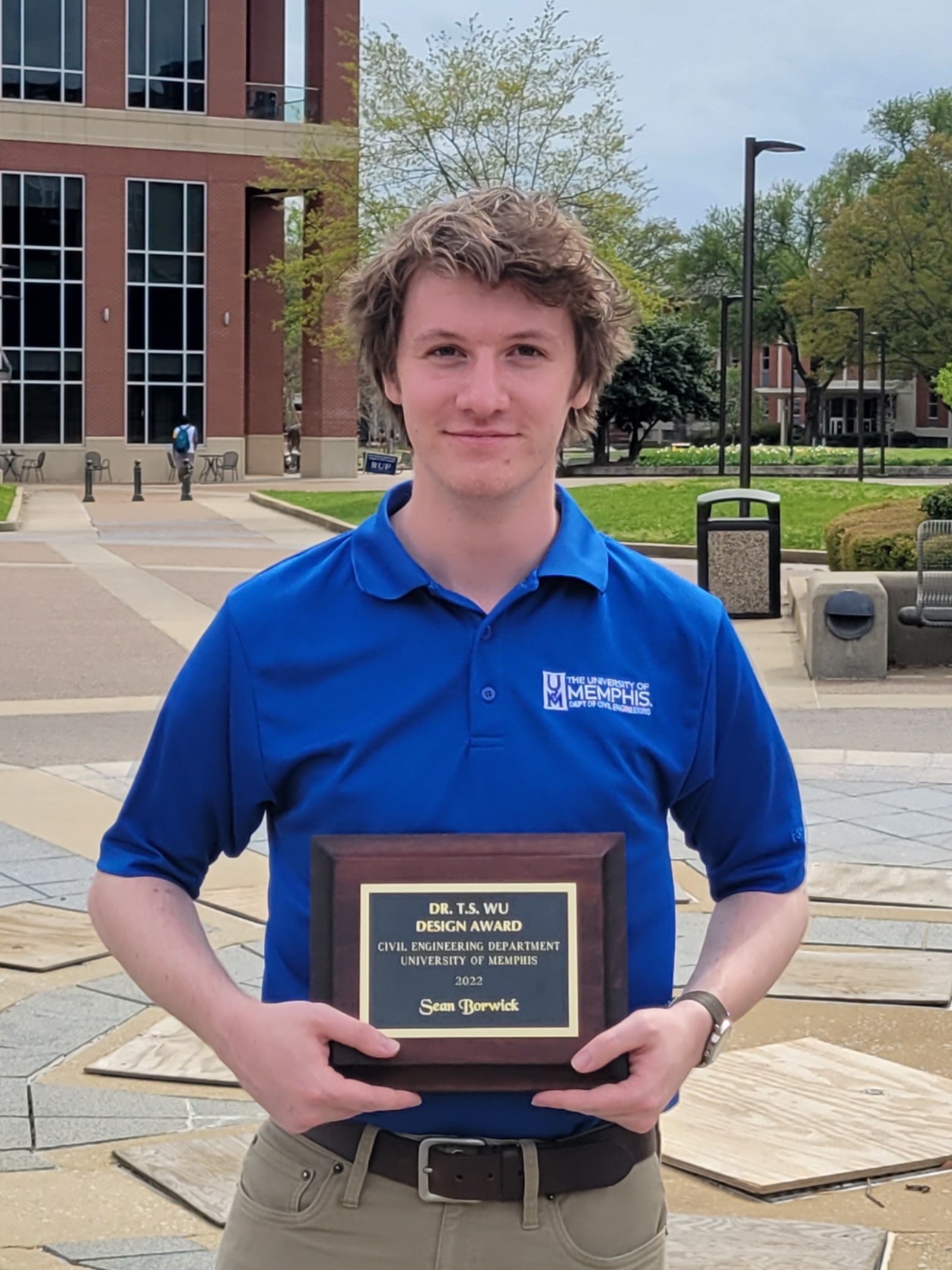 Sean Borwick was recently awarded the Dr. T. S. Wu Award by the Department of Civil Engineering! While at Herff, Sean was the Captain of the Earthquake Engineering Research Institute (EERI) Seismic Design Team, a Peer Tutor for the Herff College of Engineering, and the Conference Coordinator for the American Society of Civil Engineers (ASCE) Student Chapter. Currently, Sean is working for the Central United States Earthquake Consortium (CUSEC) on a multi-state seismic hazard mitigation project. Beginning in the autumn of 2023, Sean will begin pursuing a master's degree in civil engineering in Japan on a MEXT Scholarship, researching earthquake hazard management at the University of Tokyo. Ultimately, Sean plans to obtain a Ph.D. and pursue professorship.
From Sean Borwick:
My favorite memory while at Herff was easily the EERI trip to San Diego for the 2020 Undergraduate Seismic Design Competition. I discovered my passion for earthquake engineering there. I made a lot of friends both during the trip and in the months of preparation before it, and through the experience I also got to explore a side of structural engineering not often represented in depth at the undergraduate level. It was also my first time seeing the Pacific Ocean--I'll never forget that sunset!
I'd like to thank all my professors. Every one of them was stellar, and I'm grateful for the diversity of perspectives on the discipline of civil engineering they have given me. I'd like especially to give thanks to Dr. Pezeshk, for his guidance in my academics and research; to Profe Meier, for his inspiring dedication to engineering pedagogy; and to Dr. P, for the wisdom he furnished me in the toughest times of my college career. Someday, I hope to become a professor who does the same for all my students as they have done for me.
To my fellow Herff students, the best piece of advice I can give is this: you live in an extraordinary time in human history with unprecedented access to higher education. Modern society has carved out four years, just for you, where you might attend college and dedicate yourself to becoming educated and articulate. Squeeze every drop out of those four years. Edify yourself by joining clubs, pursuing internships, and taking on new responsibilities. Learn to speak, to write, and to solve problems, and come out of these four years with more than a piece of paper. Don't waste a moment!
2022 Recipients of Dr. Thomas S. Fry Award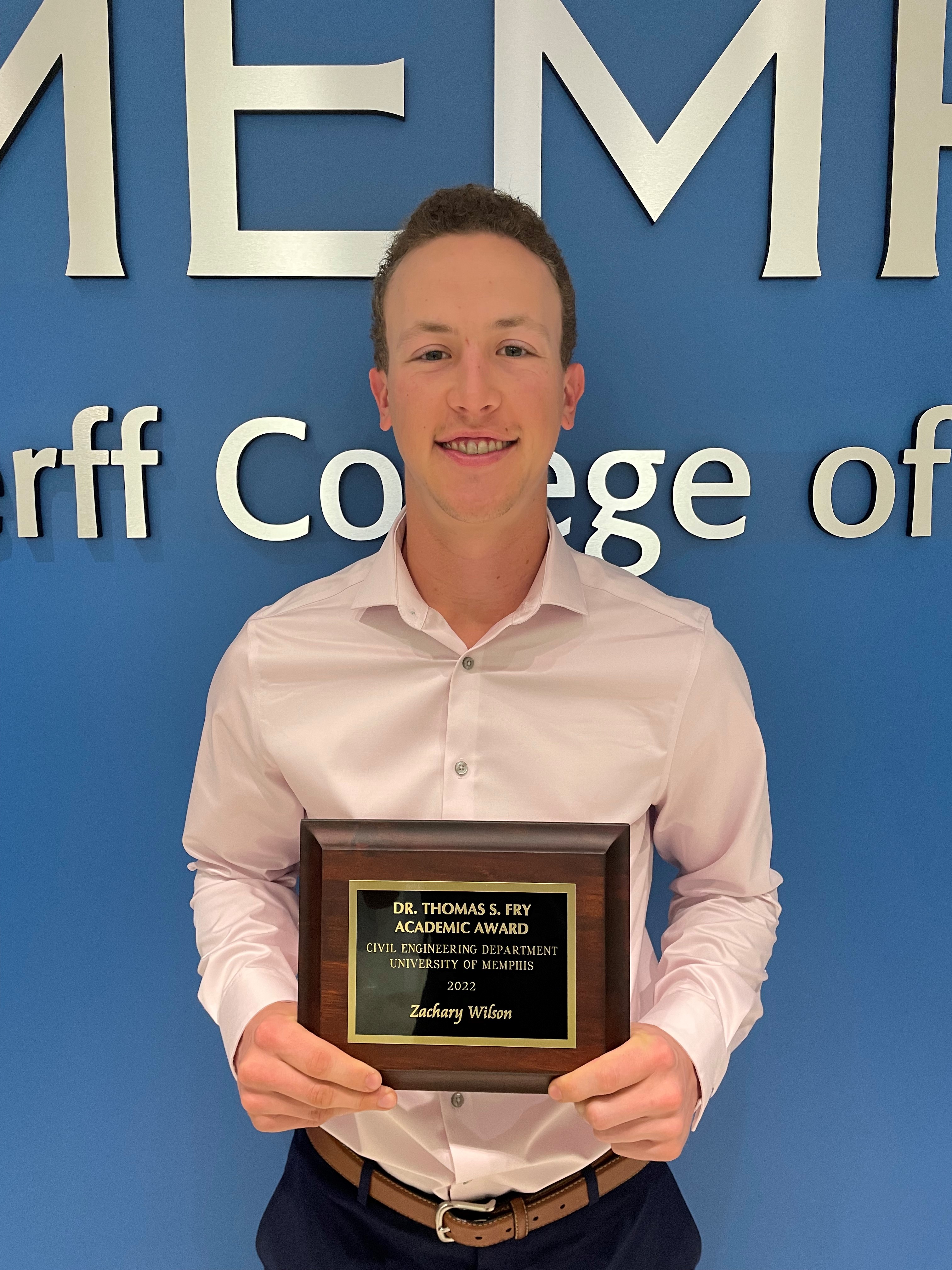 Zachary Wilson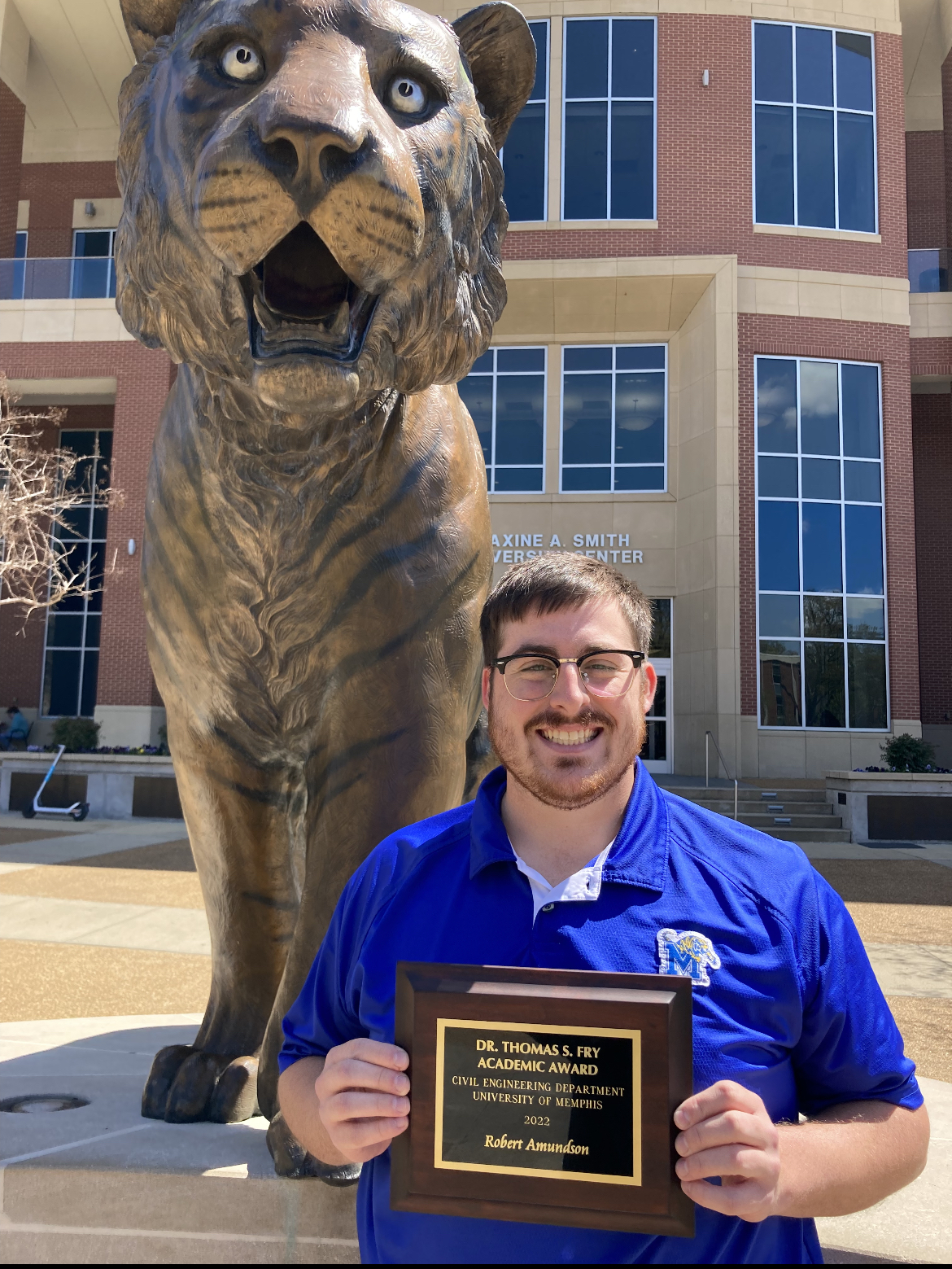 Robert Amundson
The Dr. Thomas S. Fry Award is presented to the graduating student who has demonstrated academic achievement with a minimum of the last 60 credit hours of coursework at The University of Memphis, and who has earned the highest GPA.
2022 Recipient of Dr. Fred H. Kellogg Award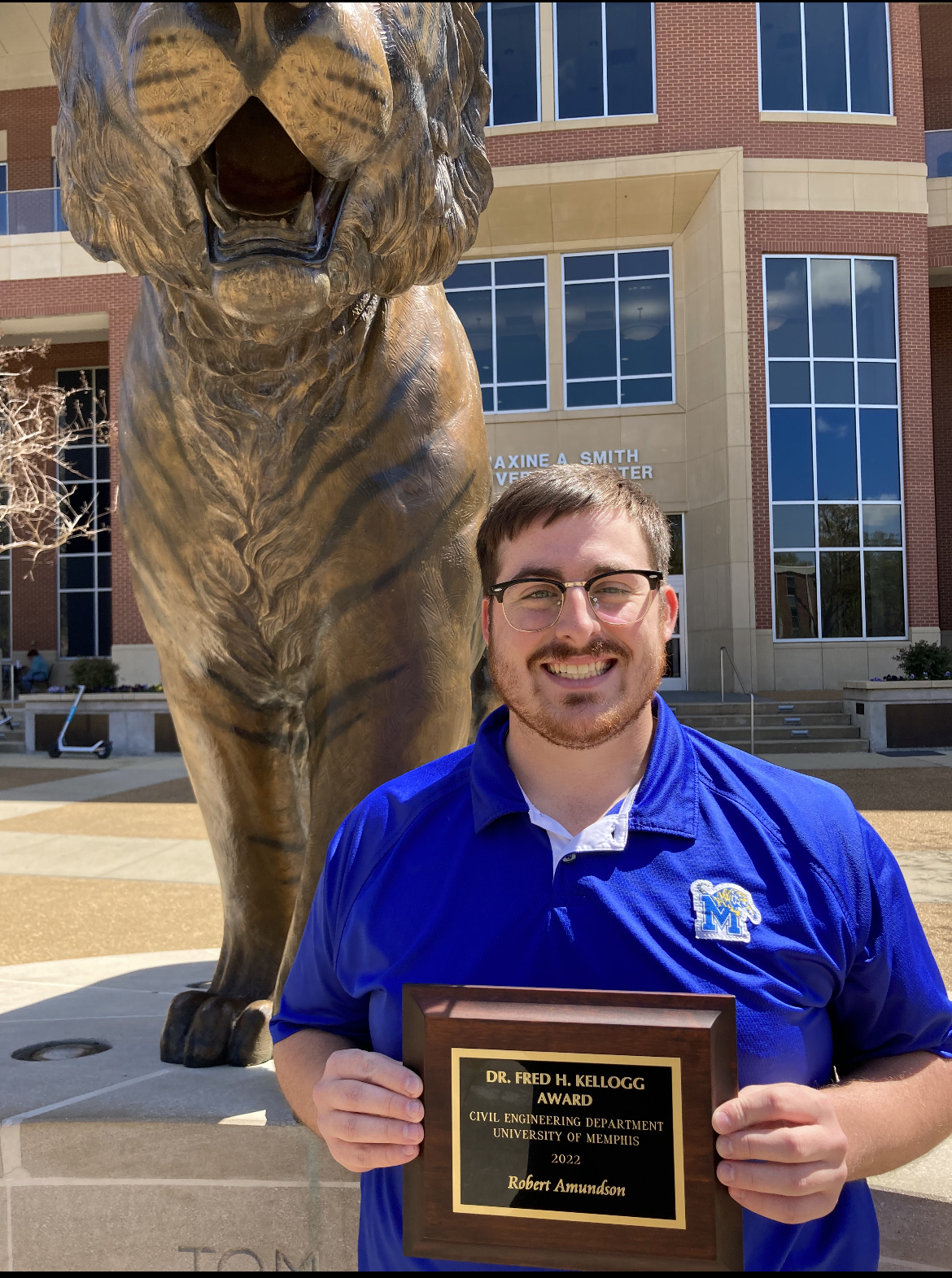 Robert Amundson
The Dr. Fred H. Kellogg Award is presented annually to the student graduating in that academic year, who, in the opinion of the faculty, is most likely to be an outstanding professional engineer. In selecting the recipient, the faculty will consider a combination of academic performance, demonstrated design capability, and those qualities of leadership, personality, and character that will contribute to the successful practice of Civil Engineering.
From Robert Amundson:
While there are several different memories that come to mind, my favorite memory was being enrolled in the Engineering Apprenticeship Program my Senior year. This course is structured differently than typical courses, and there are several opportunities to learn various aspects of engineering. I gained experience in group projects, and it helped me see different avenues that can be taken with an engineering degree.
If I could change one thing in my college education, it would be getting involved with an organization. There are so many opportunities through Herff that students have access to, and I feel that being involved with one of the organizations would not only have benefitted my future career, but it also would have been enjoyable.
I want to thank all of my professors for their dedication to civil engineering. I specifically want to thank Dr. Camp for giving me the desire to continue to pursue Civil Engineering. I appreciated the first CE courses that he taught because of his style of teaching. I would also like to thank Dr. Claudio Meier for his work ethic and passion for teaching. He strives to teach the "concepts" of Civil Engineering rather than "methods or equations." He has helped me to truly appreciate Civil Engineering at a deeper level.
I am grateful for the opportunities that the University of Memphis and Herff College of Engineering have given me, and I hope that others take advantage of the opportunities that await them!