About Dr. Benjamin L. Hooks
Civil Rights activist, minister, veteran and philanthropist.
Overview
On November 5, 2007, Dr. Benjamin Lawson Hooks was awarded the Presidential Medal of Freedom, the nation's highest civil award. "The nation best remembers Benjamin Hooks as the leader of the NAACP," said President George W. Bush. "For 15 years, Dr. Hooks was a calm, yet forceful voice, for fairness, opportunity, and personal responsibility. He never tired or faltered in demanding that our nation live up to its founding ideals of liberty and equality. His testimony had special power: for the words that he spoke and for the example that he set as a man of decency and rectitude."
Early Life
A native of Memphis, Hooks was born on January 31, 1925 to Robert and Bessie Hooks. He was the fifth of seven children and his parents were both hard-working people. His paternal grandmother, Julia Hooks, was the second African-American woman in the United States to graduate from Berea College in Kentucky. As a result, he was encouraged to do well in his studies and to prepare for higher education.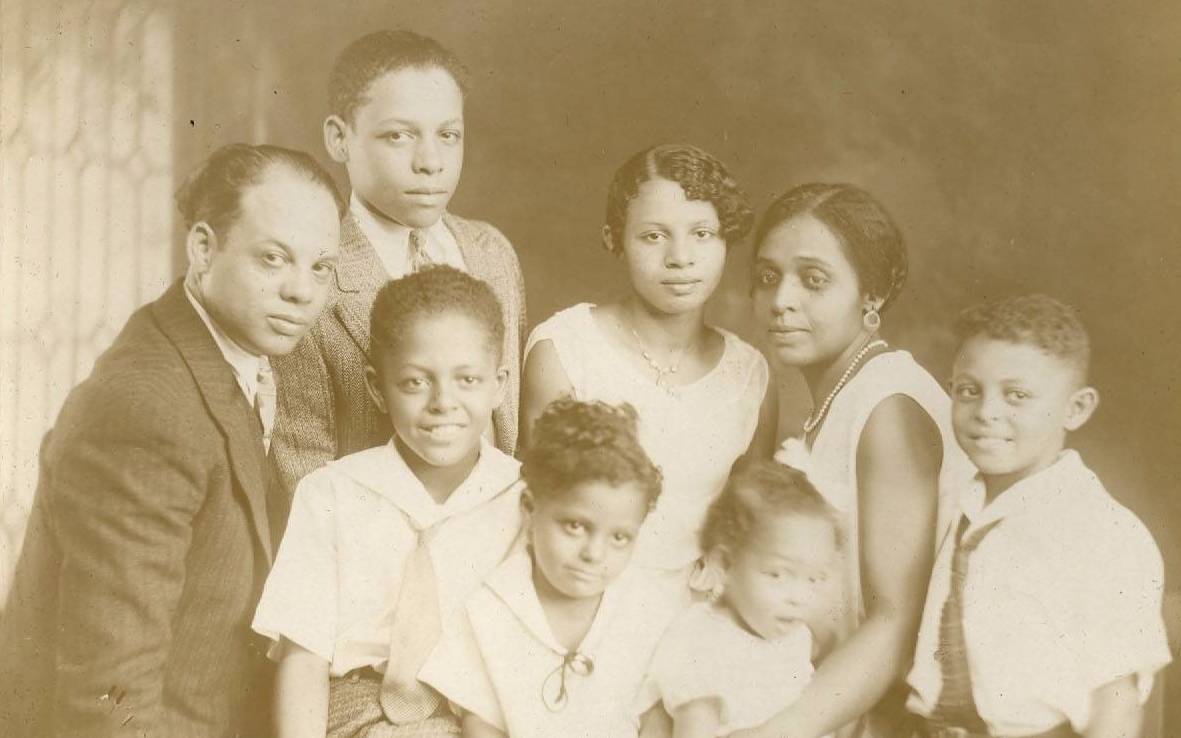 Photograph: Hooks Family ca. 1930. (from left to right): Robert B. Hooks Sr., Robert B. Hooks Jr., Charles Hooks, Julie Hooks, Bessie Hooks, Raymond L. Hooks, Mildred Hooks, and Benjamin L. Hooks.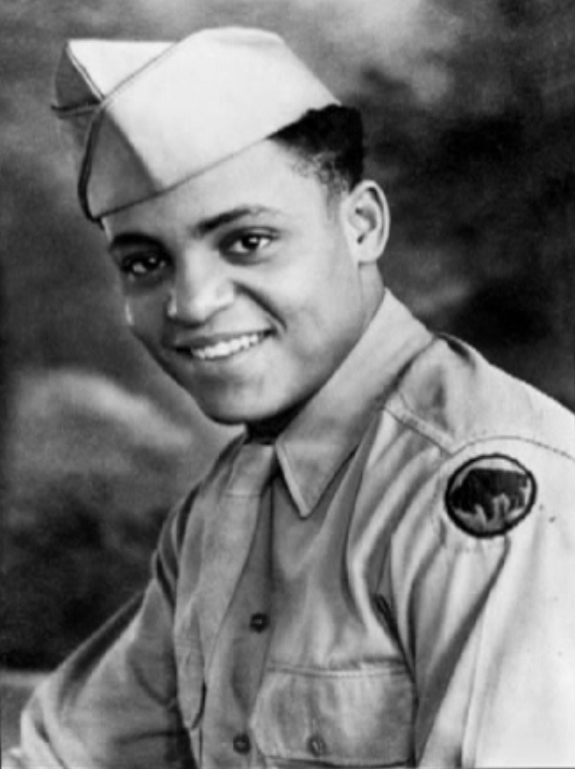 Hooks enrolled in pre-law at LeMoyne College in Memphis and then served his country in the Second World War. He found himself in the humiliating position of guarding Italian prisoners who were allowed to eat in restaurants that were off limits to him. This experience strengthened his resolve to battle bigotry.
Hooks earned his J.D. degree in 1948 at DePaul University in Chicago. He promptly returned to Tennessee, where no law school would admit him. Hooks vowed to break down segregation. He later passed the Tennessee Bar examination and opened up his own law practice, confronting prejudice at every turn.
Photograph left: Benjamin L. Hooks in World War II uniform. Ca. 1940
Civil Rights Movement and Ministry
After joining the Reverend Martin Luther King, Jr.'s Southern Christian Leadership Conference, Hooks felt called to the ministry. He was ordained a Baptist minister in 1956. He preached regularly at the Greater Middle Baptist Church in Memphis and was a pioneer in restaurant sit-ins and other boycotts sponsored by the NAACP. He entered state politics in 1954, making unsuccessful bids for the state legislature and juvenile court judge. Eleven years later, Tennessee governor Frank G. Clement appointed him to a vacancy on the Shelby County criminal court. This made Hooks the first African American criminal court judge in a court of record in Tennessee. The following year he was elected to the position.

Photographs: Benjamin and his wife Frances Dancy Hooks.
Federal Communications Commission
In 1972, Hooks became the first African American appointee to the Federal Communications Commission (FCC). While in this position, Hooks addressed the lack of minority ownership of television and radio stations, the lack of minority employment in the broadcasting industry, and the image of African Americans in the mass media. During his tenure, minority employment in broadcasting rose from three to fifteen percent nationally.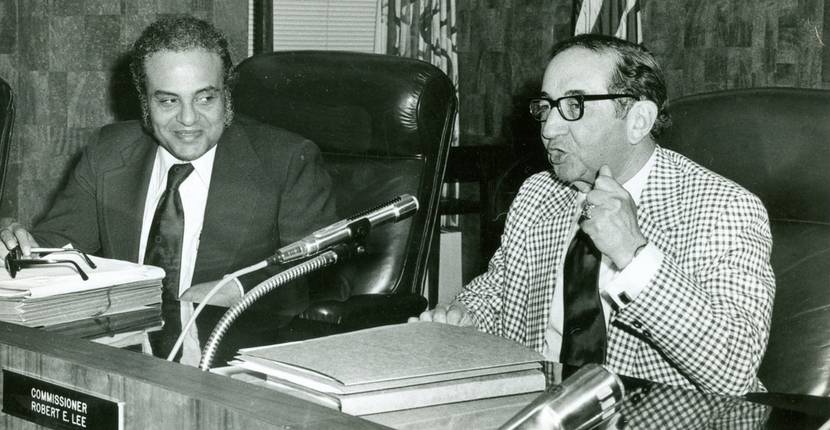 Benjamin L. Hooks (left) was the first African American Commissioner of the Federal Communications Commission.
NAACP
Benjamin L. Hooks was elected executive director of the NAACP in 1976, where he faced declining membership and organizational problems. "Black Americans are not defeated," he told Ebony Magazine in 1977, "the Civil Rights Movement is not dead. If anyone thinks that we are going to stop agitating, they had better think again. If anyone thinks that we are going to stop litigating, they had better close the courts. If anyone thinks that we are not going to demonstrate and protest, they had better roll up the sidewalks." Under his fifteen year leadership, the organization rebounded, adding several hundred thousand members.
Early in 1990, Hooks and his family were among those targeted in a wave of bombings against civil rights leaders. After visiting the White House to discuss the escalating tensions between races, he gained the government's full support against racially motivated bomb attacks. Hooks was still critical of the George H. W. Bush's administration's lack of support for education and the administration's inaction on inner city poverty. However, he did not lay all the blame for America's ills at the feet of its elected officials. Hooks was a staunch advocate of self-help: "It's time today to bring it out of the closet. No longer can we proffer polite, explicable reasons why Black America cannot do more for itself," he told the 1990 NAACP convention delegates. "I'm calling for a moratorium on excuses. I challenge Black America today, all of us, to set aside our alibis."
Later Life
For the rest of his life, Hooks continued to press the cause for civil rights by encouraging both the study of the American Civil Rights Movement and the identification of contemporary issues that affect minorities, the poor, and the disadvantaged. He died at age 85 on April 15, 2010, leaving the Hooks Institute to promote his commitment to social change.

Photograph: Benjamin L. Hooks Speaks at the University of Memphis November Fall 2009.
In 2016, the Hooks Institute finished production of the documentary film, Duty of the Hour, which examines Dr. Hooks life and legacy.