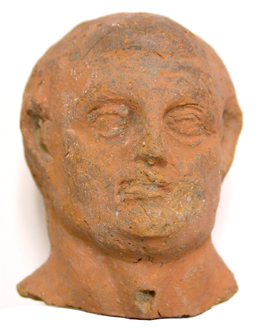 Terracotta Head of a Man, Possibly Vespasian
Date: Roman Era, First Century CE
Material: Terracotta
Provenance: Egypt Attributed
Roman period terracotta figurines were made in a wonderful variety of shapes and subjects vary from deities (grotesque or dignified) to emperors, to ordinary people engaged in everyday tasks. Terracotta (Latin for baked earth) is an earthenware ceramic made by the Greeks and Romans throughout the Mediterranean region and Europe. Formed in molds or on a potter's wheel, terracottas (items made of terra cotta) were common and inexpensive. Egyptian terracottas were made from Nile alluvial silt. A wide variety of objects, such as jars, bowls, lamps and toys, as well as decorative and votive figures, were made of terra cotta (also spelled terracotta or terra-cotta).
This piece of terracotta is molded in the shape of the head and neck of a man. This head might represent the Roman emperor Vespasian who ruled from AD 69 - 79. The broad face, heavy-lidded eyes and thick neck are characteristic of the younger man. His eldest son, Titus (ruled AD 79 - 81), had similar features.
Check out Dr. Joshua Roberson's 3D images of the head on SketchFab!