In the news
Dec. 2019:
Dr. Morshed sharing opinion on impact of newer technologies and cyborg on a documentary.
Aug. 2018:
Dr. Morshed demoing Arduino ECG.
July 2018:
Electrical & Computer Engineering faculty Dr. Bashir Morshed is one of 30 scholars selected from across the nation to participate in the 2018 mHealth Training Institute. Held at UCLA, this week-long immersion program connects scientists from differing technology, clinical, and industry research backgrounds to explore and apply collaborative solutions to major health problems. The ultimate goal is to forge new research collaborations that will ensure adoption of cutting edge mHealth technologies in clinical settings.
Morshed works to develop ultra low-power wearable sensor technologies for health monitoring. His group has developed patent-pending battery-less wireless sensors that can sense bioelectric and physiological signals. They are low cost, capable of high sampling rate, and do not require a battery. The sensors are produced using an inkjet printed technique to produce Band-Aid-like disposable sensors on paper. For more information on Dr. Morshed's research, visit here.
July 2013:
ESARP lab team "Tiger Optics" receives the second prize at the DRS Student Infrared Imaging Competition 2013 at the national level.
SECOND PLACE PROJECT – $2,000
University of Memphis
"Forgery-proof Identification Using Sweat Gland Distribution"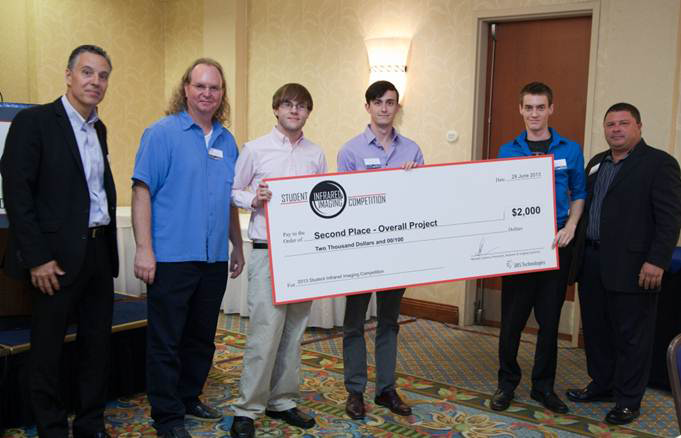 From left to right: Terry Murphy, George Skidmore, Zach Tate, Zac Arnold, Josh Smith, Mike Sarrica
Apr. 2012: Research outcome of doctoral and post-doctoral level covered in the media
Nov. 2011: Enabling technology development of helmet mounted impact sensor as a faculty of Algonquin College