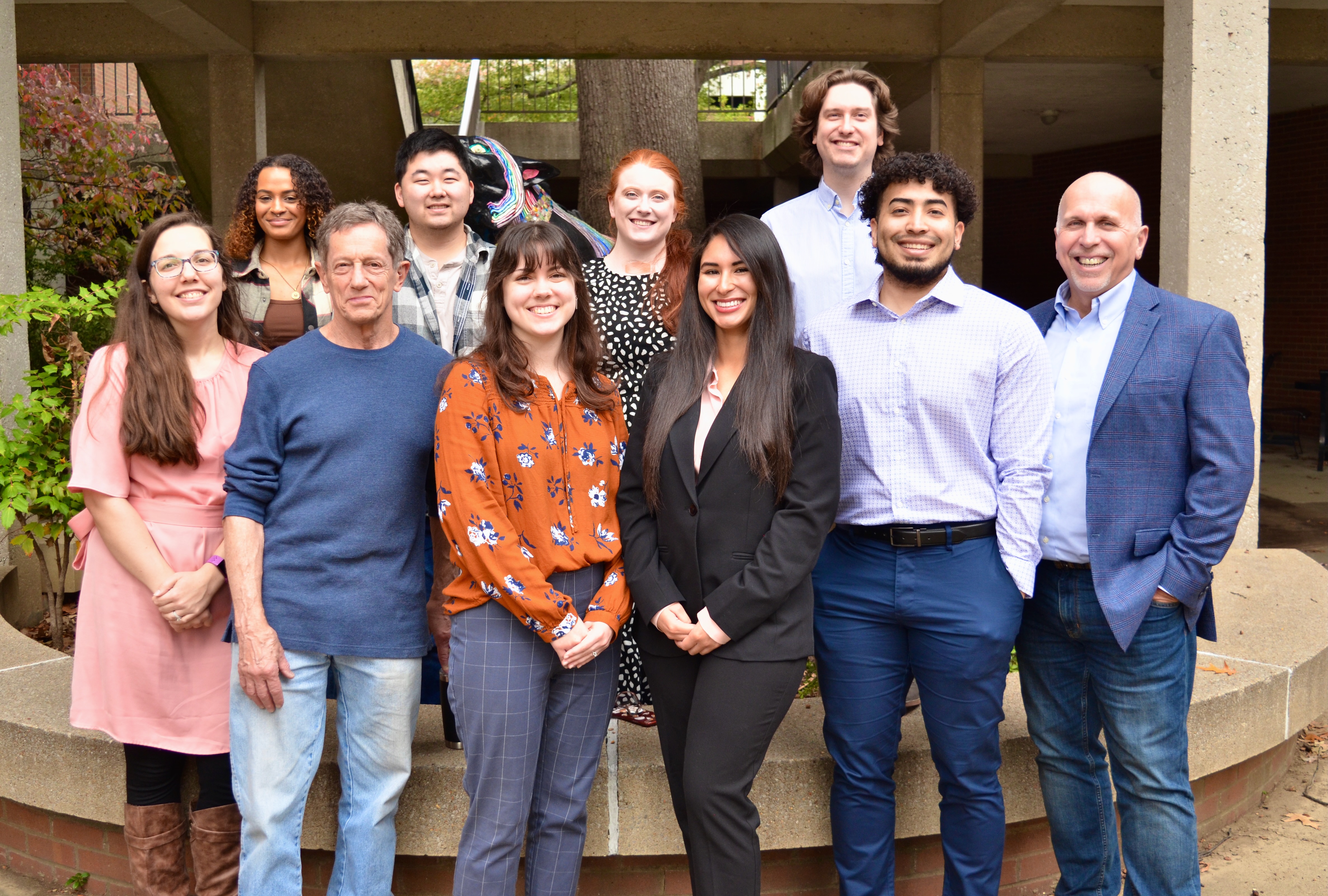 (Top Row: From left to right, Marley Fabijanic, Ji wan Son, Abby McPhail, and Dr. Rory Pfund;
Bottom Row: From left to right, Tori Horn, Dr. Andrew Meyers, Esther Hudson, Adrianna Valencia, Marcos Lerma, and Dr. James Whelan)
Gambling Lab People
Who We Are
James P. Whelan, PhD (Memphis State University, 1989) is a faculty member in the Department of Psychology, former Director of the Psychological Services Center, and Co-director of The Institute for Gambling Education and Research at The University of Memphis. In 1996, Dr. Whelan was named Psychologist of the Year by the Tennessee Psychological Association. In 2006, he received the Distinguished Research Award for Engaged Scholarship from the College of Arts and Sciences and later received the University of Memphis Award for Distinguished Research in Engaged Scholarship in 2007. Dr. Whelan has served on the Board of Directors for the Association for Applied Sports Psychology, Tennessee Psychological Association, and Division 37 of the American Psychological Association. He also served on the Tennessee Board of Examiners in Psychology from 1996 to 2001, including two years as chair of the licensing board. For the last 15 years, Dr. Whelan's primary research interest is on gambling behavior and pathology. In addition to numerous publications in the area, he was the lead author on the book, Problem and Pathological Gambling (2008). Email: jwhelan@memphis.edu
Andrew W. Meyers, PhD (Pennsylvania State University, 1974) is a former Professor in the Department of Psychology where he served as department chairman from 1990 through 2002. Dr. Meyers' primary research interest is on the assessment, prevention and treatment of problem gambling behavior and he has over 130 publications in the areas of self-regulation, gambling, smoking, eating disorders, exercise and sport. He is a three-time winner of The University of Memphis' Superior Performance in Research Award, was the winner of the 1995-96 University of Memphis, College of Arts and Sciences Distinguished Research Award in the Social Sciences and in 2003 was named the college's Meritorious Faculty Award winner. Dr. Meyers is also a Fellow of the American Psychological Association and the Association of Applied Sport Psychology, where he also served a 3-year presidential term from 1998 to 2001. Email: ameyers@memphis.edu
Rory A. Pfund, PhD (University of Memphis, 2020) is an Assistant Research Professor in the Department of Psychology. Dr. Pfund's research program focuses on understanding the effects of psychological treatments for addictive behaviors, including gambling disorders and substance use disorders. Specifically, he is interested in what makes treatments work and how to tailor them to specific patients. Past research projects have focused on the association between treatment engagement (e.g., psychotherapy attendance, contingency management participation) and outcomes. Dr. Pfund frequently leverages systematic review and meta-analysis to conduct this research, and his research has been supported by grants from the National Institute on Alcohol Abuse and Alcoholism, the International Center for Responsible Gambling, and the Tennessee Department of Mental Health and Substance Abuse. Email: rapfund@memphis.edu
Tori L. Horn, M.A. (The New School for Social Research, 2018) is a fourth-year student in the clinical psychology doctoral program at The University of Memphis. She received her Bachelor of Arts in Psychology from Winthrop University in 2016. Her research interests center on examining the interaction of gambling and alcohol. Email: thorn@memphis.edu
Abby McPhail, M.S. (University of Aberdeen, 2018) is a third-year student in the clinical psychology doctoral program at The University of Memphis. She received her Bachelor of Arts in Psychology from University of Aberdeen in 2017. Her research interests center on the interaction of cannabis and gambling. Email: amcphail@memphis.edu
Marcos Lerma, M.A. (University of Texas at El Paso, 2021) is a second-year student in the clinical psychology doctoral program at The University of Memphis. He received his Bachelor of Science in Psychology from University of Texas at El Paso in 2017. His research interests center on self-exclusion and social media and gambling. Email: mlerma@memphis.edu
Adrianna J. Valencia, BS (University of Central Florida, 2021) is a first-year student in the clinical psychology doctoral program at The University of Memphis. Her research interests center on personality and gambling. Email: adrianna.valencia@memphis.edu
Ji wan Son, BA (University of Memphis, 2022) is a first-year student in the masters in general psychology program at The University of Memphis. Email: json@memphis.edu
Alumni
Qian Li, PhD (graduated 2022) is a postdoctoral research fellow at Northport VA Medical Center in East Northport, NY.
Samuel C. Peter, PhD (graduated 2021) is a staff psychologist at the Durham VA Medical Center in Durham, NC.
Matthew T. Suda, PhD (graduated 2017) is a data manager and assessment specialist at Christian Brothers University in Memphis, TN.
Meredith K. Ginley, PhD (graduated 2016) is an assistant professor at East Tennessee State University.
Walter R. Winfree, PhD (graduated, 2015) is a staff psychologist at the Portland VA Medical Center in Portland, OR.
Andrea Watson, PhD (graduated 2012) is a licensed clinical psychologist for the Federal Bureau of Prisons. She started her career as an intern at the US Medical Center for Federal Prisoners (Springfield, MO), then as staff psychologist at the Federal Transfer Center (Oklahoma City, OK). She is now the Drug Abuse Program Coordinator for male and female inmates at FCI, Greenville, IL.
Don Yorgason, PhD (graduated 2011) is the PTSD/SUD specialist on the PTSD Clinical Team at the VA Sierra Nevada Health Care System in Reno, NV.
Emerson M. Wickwire, PhD (graduated 2007) is Assistant Professor of Psychiatry and Medicine and Director of the Insomnia Program at the University of Maryland School of Medicine.
Kim Sunderland (Floyd), PhD (graduated 2005) is a Major in the United States Air Force, currently serving at Scott AFB. In addition to providing therapy services, she oversees 40 personnel in three clinic areas focusing on mental health, substance abuse, family maltreatment, and prevention
Jeremiah Weinstock, PhD (graduated 2004) is an associate professor of psychology at Saint Louis University.
Timothy A. Steenbergh, PhD (graduated 2001) completed a postdoctoral fellowship in clinical health psychology at Michigan State University in 2003. He is currently Professor of psychology at Indiana Wesleyan University and co-founder of LifeData, which provides software for smartphone-based research.