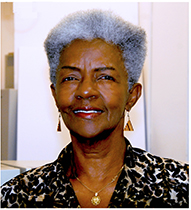 Ms. Lou Boykins
Laboratory Coordinator
Email
lgboykns@memphis.edu
Office
101 Life Science Building
Office Hours
By Appointment
Ms. Boykins has a B.S. in Biology from LeMoyne College. She has over 45 years of research experience, with specialization in Scanning and Transmission Electron Microscopy (SEM-TEM) as well as in freeze-fracture techniques.
In addition, Ms. Boykins has been involved in cell culture and immunocytochemistry at the University of Tennessee Health Science Center in Memphis and at the University of Louisville Kentucky Lion's Eye Research Center. She has co-authored over 14 scientific research papers and abstracts and book chapters. In the 1990s, she worked in the environmental consulting field for several private companies. During this time, she continued using her TEM skills and gained knowledge in polarized light microscopy while analyzing the aSbestos content of building materials as mandated by the Asbestos Hazard Emergency Response act.
At the Integrated Microscopy Center, as Laboratory Coordinator, Ms. Boykins is in charge of SEM and TEM projects. She can prepare and analyze samples for SEM and TEM at users' request, and/or train users to prepare samples and/or to use the SEM and TEM.