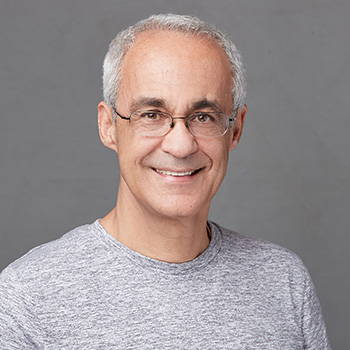 Dr. Omar Skalli
Director
Email
oskalli@memphis.edu
Office
103A Life Science Building
Office Hours
By Email Appointment
Dr. Skalli is a cell biologist whose research interest is the cytoskeleton, an intracellular network of filaments and tubules central to cell motility, cell division, cell shape determination, and organelle trafficking. The use of microscopy is central to Dr Skalli's research, whether it is conventional light microscopy to examine by immunoperoxidase or immunofluorescence the distribution of specific proteins in tissues, or confocal laser fluorescence scanning microscopy to investigate the distribution, interaction and function of diverse cytoskeletal proteins in cultured cells. Dr. Skalli also uses electron microscopy to address questions related to the mechanisms by which cytoskeletal proteins assemble to form filaments and tubules. In addition to microscopy, Dr. Skalli expertise includes tissue culture, DNA cloning and expression in cells, as well as several biochemical methods such as Western blotting, protein purification, and immunoprecipitation.
Dr. Skalli oversees the organization and the development of the Integrated Microscopy Center and assists users interested with projects involving cell culture methods and light microscopy with their experimental design, data interpretation and troubleshooting. Dr. Skalli is also Associate Professor in the Life Sciences Department, and teaches a graduate course on "Light Microscopy: Theory and Applications". This course exposes students to the various modalities of light microscopy, ranging from classical bright field microscopy to state of the art methods such as super-resolution. The course also involves a practical component during which students are trained in histology and immunofluorescence staining methods and in using light, fluorescent and confocal laser scanning microscopes.
Excerpts from Dr. Skalli CV
Education
1982: MSc. (Biology), University of Geneva, Switzerland
1987: PhD (Molecular and Cellular Biology), University of Geneva, Switzerland
1988-1992: Postdoctoral Fellow, Dept. of Cell and Molecular Biology, Northwestern University Medical School, Chicago, IL
Appointments
2010 - present: Director, Integrated Microscopy Center, University of Memphis, Memphis, TN
2015 - present: Professor, Biological Sciences, University of Memphis, Memphis, TN
2010 - 2015: Associate Professor, Biological Sciences, University of Memphis, Memphis, TN
2002-2010: Associate Professor, Cellular Biology and Anatomy, Louisiana State University Health Sciences Center, Shreveport, LA
1996-2002: Assistant Professor, Dpt. of Anatomy and Cell Biology, University of Illinois at Chicago Medical school, Chicago, IL
1992-1996: Res. Assistant Professor, Dpt of Cell and Molecular Biology, Northwestern University Medical School, Chicago, IL
Publications (Past 5 years, out of a total of 66 peer-reviewed publications and 10 book chapters)
Quincy, Q. and Skalli, O. 2010. a-Actinin 1 and a-actinin 4 in astrocytoma cells: contrasting role in motility, common roles in antagonizing cell death and rhoA signaling. Exp. Cell Res. 316:1137-1147.
Luna, G., Lewis, G. P., Banna, C. D., Skalli, O., and Fisher, S. K. 2010. Expression profiles of nestin and synemin in reactive astrocytes and müller cells following retinal injury: a comparison with GFAP and vimentin. Mol. Vis. 16: 2511-2523.
Cardelli, J. and Skalli, O. 2010. Divide and invade: the dynamic cytoskeleton of glioblastoma cells. Chapter in: "Glioblastoma: Molecular Mechanisms of Pathogenesis and Current Therapeutic Strategies." Editor: S. Ray. Springer (New York). pp167-183.
Quick, Q., Pan, Y., and Skalli, O. 2011. Role of Synemin in astrocytoma cell migration. Chapter in: "Tumor of the Central Nervous System. Vol. 5: Astrocytomas, hemangioblastomas, and ganglioblastomas". Editor: M.A. Hayat. Springer (Dordrecht, Heidelberg, London, New York). pp 81-88.
Pitre, A., Davis, N., Paul, M., Orr, A.W., and Skalli, O. 2012. Synemin promotes AKT-dependent glioblastoma cell proliferation by antagonizing PP2A. Mol. Biol. Cell. 23:1243-1253.
Sabri, F., Boughter, J.D. Jr, Gerth, D., Skalli, O., Phung, T.C., Tamula, G.R., Leventis, N. 2012. Histological evaluation of the biocompatibility of polyurea crosslinked silica aerogel implants in a rat model: a pilot study. PLoS One 7:e50686. Epub 2012 Dec 12.
Hamill, K.J., Hopkinson, S.B., Skalli, O., Jones, J.C. 2013. Actinin-4 in keratinocytes regulates motility via an effect on lamellipodia stability and matrix adhesions. FASEB J. 27:546-556.
Skalli, O., Wilhelmsson, U., Örndahl, L., Fekete, B., Malmgren, K., Rydenhag, B., and Pekny, M. 2013. Astrocytoma grade IV displays three subtypes with unique expression profiles of intermediate filament proteins. Hum. Pathol. 44:2081-2088.
Pekny, T., Faiz, M., Wilhelmsson, U., Curtis, M.A., Matej, R., Skalli, O., Pekny, M. 2014. Synemin is expressed in reactive astrocytes and Rosenthal fibers in Alexander disease. APMIS 122:76-80.
Skalli, O., Boykins, L., Coons, L. Electron microscopy. 2014. Chapter in: "Biofouling Methods". Dobretsov, S., Williams, D.N., and Thomason J. Edts. Wiley Blackwell publisher. Pages 26-43.
Hamill, K.J., Hiroyasu, S., Colburn, Z.T., Ventrella, R.V., Hopkinson, S.B., Skalli, O., Jones, J.C. 2015. Alpha actinin-1 regulates cell-matrix adhesion organization in keratinocytes: consequences for skin cell motility. J. Invest. Dermatol. 135:1043-1052.
Quick, Q., Paul, M., Skalli, O. 2015. Roles and potential clinical applications of intermediate filament proteins in brain tumors. Semin. Pediatr. Neurol. 22:40-48.