RingCentral
Project timeline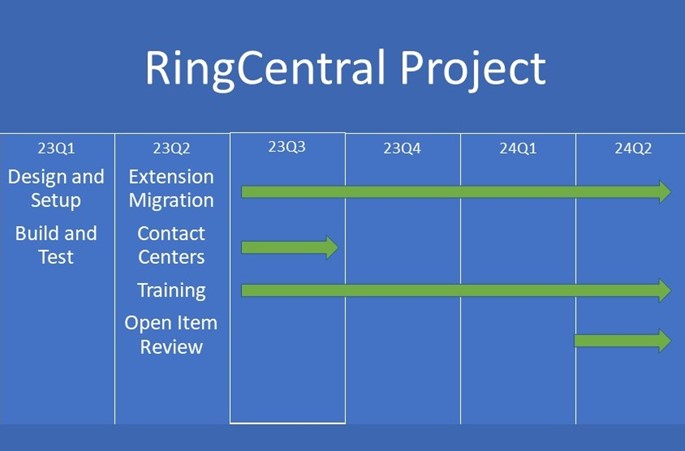 Design and Setup
During the Design and Setup phase, network assessments will be performed; current phone data will be collected; configuration options reviewed; and administrators will be trained.
Build and Test
The Build and Test phase will include defining test plans and acceptance criteria, building out the UofM communications cloud environment, and piloting of the migration process and phone system by ITS.
Extension Migration
During the Extension and Migration phase, all phone extension data will be verified by university departments; and all university phone extensions will be migrated to the RingCentral MVP system.
Contact Centers
The implementation of RingCentral Contact Centers includes call flow definitions, training for operators and supervisors, and migration the contact center (call center) to the new platform.
Training
During and after the phone extension migration, online training will be available for people to learn how to about new features and how to use the phone system.
Open Item Review
As the project nears completion, a review of any open items will be conducted and remediation plans identified and implemented.
Building Schedule
Building schedule spreadsheet
The schedule of university buildings to be migrated is available through 10/23. This schedule is tentative and subject to change.
Migration activities
While phone extensions are migrated from the Avaya PBX to RingCentral MVP system, several activities will be completed.
ITS migration activities
Submit the Business Requirements Document (BRD) to the RingCentral project team. The BRD contains extensions, usernames, addresses, and other information needed to complete the migration.
Phone handsets will be ordered, delivered, and coded for each extension.
BRD information is used to submit porting requests.
LSPs distribute new phone desk sets as ordered.
User migration activities