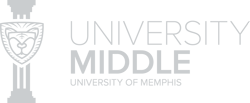 A new kind of school...
In partnership with Shelby County Schools, the University of Memphis has been working toward the creation of a new middle school. The University Middle Steering Committee, commissioned by President Rudd, will formally present our proposal to the SCS School Board for approval during their next public Business Meeting on January 29, 5:30PM. All information on these webpages should be understood as strictly provisional until final approval has been received.
University Middle is a totally new kind of school. A school that reflects the demands of the dynamic, high-tech, diverse world in which we live. A school where students don't just see people of different races and genders and religions – they work with them, learn from them and come to understand them. A school that teaches students to take ownership of their learning though projects they care about, with results they can touch, display, market, broadcast or give back to the community.
The University Middle Experience
As an extension of the University of Memphis, University Middle is a school where education starts in classrooms, but ultimately ends up in the world. It is a school that values and practices hands-on learning. A school that builds its curriculum around the interests of the students who walk its halls. A school that isn't just different; it's fun!