A New Kind of School
Our Motive
To develop the mindset of a lifelong learner and problem solver.
Our Values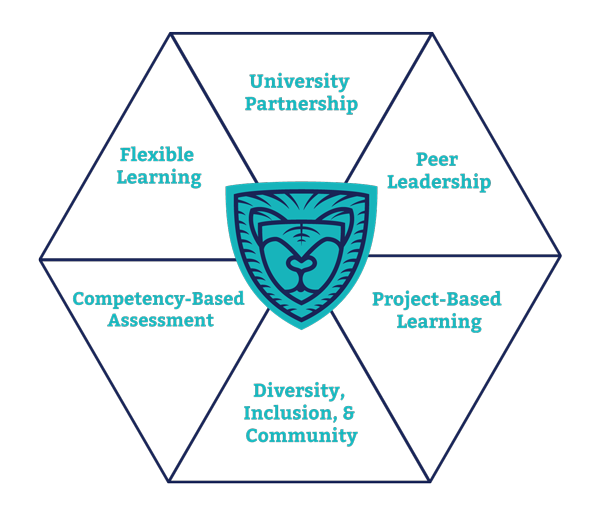 Our Methods
University Partnership | University Middle students will work with leading scholars and practitioners at the University of Memphis to push the horizon of what education can be.
Project-Based Learning | Students will engage in active experimentation and hands-on learning in all areas of the curriculum. They will be encouraged to immerse themselves in coursework through questions and problems that inspire them.
Competency-Based Assessment | In addition to traditional grades, our students will work to demonstrate proficiency across a range of "competencies." These competencies correlate with the same skills, knowledge blocks and habits of mind that today's high schools, universities and employers are seeking in their next generation of leaders.
Flexible Learning | People need space to adapt their skills and interests to the challenges they face. This doesn't mean no structure. It means flexible structure. Our goal is to reach every student where they are and to get them where they aspire to go.
Diversity, Inclusion & Community | In our amazingly diverse world, progress depends on a commitment to mutual respect, a strong sense of shared responsibility and sophisticated cultural awareness. Thankfully, the students won't be alone. Regular family gatherings at University Middle will remind us – all of us – that progress depends on everyone.
What is Project Based Learning (PBL)?
Sometimes called "Inquiry-Based Learning," PBL is centered on the learners and affords them the opportunity for in-depth investigation of worthy topics, often in interdisciplinary and collaborative settings. Learners are more autonomous as they construct personally meaningful, concrete results that are representative of their learning. Projects are complex tasks based on challenging questions or problems which involve learners in design, problem-solving, decision making or investigative activities (J. Thomas, 2000). In a PBL school, the projects are the curriculum.
Early evidence suggests that PBL works! According to Edutopia, "studies comparing learning outcomes for students taught via project-based learning versus traditional instruction show that when implemented well, PBL increases long-term retention of content, helps students perform as well as or better than traditional learners in high-stakes tests, improves problem-solving and collaboration skills and improves students' attitudes towards learning." ("Project-Based Learning Research Review," Vanessa Vega (Dec. 3, 2012; updated Dec. 1, 2015).
Much more evidence is available on demand, but of special note is the comprehensive review done by John Thomas that covers results of the effectiveness of PBL in all subject areas including math ("A Review of Research on Project Based Learning," March. 2000. Learn more about PBL >
What is Competency-Based Assessment (CBA)?
Sometimes called "Mastery-Based Assessment," CBA is organized around performance areas (rather than academic departments) and competency standards and credits (rather than grades). In a variety of formats, students work to demonstrate proficiency of specific skills, knowledge blocks, and habits of mind.
"The whole child is needed to change society, so the whole child is what must be assessed, over time, in multiple contexts and with both objective criteria as well as an inclusive understanding of how humans reach mastery."
– Tracey Tokuhama-Espinosa, Educational researcher and instructor at the Harvard University Extension School
Laboratory Mission
University Middle won't just employ innovative educational methods – it will be a laboratory for developing and testing new educational methods.
A driving motivation behind the creation of University Middle is its laboratory focus and the research opportunities that go with such focus. The University of Memphis intends the school to be a catalyst for stimulating a wide variety of new research and grant initiatives, from educational theory proper, to psychology, to STEM programs, to fine arts and humanities, to public health. There's always something new brewing at University Middle. The only question left is, do you want to join the adventure?
University Middle is a Cognia Accredited School