Memphis Brass Quintet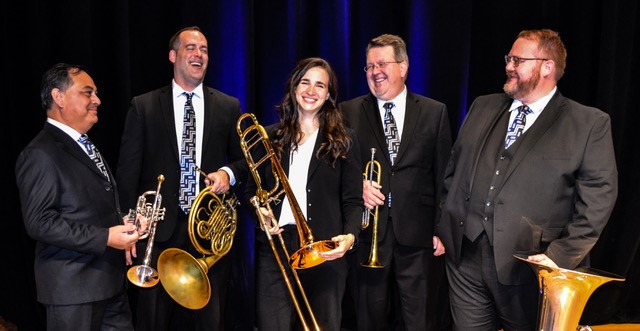 The Memphis Brass Quintet is the professional brass ensemble at the University of Memphis' Rudi E. Scheidt School of Music.
Founded in 1993, the Memphis Brass Quintet features distinguished faculty members that bring a wide range of performing experiences to the ensemble. This experience reflects a varied repertoire that includes Renaissance and Baroque transcriptions, jazz arrangements, and contemporary works for brass quintets. With performances in Memphis, Tennessee, and around the US, the MBQ has developed a reputation for outstanding artistic concert presentations. The group also has a keen interest in education and regularly presents clinics and masterclasses to students of all levels.
For more information on Memphis Brass Quintet concerts and college offerings for brass players at the University of Memphis, please contact:
Dr. David Spencer
Professor of Trumpet
Area Coordinator of Brass & Percussion
Faculty Fellow for Strategic Initiatives
901.678.2541
dspencer@memphis.edu