High Water Records + Music River Publishing
While many collegiate music business programs have student-run record labels, the Rudi E. Scheidt School of Music leads the nation with its High Water Records label and sister publishing company, Music River Publishing. These revenue-generating catalogs set the University of Memphis apart from other programs and position students for success in the music industry with access to the workings of an independent label and publisher.
High Water Recording Company was formed in 1979 by University of Memphis Professor of ethnomusicology Dr. David Evans and College of Communications and Fine Arts Dean Richard Ranta. Established with the support of a National Endowment for the Arts grant, the first project was to produce and distribute four 45 RPM records of traditional Mississippi blues artists.
True to the University of Memphis' trailblazing efforts in the commercial music industry, recording methods and technology set Evans and Ranta's project apart from its predecessors.
Previous academic blues recordings were conducted in the field, such as Alan Lomax's Muddy Waters recordings, which were recorded on a Mississippi plantation. Instead, Evans looked to record blues artists in a studio environment under controlled conditions, resulting in high-quality recordings of the region's music. The initial project resulted in early recordings of Raymond and Lillie Hill of Clarksdale, Mississippi, Jessie Mae Hemphill of Senatobia, Mississippi, R.L. Burnside of Coldwater, Mississippi, and Ranie Burnette of Senatobia, Mississippi, who would all go on to build respected careers as Delta Blues musicians.
Fast forward to present day – the label's name is easily recognizable and held in high esteem by Delta blues and gospel enthusiasts worldwide and has released over 30 LPs and 19 45 RPM records. Despite not releasing any new music since the early 2000s, the catalog is in demand by advertisers, television shows, movies and recording artists who want to use its songs and recordings. Most recently, The Black Keys recorded four of the publishing catalog's songs on their Grammy-nominated album "Delta Kream."
A testament to the music's quality and appeal, the label continues to generate revenue despite not releasing any new music.
A New Era for High Water Records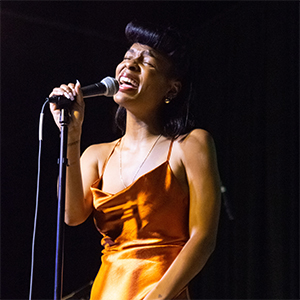 With new High Water Records music, the Music Business Program will be centered around the label designing classes to interface with the label. Gaining real-world experience through professional work on a widely distributed label with new and catalog music gives our students an advantage over their counterparts at other schools.
High Water's mission of preserving the region's music directed us to identify a local artist. The artist's tenure with the label would ideally provide valuable experience for music industry students and catalyze more profitable opportunities for the artist. The High Water Artist Residency was born.
In April 2022, High Water announced its relaunch and its first artist-in-residence, Talibah Safiya, a Memphis native, with a concert at The Green Room at Crosstown Arts. The spring 2022 Concerts and Touring class, taught by Jeff Cohran, music business instructor, produced the sold-out show, with a recording of the performance to be released on High Water this year by the record company operations class.
Over the 2022-23 academic year, Safiya will collaborate on various projects with students and music industry program partners in recorded and live performances and host masterclasses for School of Music students. Planned events include a special performance produced by Blue Tom Entetainment featuring Safiya and a documentary exhibit bridging High Water's past to its present release in April 2023.
In addition to the artist residency, the label is pursuing several opportunities and securing partnerships to enhance students' learning experiences and equip them with a toolbelt of skills to use in the workforce.
High Water's partnership with TrackLib to license its catalog will allow students to interface with the platform and experience the licensing process firsthand. This subscription service was created for producers and artists to sample music and is endorsed by industry heavyweights such as Questlove, Jazzy Jeff and Ludacris. In addition, the partnership will introduce the High Water catalog to a new generation of musicians, producers, artists and music fans.
High Water will continue its partnership with Select-O-Hits, the Memphis-based record label distributor run by music legends Sam W. Phillips and John Phillips. The company distributes artists such as Jimmy Buffett, Three 6 Mafia and Johnnie Taylor and distributes High Water's music internationally in digital and physical formats.
Additionally, High Water distributes royalties to its artists, writers and, in some cases, their estates. Over the past year, Music Business students have spent countless hours overhauling our royalty accounting system and look forward to announcing a partnership with an industry-leading service provider in the coming months.
High Water's future possibilities are endless. It is our hop to continue our legacy of preserving art important to our community, launching the careers of legendary musicians and, most importantly, providing a training ground for tomorrow's music executives, artists and technicians.