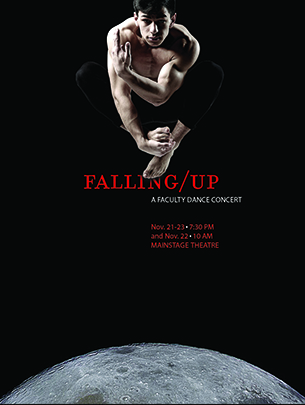 Falling/Up
A Faculty Dance Concert
Nov. 21-23 at 7:30 PM and 22 at 10 AM
Tantalizing, exuberating and thought-provoking all describe the new works that will have their premiere performances during Falling/Up, UofM's annual faculty dance concert. In addition to works by UofM's award-winning dance faculty, Falling/Up will feature a new work by guest artist Amy Miller, senior company director of Gibney Dance Company, NYC. Treat yourself and join us for Falling/Up and experience the power, beauty and passion that only dance can provide.
To Build a Home
Choreographer: MICHAEL MEDCALF
(in collaboration with the dancers)
Music: CINEMATIC ORCHESTRA and MOBY
Projection Images: BRIAN SELZNICK
Lighting Designer: TAO WANG
Costume Designer: HALEY GRANNON
Dancers: CONNOR CHAPPARO, LEVARIOUS GOODS, JORGE GUAMAN,
PERSHON HARPER, FANNIE HORTON, AIYANNA LARUE, and SUMMER ROWE
This work is inspired by Walt Whitman's "Live Oak, with Moss."
Book of Questions...
Choreographer: WAYNE M. SMITH
(in collaboration with the dancers)
Music: Traditional (performed by LESLIE ODOM, JR),
ME'SHELL NDEGÉOCELLO, MEAT BEAT MANIFESTO
Lighting Designer: JEREMY FULLER
Costume Designer: BEVERLY WALKER, HANNAH BRADY
Dancers: CLARE ARNOLD, ANGIE CELADA, CONNOR CHAPARRO, KAYLA DAVIS, VICTREE HAYES, SUMMER ROWE, HANNAH SHELTON, WAYNE M. SMITH,
BRELIND THOMPSON and JOSHUA L. WAITS


Trigger Warning
Choreographer: KRISTEN OSBORNE LUCAS
Music: RADIOHEAD, MAX RICHTER, UNIVERSITY OF MEMPHIS STUDENTS
Lighting Designer: JAMES R. BAKER
Costume Designer: JEN GILLETTE
Dancers: BECKY ANDERSON, KAYLA DAVIS, TIFFANY GODDARD, VICTREE HAYES, AIYANNA LARUE, KENNEDY REED, SUMMER ROWE, RISA SMITH
and EMILY VOOGD
Thanks to dancers for their creative contributions!
Swing: Follow-Through
Choreographer: RACHAEL ARNWINE
(in collaboration with the dancers)
Music: GUSTAVO PIMENTEL, CODY LANDERS, SANTO & JOHNNY
Lighting Designer: TAO WANG
Costume Designer: TRISTON P. PULLEN
Dancers: LEVARIOUS GOODS, JORGE GUAMAN, PERSHON HARPER
and JOSHUA L. WAITS
Both/And
Choreographer: AMY MILLER
Music: LOSCIL
Lighting Designer: SERENA SLIE
Costume Designer: HALEY GRANNON
Dancers: ELI APEL, CATHERINE BARKLEY, CONNOR CHAPARRO, KAYLA DAVIS, TIFFANY GODDARD, JORGE GUAMAN, PERSHON HARPER, KENNEDY REED
and EMILY VOOGD
Toxic Boundaries
Choreographer: TAMARA PRINCE-PARRISH
Music: DAMIEN ESCOBAR
Lighting Designer: JAMESON GRESENS
Costume Designer: LAYNE THOMAS
Dancers: RISA SMITH and JOSHUA L. WAITS
And I Am Here
A CMCKK Production
Choreographer/Creator: CHRISTINA MCKINNEY
Original Score: KELLY LENAHAN
Cinematography: JUSTAN LI
Dancers: HANNAH VICKERS, RACHAEL ARNWINE, SARAH BERRY-LEE,
JESSICA SEEBECK and RACHEL VERNON
Arcturus
Choreographer: JILL GUYTON NEE
(in collaboration with the dancers)
Music: MICHAEL WALL, NICO MUHLY, ÓLAFUR ARNALDS
Lighting Designer: JAMESON GRESENS
Costume Designer: HALEY GRANNON
Dancers: CATHERINE BARKLEY, CONNOR CHAPARRO, LEVARIOUS GOODS, JORGE GUAMAN, PERSHON HARPER, AIYANNA LARUE, HANNAH NICHOLAS, KENNEDY REED, SUMMER ROWE, HANNAH SHELTON, RISA SMITH, EMILY VOOGD
and JOSHUA L. WAITS

Stage Manager: HAILEY SCOTT
Assistant Stage Managers: VICTREE HAYES, CATHERINE BARKLEY and MURPHY SIMMERS
House Manager: SHELBY WILLIAMS
Poster Design: GARY GOLIGHTLY
Light Console Operator: IVY WETHERILL
Sound Board Operator: ALECIA GILLISON
Projections Operator: JAMESON GRESENS and HAILEY SCOTT