Events for the UMDC
*All UMDC Events are open to the public. We encourage Memphians to join us at events to view work, ask questions, and become informed about the UMDC and the Studio. The UMDC looks forward to having you there.
Planning Matters Lecture Series -
The UMDC along with ULI Memphis is hosting this speaker series, focused on the value of comprehensive planning. Planning Matters seeks to both demystify exactly what land use planning is and provide locals with cutting edge ideas and best practices that will enhance the Memphis 3.0 plan.
Whether we know it or not, comprehensive planning matters to all of us.
Upcoming Lectures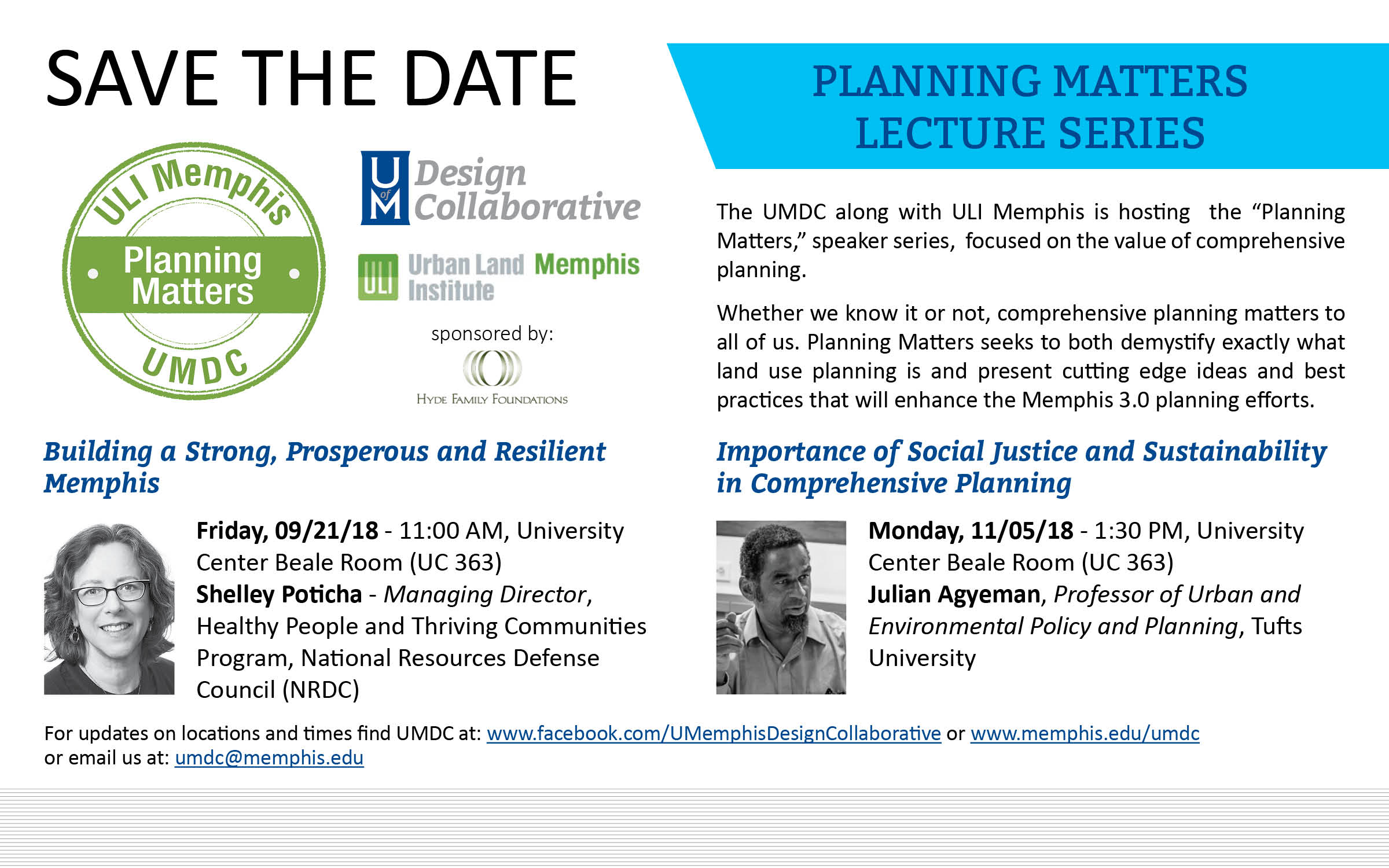 Past Lectures
"Building a Strong, Prosperous and Resilient Memphis"
Shelley Poticha -(Washington D.C.) Managing Director, Healthy People and Thriving Communities Program, National Resources Defense Council (NRDC)
Friday, 09/21/18 - 11:00 AM, University Center Beale Room (UC 363)
"Place and Economic Development" Panel Discussion
Maurice Cox (Detroit, MI) Planning Director. City of Detroit, Michigan
Monday, 8/27/18 - 4:00 PM - Clayborn Temple
"Practice of Planning & Development through a Black, Urbanist, Southern Lens"
Kristen Jeffers (Baltimore, MD) Founder, The Black Urbanist
Wednesday, 3/28/18 - 1:00 PM - UC Beale Room (UC 363)
"Planning as if People Mattered"
Jeff Tumlin, (Oakland, CA) Principal, Nelson\Nygaard
Tuesday, 9/26/17 - 1:00 PM - UC Theater (UC 145)
Lecture recap:
The Planning Matters speaker series is generously funded by a grant from the Hyde Family Foundations.
---
Past Events:
Community Planning Lecture Series:
"Why Comprehensive Planning is Good For Business"
When: Wednesday, February 1, 2017 (2/1); 2:00 p.m. – 3:30 p.m. (Registration from 2:00-2:30)
Where: The University of Memphis, University Center (Shelby Room) UC342
Purpose: Comprehensive planning – a strategic vision for the city's future growth – affects us all. From educators and students to residents and business owners. We all should learn and care about what is coming down the pipeline as Memphis embarks on its first comprehensive plan in almost forty years. Our guest speakers are experienced planners who have successfully led Comprehensive planning efforts in Raleigh, NC and Charleston, SC.
Mitchell Silver, former city planner for Raleigh, NC, is the current parks commissioner for New York City.
Tim Keane guided Charleston, SC, through their plan as city planner and now leads the Atlanta department of city planning.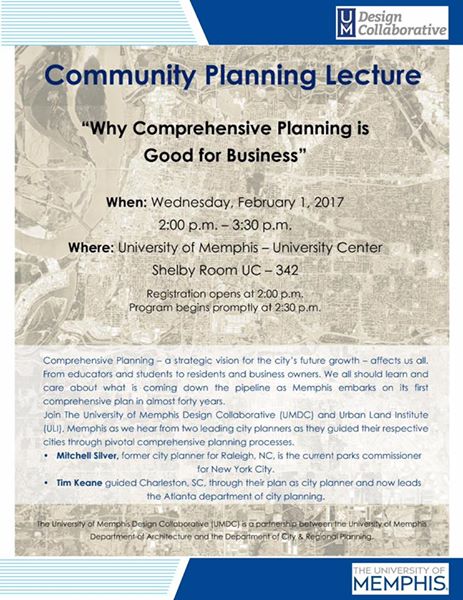 EDGE/VICTORIAN VILLAGE COMMUNITY MEETING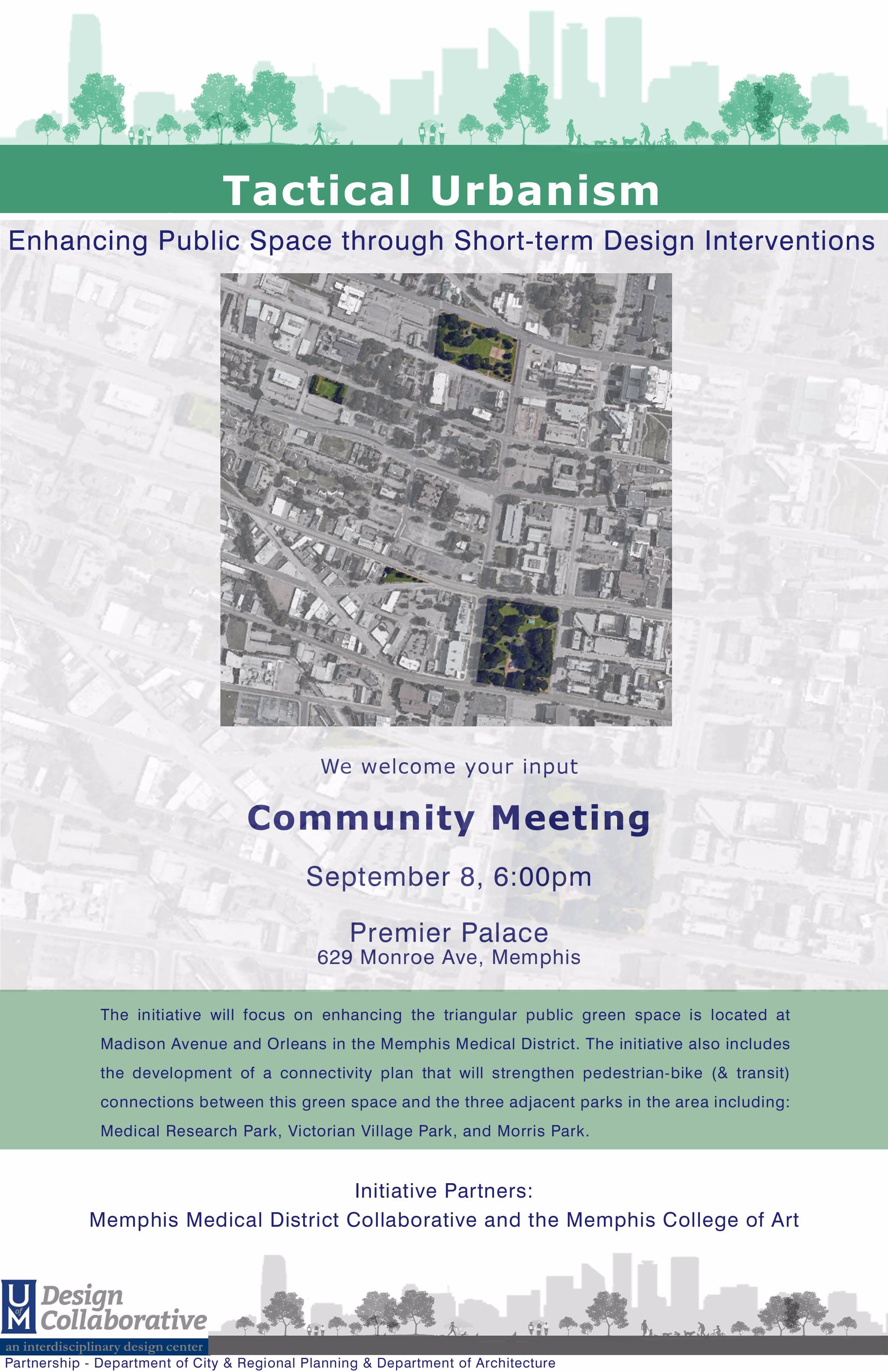 When: Thursday, September 8, 2016 (9/8); 6:00pm - 8:00pm
Where: Premier Palace - 629 Monroe Ave
Purpose: This community meeting is looking to engage community members regarding the public space at Orleans and Madison, specifically as it relates to enhancing the public space through possible design interventions. Public input will also be gathered in relation to a connectivity plan for the area parks giving feedback on which routes and areas should be connected. City of Memphis Engineering will also be detailing what streetscape improvements will be taking place within the neighborhood, allowing for feedback on the public enhancements to correspond with these changes.
Creating Healthy Places Summit: Envisioning a Healthier crosstown
When: Wednesday May 4th, 2016 (5/4); 10:00 am - 3:00 pm
Where: J.K. Lewis Senior Center (1188 N Parkway - Corner of Bellevue and N Parkway)
Purpose: The Healthy Places Summit is a community conversation about our environment's effect on health. The Summit will offer a space for critical observation of the intersects of urban design and public health. The conversation will strive to identify and define design and policy interventions to improve the safety, health and quality of life in our places, with a focus on how improved walkability in the built environment and active transportation can support overall health and quality of life. Dialogue from this initiative will influence public policy that supports the development of more safe, walkable places within our region, improve public health, and enhance the accessibility of mobility.
CROSSTOWN COMMUNITY WORKSHOP
When: Thursday, April 14th (4/14); 5:00 pm - 7:00 pm
Where: Midtown Crossing Grill
Purpose: This event is meant to be a time for presentation and discussion of work which is being accomplished by the UMDC Studio in conjunction with Memphis Walks partners. The main topic of discussion was walkability, especially as how it relates to health, safety, and the built environment. The Crosstown Community Perception Survey will be presented and participants will be asked to fill it out to help provide knowledge of issues and the area. Existing conditions will be provided and feedback is very much welcome. Livable Memphis will be presenting their walkability toolkit.
BUILDING HEALTHY COMMUNITIES CASE STUDY PRESENTATIONS
When: Wednesday, February 3rd (2/3); 2:00 pm - 5:00 pm
Where: Jones Hall Gallery (109 Jones Hall), University of Memphis
Purpose: This event showcases work of the 2016 Spring UMDC studio which is focused on building healthy communities. Case studies will be presented showing cities and neighborhoods from around the United States and other countries that have been able to successfully create healthy communities. Often these cities have been able to link urban design with public policy and other elements of place-making to create thriving, livable neighborhoods which are accessible and open to all.
W2W - WORKFORCE TO WORK SUMMIT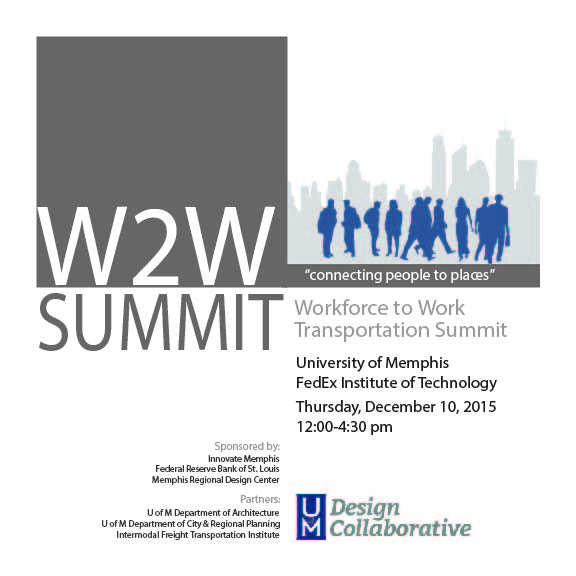 When: Thursday, December 10th; Noon-4:30pm
Where: The FedEx Institute of Technology @ the University of Memphis
The Workforce to Work Transportation Summit: Connecting People to Places will explore expanding transportation choices in Memphis and how investments in transit, bicycling, walking, rideshare, and carpooling can help employees access jobs. This event is being held in conjunction with the Intermodal Freight Transportation Institute annual conference – The State of Freight.
Summit Agenda
10am-4pm MOVING IN MEMPHIS EXHIBIT
Moving in Memphis
by the University of Memphis Design Collaborative Studio on "Transportation Planning" - Fall 2015This exhibit will analyze how to enhance mobility options for Memphis residents by drawing from innovative transportation policies and plans implemented in other cities and then, focusing on current needs and possible future options in five sample neighborhoods.
12pm LUNCH

1pm CONNECTING PEOPLE TO WORK PLACES
Provocation Address
by Benjamin de la Pena, The Knight Foundation
In America, low and middle income households spend up to a third of their annual income on transportation expenses. With most jobs in most US cities inaccessible to transit, undue hardship is placed on the most vulnerable of us. On the other hand, mobile talent are able to choose where they want to live before they look for a job. Not only are companies pursing talent and moving to city center but mobile talent are choosing companies in places that are walkable and have transportation options. This will frame the exploration of expanding transportation choices in Memphis. We will look at what three different cities are doing and examine what steps Memphis can take to equitably connect people to places.
1:30pm CONNECTING PEOPLE TO WORK PLACES - Memphis Panel Discussion
This panel aims to investigate the specific needs, opportunities, and challenges Memphis faces in enhancing transportation options for residents, with a special focus on the workforce. Panelists representing local stakeholders will share their perspectives for getting employees at all income levels to work.
Panelists:
Dr. Glen Fenter, Greater Memphis Alliance for Competitive Workforce

Kevin Woods, Workforce Investment Network

Ron Garrison, Memphis Area Transit Authority

Sondra Howell, Bioworks Foundation

John Dudas, Greater Memphis Chamber - Transportation Committee

Doug McGowen, Innovate Memphis
Moderator:
Carol Coletta, The Knight Foundation
WORKSHOPS
Summit participants may join working groups aimed at identifying action strategies to enhance Memphis's Transportation System, with a special focus supporting Memphis's workforce.
2:30pm Concurrent Workshops I
EXPANDING BICYCLING IN YOUR COMMUNITY
Over the last 5 years, Memphis has experienced a significant improvement of its bicycling infrastructure and ridership. This session focuses on bicycling as an effective and equitable transportation option, and how and why neighborhoods across Memphis are tapping into it.
Invited Participants
Kyle Wagenschutz, City of Memphis, Bike & Pedestrian Coordinator
Roshun Austin, The Works Community Development Corporation
Sara Studdard, Explore Bike Share
NEW STRATEGIES IN TRANSIT PLANNING & OUTREACH
With growing interest in Memphis's public transit system, this workshop invites participants to discuss how transit and transportation service providers, including Memphis Area Transit Authority (MATA), can target service improvements and incorporate public engagement and new technologies.
Invited Participants
Scarlet Ponder, Memphis Area Transit Authority
Ham Smythe, Premier Transportation
Lauren Taylor, Hyde Family Foundation
3:30pm Concurrent Workshops II
EXPANDING INSTITUTIONAL TRANSPORTATION CHOICES
This session explores how large institutions, like the University of Memphis and the Medical District, are looking at shifting demands around transportation and land use and helping students and employees get to campus using various transportation modes.
Invited Participants
Tony Poteet, University of Memphis Campus Planning
Tommy Miller, University of Memphis Parking & Transportation Services
Tommy Pacello, U3 Advisors & Memphis Medical Center
CONNECTING PLACES: DEVELOPMENT PATTERNS & SPATIAL EFFICIENCY
This session aims at connecting successful, innovative transportation policies with a model of development that counteracts land consumption and urban sprawl, encouraging spatial efficiency and urban density.
Invited Participants
Charlie Santo, University of Memphis, City and Regional Planning
John Lawrence, Economic Development Growth Engine-EDGE
John Zeanah, Memphis & Shelby County, Office of Sustainability
Registration for the morning conference, presented and hosted by the Intermodal Transportation Freight Institute, can be found here. The Intermodal Freight Conference will be held from 8:15 am until after lunch, which is when the Transportation Summit will begin. Registration for both events are separate, though lunch is provided with registration for either event.
PIZZA WITH PLANNERS, HOSTED BY LIVABLE MEMPHIS
When: Thursday, October 15th; 5:30-7pm
Where: Benjamin L. Hooks Central Library (3030 Poplar Ave, Memphis, TN 38111)
Purpose: Presentation by the UMDC on the challenges faced by the Bluff City and the initiatives being undertaken to provide creative solutions