Your go-to place for student fee information.
Welcome to University & Student Business Services
College is worth every penny you invest in it. Your degree will open doors and opportunities that will change your life. So, keeping up with tuition and fees is important. By exploring the website of University & Student Business Services (formerly known as the Office of the Bursar), you'll find your student fee information and general payment guidelines; and you can go to TigerXpress, where you can view your account detail, pay your fees and charges online, sign up for the Installment Payment Plan, and sign up for eRefunds (direct deposit) for fastest receipt of excess financial aid/scholarships. Visit us at University & Student Business Services for all your Campus (ID) Card needs. This card can be your key to good food and fun around campus. For more information on any of these topics, check out our site, or come see us at University & Student Business Services!
Departmental Information
Location:
115 Wilder Tower
Memphis, TN 38152
Office Hours:
Monday - Friday, 8:00 a.m. to 4:30 p.m.
Phone: 901.678.2712 | Fax: 901.678.0288 or 901.678.2772 | E-mail: usbs@memphis.edu
No payment or other action shall waive or excuse the rights and responsibilities of the student or University, including, but not limited to, the University as Lessor and its right to evict the Lessee for failure to pay rent in a timely manner, or any other breach of the lease. Unpaid or late rental payment may result in holds being placed on University records, such as student's grades, transcripts and diplomas, and on registration for future semesters.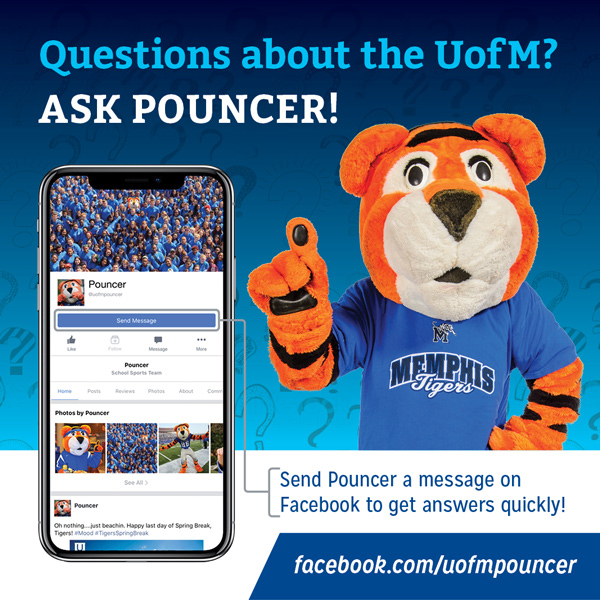 I can help with admission and enrollment questions.
Say Hi to wake me up first!
Ask Pouncer anytime day or night on Facebook!