Create Memorable Experiences
Whether it be a special event, a sporting event, a meal or a hotel stay, the Kemmons Wilson School will prepare you to leave a lasting impression on your guests throughout your career.

Explore our degree programs in Hospitality & Resort Management, Sport & Leisure Management and Sport Commerce and Culinary Arts.
News & Events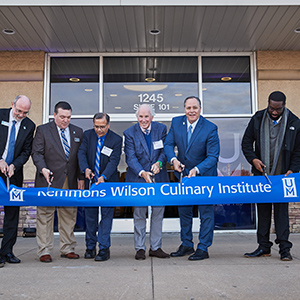 University of Memphis celebrates grand opening of new Culinary Institute
Memphis Commercial Appeal - November 18, 2019
Culinary institute open house provides a taste of new program
The Daily Helmsman - November 15, 2019
Kemmons Wilson Culinary Institute added to the University of Memphis' hospitality program
LocalMemphis.com - November 14, 2019 - see video below
UofM will show off culinary school
The Daily Memphian, subscription may be required - November 11, 2019
Distinguished Speakers
Each week the distinguished speaker series invites local veterans from the hospitality industry to speak with Kemmons Wilson School rising stars. Each speaker will share an overview of historical background relating to the industry, elaborate on their professional work experience, and share their vision for the future. Please continue to monitor our KWS social media platforms for updates.