KATE SORENSEN
Assistant Professor, Crews School of Accountancy
Email
kbsrnsen@memphis.edu
Office Hours
By Appointment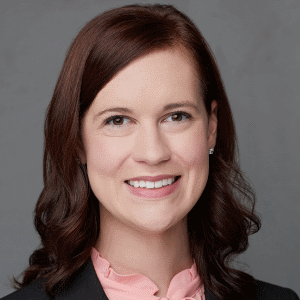 Biography
Dr. Kate Sorensen is a behavioral researcher focusing on auditor judgment and decision making. She also focuses on audit curriculum best practices, specifically related to data analytics.
Her research appears in journals such as Managerial Auditing Journal, Journal of Forensic Accounting Research, Journal of Accounting Education, Journal of Corporate Accounting and Finance, and The CPA Journal. She was the 2021 recipient of the Fogelman College of Business Creative Teaching Excellence Award. She currently teaches Audit and Intermediate Financial Accounting.
Dr. Sorensen has been a licensed CPA since 2010 and spent three years working in the Advisory Practice at Deloitte and Touche in Atlanta, GA where she specialized in serving clients in banking and consumer products. Before obtaining her Ph.D., she spent two years teaching Accounting, Finance, and Economics at a university in the Henan Province of central China.
She completed her Ph.D. (Business Administration-Accounting) at Southern Illinois University, Carbondale, and both her Master of Accountancy (Audit and Controls) and Bachelor of Science in Business Administration (Accounting) from the University of Tennessee, Knoxville.
In her spare time, she loves to travel and has visited over 30 countries on five continents.