August 2015 Commencement Speaker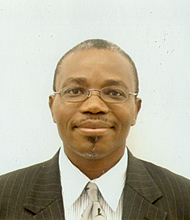 DR. ALBERT A. OKUNADE, 2015 WILLARD R. SPARKS EMINENT FACULTY AWARD RECIPIENT
Professor, Department of Economics, Fogelman College of Business & Economics
Dr. Albert A. Okunade conducts scientific research using economic theories, mathematical statistical methods and econometrics to probe wide-ranging operational and public policy issues in healthcare, pharmaceuticals, medical devices, and labor. These include technology change in medicine and healthcare cost containments, adolescent obesity and human capital investments across gender and ethnicities, obesity and early retirement, operational efficiencies in dentistry, hospitals and pharmacies, physician payment reforms, quality of care, prescription drugs utilization and expenditures, and the determinants of mortality. Okunade has earned national and international reputation as a leading researcher in healthcare, labor, pharmaceutical and public policy economics. He has delivered research presentations globally at prestigious conferences and his research has garnished large numbers of high impact citations broadly in economics, finance, medicine and allied health. Since joining the University in 1987, the Nigeria-born US Citizen and economist has been honored with the Superior Performance in University Research Awards, Alumni Association Distinguished Research Award in Social Sciences & Business, Suzanne Downs-Palmer Professorship Awards, First TN Professorship Award, and Graduate Teaching & Research Mentoring Award, among others. He has also received external awards from FedEx, The University of British Columbia, and The American Society of Health Economists.
Dr. Okunade has received external funds for research, and has reviewed grant applications for The National Science Foundation (NSF) and The Tennessee Board of Regents (TBR), among others. He has over 100 research publications including in top-tier peer-refereed general and specialized economics and allied discipline journals. He has presented more than 50 scientific papers at academic conferences in the US, Canada, China, Denmark, Finland, France, Italy, Portugal, Senegal, Spain, and the UK. He reviews manuscripts for high quality journals and periodically serves as a Guest Editor. He served on the 2004-2008 Founding Board of Trustees of The American Society of Health Economists (ASHEcon) and recently won a world-wide election to a three-year (2015-2018) term on the Board of Directors of the International Health Economics Association (iHEA). ASHEcon and iHEA are the world's leading professional associations of health economists. As an innovative teacher, he taught in the University Honors Program for years, engages his MBA students in practical learning using the Memphis business community as a laboratory, and recently appointed the 'Lead Faculty' for the Executive MBA (EMBA) 'Study Abroad' to Argentina, Brazil and Chile. As Coordinator of the Ph. D. Economics Program since 2008, he is active in the research mentoring of doctoral students to prepare them for the highly competitive national job market, has in recent years chaired and served on more than a dozen Doctoral dissertations in Economics and The School of Accountancy, and recently secured private sector doctoral internship to economize on the tax-funded graduate assistantship budgets.
Education: B.S., 1980, M.S., 1982, MBA, 1982 (Wright State University, Dayton, Ohio); Ph.D., 1986 (The University of Arkansas, Fayetteville, AR). Continuing Education: Faculty Research Sabbatical, 2000 (Harvard School of Public Health, Boston, MA).