MD2K Organizes mHealth Tech Showcase at NIH
Posted on 2018-08-13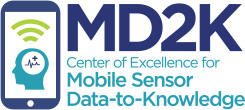 The MD2K Center for Excellence, under the direction of Prof. Santosh Kumar, organized a well-attended mHealth Technology Showcase at the National Institutes of Health campus on June 4.
Marking ten years of NIH investment in mobile health, the showcase presented mHealth technology that is now ready to use in health research. At this showcase, MD2K launched a personal edition of their software, which allows anyone to become a citizen scientist and analyze their own data. They can discover new mHealth biomarkers or visualize and discover patterns in time series of mHealth biomarkers collected on themselves. Several hundred mHealth data streams are already included in the personal edition.
A story on this event was featured in the NIH Record newsletter.