MD2K Researchers Launch App for Personal Tracking of Social Distancing
Posted on 2020-04-07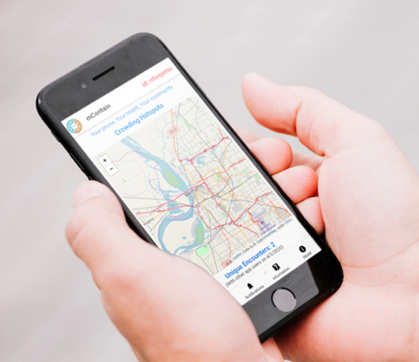 Researchers at the MD2K Center of Excellence, headquartered at the UofM and under the direction of Computer Science Prof. Santosh Kumar, have announced the launch of a free mobile app called mContain to help track social distancing during the COVID-19 outbreak with a goal to reduce community transmission.
mContain uses location and Bluetooth technologies in smartphones to detect proximity encounters (within six feet for several minutes) with other app users. Similar to a step count, the app counts and displays the number of daily proximity encounters with other app users. To reduce the chances of entering crowded places, the app displays the level of crowding at busy places on a map. If a user and their COVID-19 test provider both agree to share the results of their test, the app can notify other users about possible exposures to COVID-19.
"mContain adopts an anonymous unicast approach to preserve the privacy of all app users, while still providing personal alerts," said Dr. Kumar. After installing the app, no action is needed from users. The app does not collect or keep any identifying information of app users, such as their names, phone numbers, logins or emails.
The app is currently available on the Google Play store for Android devices; an iOS version is coming shortly.
For more information, please see the press releases from the UofM, NIH, and NSF.