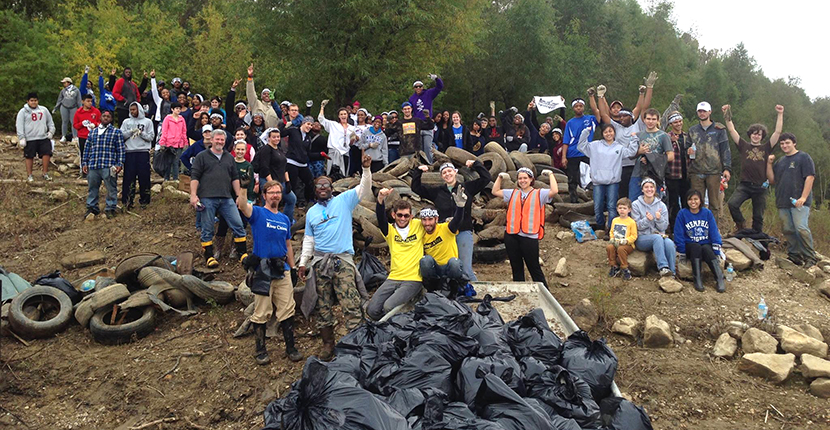 River Warriors
A UofM student group works to put trash in its rightful place — and in the process becomes the largest student-led group of its kind.
By Greg Russell
Most members of the UofM student group the Memphis River Warriors aren't aware of the rich — and often quirky — history of McKellar Lake, but who can blame them? Most Memphians aren't. For instance ...
In the summer of 1960, Elvis Presley (with his newfound wealth) purchased a powder blue ski boat and headed — where else? — to McKellar. "Hey, that's Elvis!" one young lady screamed as the speedboat whistled by. Thousands soon jammed the lake area, which had become an "in" spot for trendsetters in Memphis: sandy beaches, beauty pageants and fancy houseboats made this backwash of the Mississippi River near downtown the place to be and be seen. Even the self- proclaimed "mayor" of McKellar — Marv Shackelford — set a world record after he skied around the lake nonstop for 35 hours, totaling 818 miles.
But like music changes over time, so has this once-popular spot — but for the worse. McKellar is now more closely associated with the hashtag #floatingtrash.
But the Memphis River Warriors have taken aim at the heaping mounds of trash and in doing so, have become the largest college student-led cleanup organization in the nation. Its 2,200 volunteers have picked up an incredible 100,000 pounds of trash at the lake on selected weekends in the past four years.
"The trash comes from all over Memphis," says River Warrior Lance Willinger, a UofM senior who is aiming for a career in sustainable development. "All litter, including what flies out of car windows, gets washed down the storm drains and into ditches and eventually makes its way to McKellar."
Millions of gallons of storm water empty into the lake each year, bringing tons of trash that becomes trapped in the water. The litter makes its way into the lake's surrounding woods after flooding.
"Once the water goes down, the trash just stays in the forest," says Honors student Rachel Waters, also a Warrior.
Willinger says that means old tires, car parts, plastic containers — you name it — accumulate, creating an eyesore. A prosthetic leg even made its way downstream.
For their work, the group recently received the prestigious "Mid-South Corporate Neighbor Award for Outstanding Project" from Volunteer Mid-South.
"This award is impressive considering that some of the other nominees in this category were Baptist Memorial Hospital, Hilton Worldwide, First Horizon and International Paper," says group adviser Colton Cockrum, assistant director of the UofM's Center for Academic Retention and Enrichment Services.
While returning the lake to its former glory is likely impossible, Willinger and the Warriors work to at least make it a more pleasant environment.
"Picking up trash is an adventure," he says. "Personally, I really enjoy the hard work and getting a little dirty, but what keeps me coming back is the awesomeness of just being around people who share similar interests and concerns about the future of our planet."