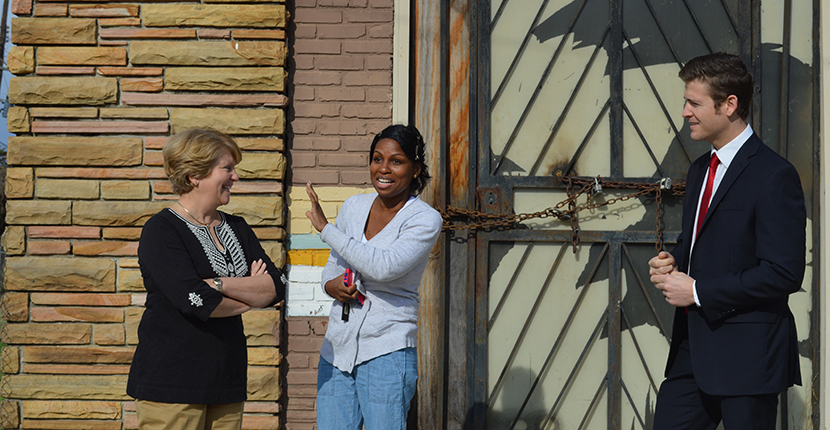 Tipping the Scales
It is no big secret that Memphis has a major blight problem, but did you know that many families in the Mid-South live in unhealthy environments? University of Memphis law school students are tackling both problems through the courts — while beefing up their resumes.
By Greg Russell
Breathe easier, Memphis. Live healthier. Area families should find their living environments improved both inside and out, thanks to two new initiatives of the University of Memphis' Cecil C. Humphreys School of Law.
Through the Healthy Homes Partnership (HHP), students in the Law School are working to ensure that every child in the area grows up in a healthy home.
In Memphis, nearly 14 percent of children have asthma. At Le Bonheur Children's Hospital, asthma accounts for 40 percent of hospital admissions. Many of these cases result in visits to the Emergency Department.
"Le Bonheur came to us about a medical- legal partnership, which involves adding a lawyer to the health care team to address legal or policy-related barriers impeding health care," says Amy Campbell, associate professor and director of the Institute for Health & Law Policy at the Law School.
"While there are many contributing factors to this disease, its link to allergens and environmental conditions is widely recognized as a concern," says Susan Steppe, director of Le Bonheur's CHAMP program, a community- based intervention for children with asthma.
"The Healthy Homes Partnership brings community partners to the table to address core environmental conditions that contribute to pediatric asthma in Memphis. Not surprisingly, the families most affected by asthma are typically economically disadvantaged, and they experience challenges in accessing care and services. These are the very individuals that may be least equipped to navigate complex bureaucracies and health care systems."
Joining in the collaborative are leaders from the Shelby County Health Department, the city of Memphis, Housing Code Enforcement, the U.S. Department of Housing and Urban Development (HUD), legal services, community development councils and community organizations like Habitat for Humanity.
A Strengthening Communities Initiative grant provided seed money and national trainers for HHP.
"Le Bonheur professionals recognized that a major impediment to providing quality and effective care was related to policy barriers," Campbell says. "And to best address the barriers, lawyers and law students needed to go into children's homes and see firsthand how substandard housing issues — such as the presence of mold — harm health."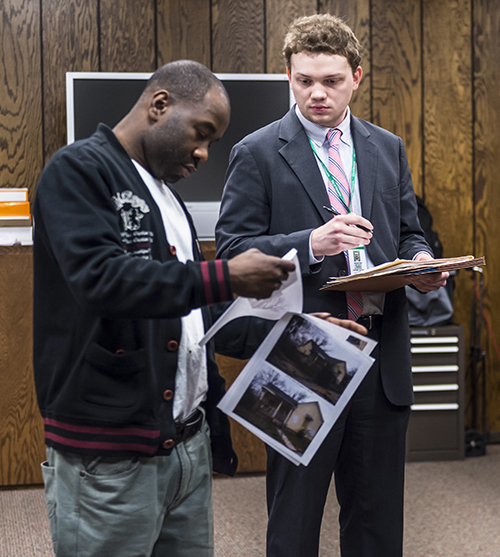 Last semester nine UofM law school students in the new Health Policy Practicum, led by Campbell, joined Healthy Homes Partnership members, including community health workers and code inspectors, to get a closer look.
"Through partnering with HHP, students get a grounding in core health and multisector policy issues, which is complemented by getting out of the classroom and going into the community and listening to families while touring affected homes," Campbell says. "This develops a richer and deeper perspective with which to address technical code issues. Equally critical, students are working with families to help them be better advocates for their loved ones and their communities."
The eventual goal is for students to help modify housing codes and/or draft legislation to address substandard housing issues for long- term effect.
Jere Mason was a police officer for 12 years before enrolling in the Law School. "My perspective on problem solving was shaped by my law enforcement career," Mason says.
"I assumed that the best way to address a problem was head on – kick the door in and neutralize the threat. As I was introduced to the Healthy Homes Partnership and its goal of helping the youth — specifically those suffering from severe asthma — I tried to apply myprior problem-solving technique to the issue. Through group discussion and case studies, I quickly found that with every door I intended to knock down, it only led to another door — or worse yet a wall."
Mason realized that the problem of childhood asthma in Memphis is a multi-layered issue requiring an organized effort from many in the community. "I began to see that instead of being the hammer that smashes the door, I needed to step back and join the many cogs working together toward solving this serious problem. I was excited to see 'cogs' like doctors, lawyers, social workers and the Memphis mayor all working in unison. Participating in the HHP has been a highlight of my law school career and given me a new perspective on problem solving and renewed hope in the ability of our community and its leaders to work together for the betterment of our future."
In recognition of the Partnership's promising work, HUD has named Memphis as one of its pilot sites for policy-related technical assistance around housing code reform.
Good neighbors
In the second initiative, the Law School and the city of Memphis Law Division launched the Neighborhood Preservation Clinic to expose law students to complex legal issues surrounding property abandonment, neglect and blight, and to hone their litigation and oral advocacy skills. Under the supervision of law professor Danny Schaffzin and city of Memphis staff attorney Steve Barlow, the students investigate property conditions, report to code enforcement officials, prepare civil lawsuits and prosecute neglectful owners with the aim of bringing them into compliance with property maintenance, housing and building standards.
Memphis files more lawsuits against owners of blighted properties than any other city in the United States. "For a variety of reasons, the city of Memphis, particularly in the core of the city, has a high level of vacancy and abandonment of houses and buildings," says Barlow, who also is co-director of the Clinic. "There are some 10,000 abandoned single-family houses within the I-240 Loop alone, based on utility disconnects for more than a year. Best practices nationally suggest that an aggressive legal strategy is needed to address such a challenge, and the legal clinic is an important part of Memphis' response."
Partnering with the City Attorney's office, students handle cases before the Shelby County Environmental Court. Clinic students spend 10 to 20 hours a week working on cases, in the courtroom and doing research and investigation. They also participate in an intensive orientation and weekly classroom sessions on blight and abandonment in Memphis, getting a primer on codes, housing laws, national models and legal strategies to address these problems.
"In collaborating to form this first-of-its- kind Neighborhood Preservation Clinic, the University of Memphis School of Law and the city of Memphis Attorney's Office are together imparting cutting-edge experiential training to future lawyers and building all-important capacity to bolster the fight against blighted properties in Memphis," says Schaffzin, director of experiential learning at Memphis Law. "The Clinic's student attorneys are representing the city and advocating for its people and its communities. In the Shelby County Environmental Court and on the streets of Memphis, the positive impact of their efforts is being felt in real and immediate ways."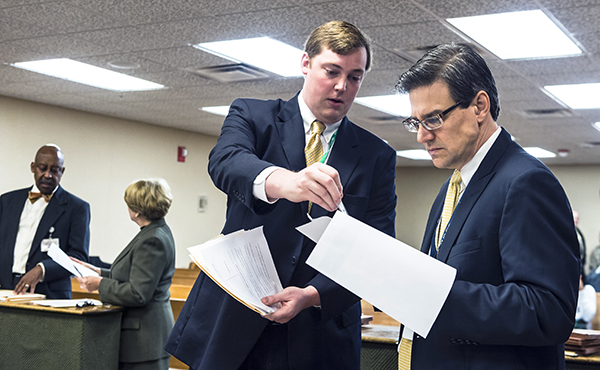 As student Jarrett Spence puts it, "Law school, in large measure, does not prepare students to practice law — but the UofM's legal clinics do. The Neighborhood Preservation Clinic has been my most enjoyable experience in law school. As a native Memphian, I relish the fact that I have the opportunity to assist the city's legal department in combating blight."
Student Marcy Walker sometimes juggles as many as 30 Environmental Court cases in various stages of completion. "It's great to have hands-on experience in the courtroom, but also so beneficial in learning to deal with real-life issues that have to be faced when dealing with blighted properties," she says.
"The experience that I've cherished most is that I have had the opportunity to meet with members of a neighborhood association who are concerned with blight in their neighborhood. I'm in the process of helping to coordinate efforts with the city inspectors and have started to file lawsuits on homes that are deemed a public nuisance in this neighborhood. Connecting this neighborhood association with the people in the city who can help them preserve their neighborhood, and then helping to get those owners into court so that the homes can either be rehabilitated or demolished, is very rewarding and very necessary for our community."
Walker has learned practical skills such as the process of filing a civil warrant to initiate a lawsuit, tracking down individuals so they can be served with a lawsuit, and sitting down with defendants to discuss what needs to be done to rehabilitate their property.
"The best part," she says, "is to have an Order to Dismiss entered when the defendant has completed the required rehabilitation on their property so that it is no longer deemed a public nuisance."