Archaeology Studies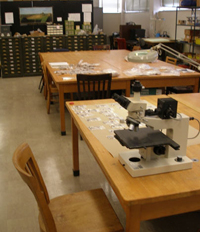 The Clement Archaeology Laboratory has space and equipment for processing and analyzing archaeological materials. Binocular and materials microscopes are available for analyzing lithic, ceramic, and paleoethnobotanical samples. Additionally the lab has a network of five computers outfitted with the latest version of ArcGIS, Trimble Pathfinder Office, graphics, and statistical software packages for conducting archaeological spatial analysis research. Other resources include a regionally oriented book and map library.
Beyond the standard archaeological field equipment, the archaeology program also possesses specialized resources for spatial analysis and geophysical prospecting. Spatial analysis resources include a Sokkia Total Station theodolite with a TDS data collector running Windows Mobile software, two Trimble Geo Explorer sub-meter capable GPS (Global Positioning System) units, a Trimble GeoXT GPS (decimeter level accuracy) , and a Trimble GPS base station. Geophysical prospecting instruments include a conductivity meter and a Geometrics 858 cesium magnetometer (available on loan from CERI).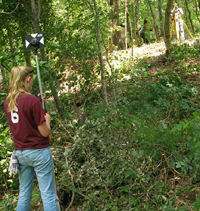 Presently, the archaeology program has two field stations. Dr. Dye is currently working at the Link Site, a state-owned archaeological park located in west-central Tennessee. Link is a Mississippian mound and village complex dating to ca. AD 1500. The field station possesses accommodations for researchers working at Link and the surrounding Tennessee River Valley. Dr. Mickelson is currently researching temporal changes in prehistoric land use (ca. 4000 BC - AD 1000) on the 18,600 acre Ames Plantation Research and Education Center, one of the University of Tennessee's Agricultural Experiment Stations. Onsite facilities include a cafeteria, dormitory and field laboratory.