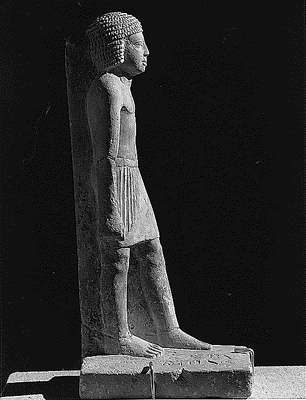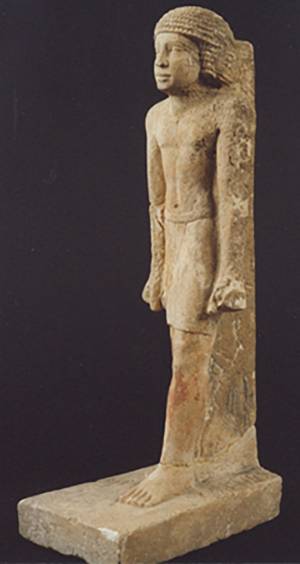 Statue of Nedjemu
Date: Old Kingdom, Dynasty V (c. 2500-2350 B.C.E.)
Material: Limestone
Provenance: Giza
Nedjemu ("sweet one") illustrates several aspects of Egyptian funerary sculpture, which remained typical for almost 3000 years. His body indicates the use of the canon of proportion within an eighteen-square grid. His rigid posture and the quiet expression on his face reflect the Egyptian desire to represent the deceased in a manner appropriate for eternity.

Nedjemu wears a wrap-around kilt that would have been made of unbleached linen, a product of flax. (Cotton textiles in Egypt date no earlier than the third century B.C.E.) He holds two small pegs in his hands, probably abbreviated scepters as symbols of public office. His wig would have been made of human hair if he could afford it. However, cheaper wigs of sheep or goat hair were also available. Traces of reddish-brown paint on his legs illustrate the skin color associated most frequently with men. The left foot strides forward, the traditional pose for male statues. This stance suggests movement and strength.

This little statuette may have been a quick, "off-the-shelf" purchase after Nedjemu's death. The inscribed hieroglyphs on the base tell us that it was acquired for Nedjemu's tomb by his son.
Check out Dr. Joshua Roberson's 3D images of Nedjemu on Sketchfab!
Inv. no.: 1987.2.1